EC

Winner & Losers From Amazon's Proposed Purchase Of Whole Foods

Amazon (AMZN: $1000/share) saw its stock jump by 3% Friday morning after it announced its intention to acquire Whole Foods Market (WFM) for $42/share. The acquisition represents a 27% premium to WFM's closing price the day before and big win for activist hedge fund Jana Partners, which had been pushing for the high-end grocery chain to sell itself.
Based on AMZN's share price gain, investors clearly think this deal is a winner for the e-commerce giant. While this deal certainly could be good for AMZN, we believe the market may be ignoring some of Whole Foods Market's off-balance sheet liabilities that make this acquisition more expensive than it appears.
What is undoubtedly true is that this deal is terrible news for any company in the grocery business, as evidenced by the large drop in the stock prices of Kroger (KR), Target (TGT), Wal-Mart (WMT), and Sprouts (SFM).
Winner: Whole Foods Needed This Deal
We have been bearish on Whole Foods for several years. In the past, the company had strong revenue growth but weak margins. As Figure 1 shows, that issue has become even worse in recent years, as revenue growth has slowed and operating profit (NOPAT) margins have worsened.
Figure 1: WFM Margins And Revenue Over The Past Decade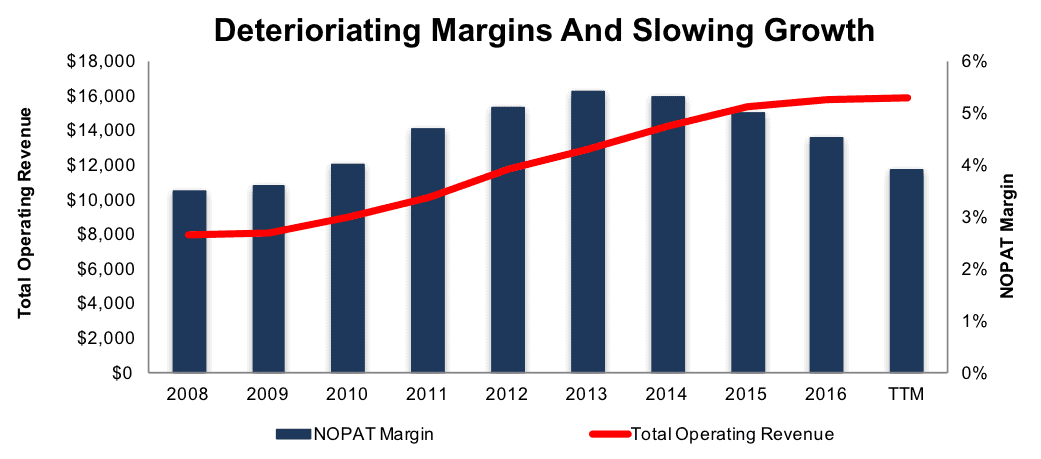 Sources: New Constructs, LLC and company filings.
Before this merger was announced, WFM's valuation had shrunk significantly. Its price-to-economic book value (PEBV) of just 1.1 suggested that the market expected the company to grow NOPAT by no more than 10% over the remainder of its corporate life.
Still, the trends in Figure 1 suggest that even those modest expectations would have been too much for Whole Foods to achieve. The company's NOPAT declined by 8% in 2016 and has fallen 18% over the past twelve months. This buyout looks like a best-case scenario for WFM shareholders.
Loser: AMZN Investors: This Deal Is More Expensive Than It Appears
Most outlets covering this acquisition have slapped a $13.7 billion price tag on it, reflecting the $42/share offer plus roughly $1.2 billion in long-term debt and capital lease obligations. However, that number misses roughly $6 billion from the present value of future operating lease obligations.
Disclosure: David Trainer and Sam McBride receive no compensation to write about any specific stock, sector, style, or theme.