Why Bitcoin Is Heading Higher From Here
There is a lot of news about Bitcoin (BTC-USD) again, and this time sentiment is improving. Bitcoin made a move off its recent lows just as Elon Musk began discussing the idea of Tesla (TSLA) accepting the cryptocurrency again. In addition, it appears that the leading EV maker holds quite a bit of Bitcoin on its books. Now there are whispers that Amazon (AMZN) is starting to explore the digital asset segment.
Image Source: Unsplash
Multiple public companies invest in Bitcoin, but this trend is likely in its early stages. Prominent corporate leaders like Exxon Mobil (XOM) and others could start investing billions into Bitcoin going forward. The newsflow is shifting back towards a much more optimistic note, which will continue to fuel positive sentiment.
Additionally, the digital asset is coming off a prolonged correction and a consolidation phase. Bitcoin's fundamental and technical factors align once again. Positive sentiment leads to higher prices. Bitcoin is on the verge of breaking through a crucial technical level, and new highs are likely before the year ends.
Bitcoin 1-year chart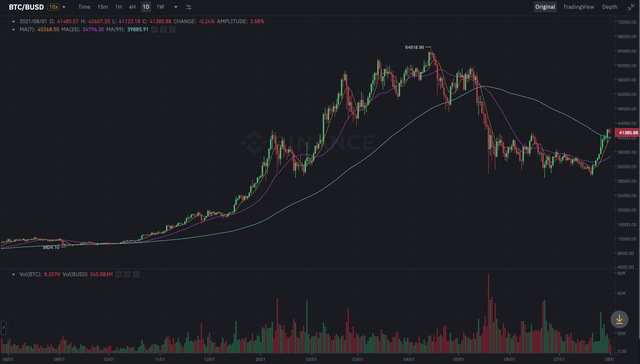 Source: binance.com
Bitcoin "corrected" by about 55% from its all-time high in mid-April. Now BTC is on the brink of breaking above critical resistance at $42K, a level that once surpassed should allow for BTC to move notably higher.
Why I think the worst is behind Bitcoin
The all-important $30-28K support level got tested three times, and it held up each time. Moreover, let's look at the volume. On the first trip, the volume was massive and primarily sell-side. In the second attempt to take BTC lower, volume was high but lower than in the first down wave. We also see more buy volume after this dip. Finally, in the third wave, sell volume is lower than in the prior two breakdowns and is met with intense buy interest once $28-30K hold up for the third time.
This price action is a strong indication of a likely bottom in Bitcoin. It appears that prices went too high too quickly, needed to cool off, but Bitcoin did not enter a prolonged bear market, instead just a prolonged multi-month correction. Yes, I am calling a 55% move lower a correction, as a Bitcoin bear market could take a year or longer to work through and would likely cause prices to decline by 75% or more.
Disclosure: I/we have a beneficial long position in the shares of BTC-USD, ETH-USD, ADA-USD either through stock ownership, options, or other derivatives.
Disclaimer: This article ...
more