Whispering Warnings For The S&P 500 On December Fed Eve
(T2108 measures the percentage of stocks trading above their respective 40-day moving averages [DMAs]. It helps to identify extremes in market sentiment that are likely to reverse. To learn more about it, see my T2108 Resource Page. You can follow real-time T2108 commentary on twitter using the #T2108 hashtag. T2108-related trades and other trades are occasionally posted on twitter using the #120trade hashtag. T2107 measures the percentage of stocks trading above their respective 200DMAs)
T2108 Status: 74.5% (5th overbought day)
T2107 Status: 67.1%
VIX Status: 12.7
General (Short-term) Trading Call: cautiously bullish
Active T2108 periods: Day #205 over 20%, Day #25 over 30%, Day #24 over 40%, Day #22 over 50%, Day #16 over 60%, Day #5 over 70% (overbought)
Commentary
This is day #5 of the (extended) overbought rally that I heralded last week. It is December Fed Eve: the December day before the Federal Reserve hands down its latest pronouncement on monetary policy. This policy statement will almost certainly include a rate hike and some hints as to the Fed's thinking for 2017. In a move that speaks volumes about the surging optimism in financial markets, investors and traders rushed to put yet more money in stocks and send the major indices to fresh all-time highs.
The S&P 500 (SPY) gained 0.7% to a new closing all-time high and a FIFTH day in a row trading at or above the upper-Bollinger Band (BB)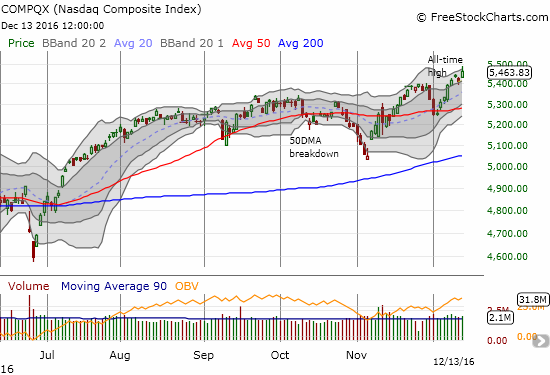 The Nasdaq (QQQ) gained 1.0% to a new all-time closing high although it pulled back from its upper-Bollinger Band (BB).
The S&P 500 (SPY) has created the very definition of an extended overbought rally by stretching to or above its upper-Bollinger Band for every day of this overbought period. The money rotation out of and back into tech stocks is abating now that the Nasdaq has joined the S&P 500 in printing all-time highs. Several big cap tech stocks notched notable gains on the day: Amazon.com (AMZN) 1.8%, Facebook (FB) 2.2% (despite today's gain, Facebook still looks like it is breaking down), Apple (AAPL) 1.7%, and Intel (INTC) 2.3% stood out in particular. I REALLY like the 50DMA breakout on INTC. While I missed playing the perfect test of 200DMA support, I am looking forward to buying the dip.
Full disclosure: long SSO shares