US Futures Slide, Chinese Stocks Tumble After Beijing Threatens To Pull The Kool-Aid
On Sunday, when commenting on last week's latest Chinese politburo meeting, we said "If your bullish thesis to buy stocks in recent months has been anchored by the expectation of aggressive monetary easing by China reinforcing the narrative that "bad news is good news" for the market, you may consider selling" because, as Goldman put it simply, the "politburo meeting signaled a less dovish policy stance."
One day later, it appears that quite a few investors did indeed consider selling, because shortly after Beijing signaled it is far less amenable to adding stimulus, and in fact is once again contemplating pushing deleveraging (as we explained in detail) the world's best-performing stock market is suddenly looking a lot more vulnerable as China's CSI 300 Index of equities traded in Shanghai and Shenzhen sank 2.3% on Monday, its biggest loss in a month and 3rd worst drop of 2019. Property developers led the plunge, along with companies reliant on consumer discretionary spending and so-called old economy shares such as banks and industrial companies.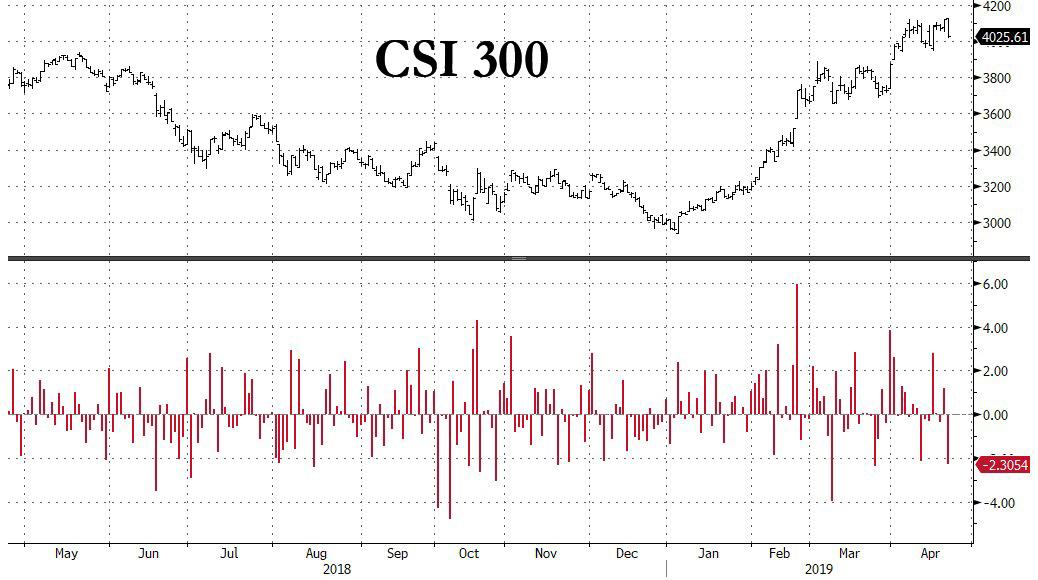 It wasn't just Chinese stocks that got hammered: the yield on China's 10-year sovereign bonds soared above 3.41%, closing at the highest level since November, and continuing a three-week surge, following comments that China needed to keep a proper balance between tightening and loosening.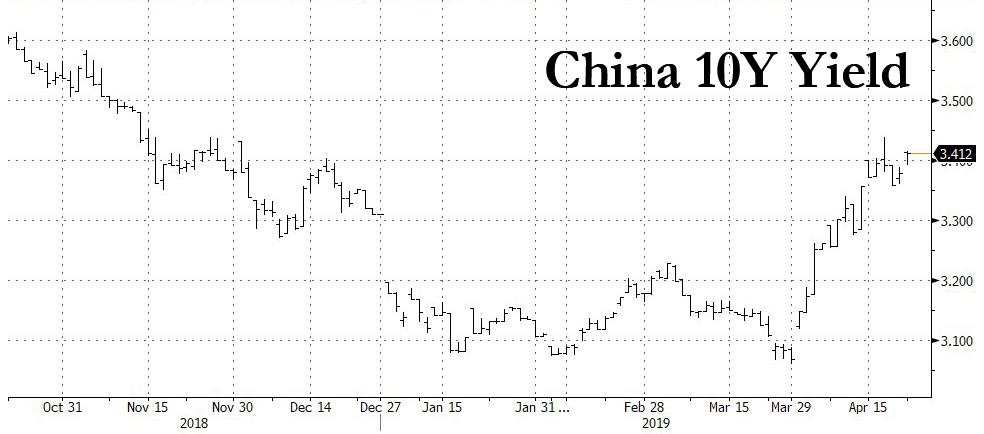 As Bloomberg follows up this morning, after Chinese equity soared almost 40% this year, "investors have grown increasingly sensitive to whether the authorities will maintain the massive scale of stimulus seen in the first quarter." And, as we noted yesterday, Friday's Politburo statement was interpreted "as meaning the economy is on a stable enough footing that extended support isn't needed", i.e., less dovish, and instead there was a focus on deleveraging and avoiding speculation in the housing market.
"The key takeaway from the meeting is that there is limited room for further marginal monetary easing," said Tommy Xie, an economist at Oversea-Chinese Banking Corp. in Singapore. "Since the second half of 2018, China's bonds rallied mainly on expectations of easing policies, but that has changed after signs that the Chinese economy is stabilizing."