US Economic Growth Pushes Yields Higher
The biggest trend in markets is the US economy's outperformance over emerging markets and other developed economies. The data keeps adding up and expanding into a pervasive trend. Japan was added to the list of economies with tepid economic growth which fell to -0.2% in Q1, down from +0.6% in the previous quarter. This ended two years of growth which was the longest streak of positive GDP growth in 28 years. Normally, this might have been chalked up to Japan having a momentary slip-up, but the overall trend of weakness in global growth outside of the US has made markets more nervous.
The best summary of this trend is seen in the U.S. dollar index which is up 5.12% in the past 3 months. The dollar rally is mostly caused by the economic data rather than the Fed raising rates because the Fed is actually following the market, not ahead of it, as we'll review later in this article. The dollar rally is causing countless shifts in the market. For example, the Russell 2000 is now at a record high because small caps are domestic firms that focus on the domestic US consumer. They are using their profits which are in U.S. dollars to buy goods and raw materials from international markets. The other shift we'll mention that's caused by the strong dollar is the weakness in emerging markets. The emerging market equities are taking a big hit.
From their recent highs, Turkey is down 29%, Indonesia is down 22%, Brazil is down 21%, and Mexico is down 21%. The Bloomberg chart below shows the local currency emerging markets ETF is down from $7.9 billion to $6.5 billion since the start of April.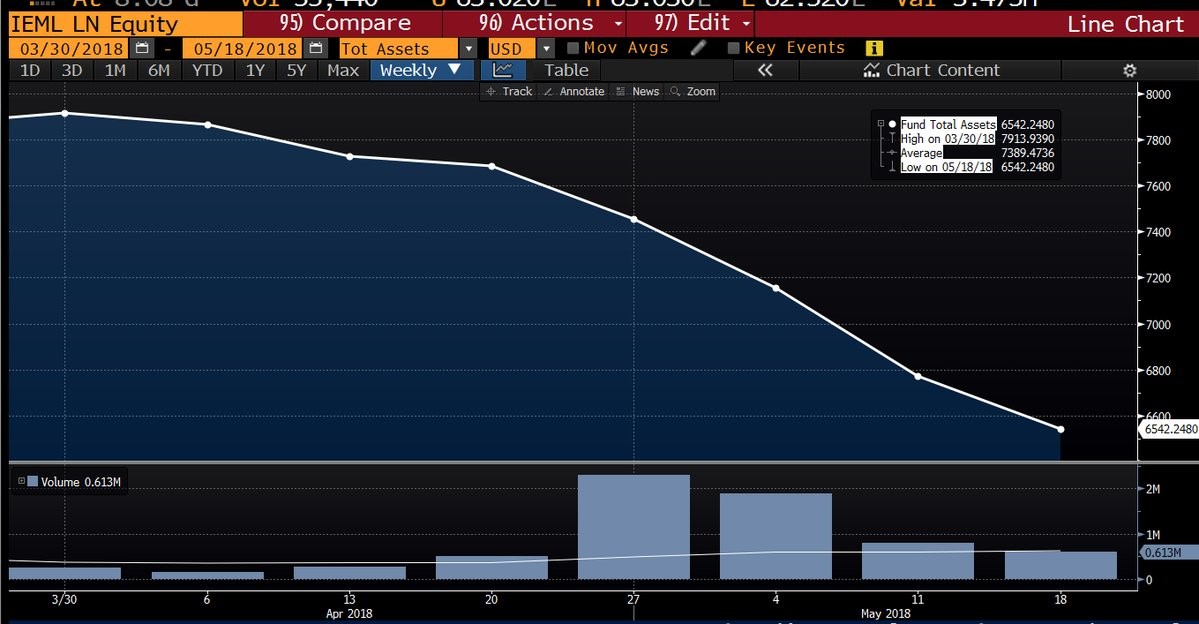 Source: Bloomberg
Emerging market debt is also selling off as the PowerShares Emerging Markets Sovereign Debt Index (PCY) is down 10.06% from September 8th. Emerging market corporations issued $450 billion in cheap dollar debt in 2017 which was a record; it's now causing significant turmoil. Emerging market governments are also being hurt by the rising dollar even though they have lowered their account deficit from $91 billion in 2016 to $26 billion in 2017. They are also trying to limit the damage by using dollars to buy their local currencies, boosting their values.
Disclaimer: Please familiarize yourself with our full disclaimer here.