This Isn't The First 'Fed Pause'
And we come full circle back again. It's not what they say, it's what they do. Kansas City Fed CEO Esther George was at least consistent, unlike all the other voting FOMC members. Throughout 2015 and 2016, the rest of them would say the economy was strong but then vote the other way, no "rate hike." December 2015 was the lone exception (and perfectly fitting).
President George, on the other hand, was almost irredeemably optimistic about the economy and voted that way, too. While the majority held steady, Esther was the one who would dissent against the then Fed Pause. The few times she didn't was in early 2016 when the US economy approached recession conditions.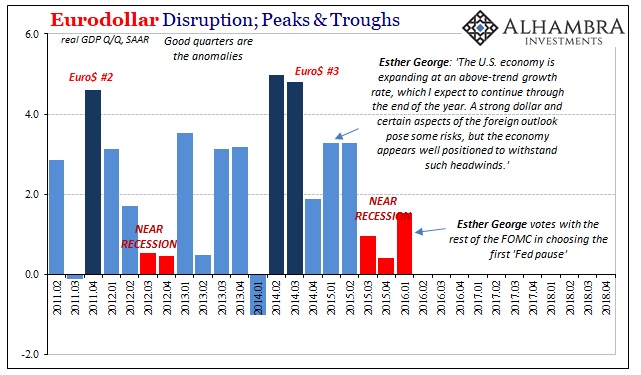 You knew it was serious when the hawkest of hawks stopped walking how she talked. In March 2015, George had said:
The U.S. economy is expanding at an above-trend growth rate, which I expect to continue through the end of the year. A strong dollar and certain aspects of the foreign outlook pose some risks, but the economy appears well positioned to withstand such headwinds…

Importantly, this improved outlook for consumers and businesses suggests that momentum in the labor market will likely continue going forward. The economy added more than 3 million jobs in 2014, the highest level since 1999, and the rapid pace of job creation has continued into the beginning of 2015.
Sounds very familiar, doesn't it, especially how none of it was true – a fact George herself would confirm in January 2016 voting in unanimity forgoing a second hike immediately after the first (which was the original plan).
Can we stop with all the "rate hikes are causing this" nonsense? The upper boundary of federal funds is currently 2.50%, hardly any sort of hardship on anyone anywhere. If 250 bps is the cause of so much fright and angst, how in the world did the world function when risk-free was 6% or better? You might even notice that the economy did function so much better when interest rates were higher (interest rate fallacy).
Disclosure: This material has been distributed for informational purposes only. It is the opinion of the author and should not be considered as investment advice or a recommendation of any ...
more