The Politics Of Spreading Inversion(s)
Clothed in immense self-denial, hung up on absurd self-confidence, Federal Reserve officials gathered on August 7, 2007, to discuss how things really weren't as bad as everyone seemed to think. There were several key conversations taking place at the FOMC meeting held then all leading nowhere. Policymakers would literally laugh off obvious distress in crucial markets.
Here's one example:
MR. POOLE. I have two questions. First, does the New York Fed have what I might call material nonpublic information about firms that would suggest that there is more difficulty than we see in the newspapers? That is one question…

MR. DUDLEY. As far as the issue of material nonpublic information that shows worse problems than are in the newspapers, I'm not sure exactly how to characterize that because I guess I wouldn't know how to characterize how bad the newspapers think these problems are. [Laughter] We've done quite a bit of work trying to identify some of the funding questions surrounding Bear Stearns, Countrywide, and some of the commercial paper programs. There is some strain, but so far it looks as though nothing is really imminent in those areas.
Famous last words; just two days later the entire global monetary system broke down – starting right there in commercial paper and progressing almost everywhere else. We obviously know what happened to Bear a few months further on. So much for the "quite a bit of work" being done by FRBNY's best and brightest.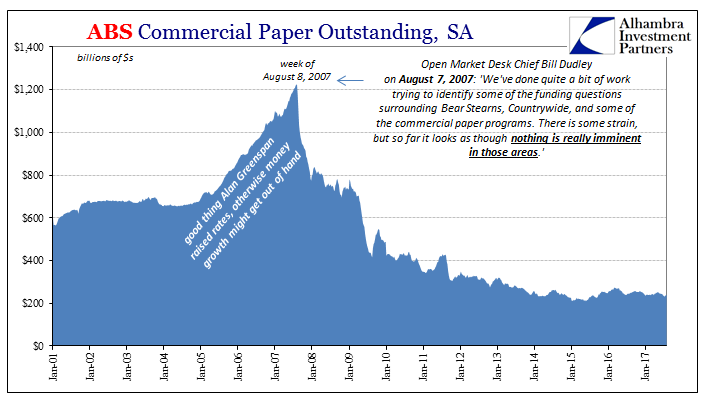 Before Bill Dudley, who was manager of the Open Market Desk at the time, would answer President Poole's initial question he first attempted to respond to his second. This latter one had to do with liquidity risk and arbitrage, searching for an explanation in a somewhat backward way for curve inversions in eurodollar futures as well as the US Treasury market.
Dudley's answer, I still can't believe he said this (actually I can, what is confounding is how an empty suit like this could have ever been allowed to rise to what is the Fed's most crucial position):
Disclaimer: All data and information provided on this site is strictly the author's opinion and does not constitute any financial, legal or other type of advice. GradMoney, nor Jennifer N. ...
more