The Chuck Berry "Ridin' Along" Stock Market (And Sentiment Results)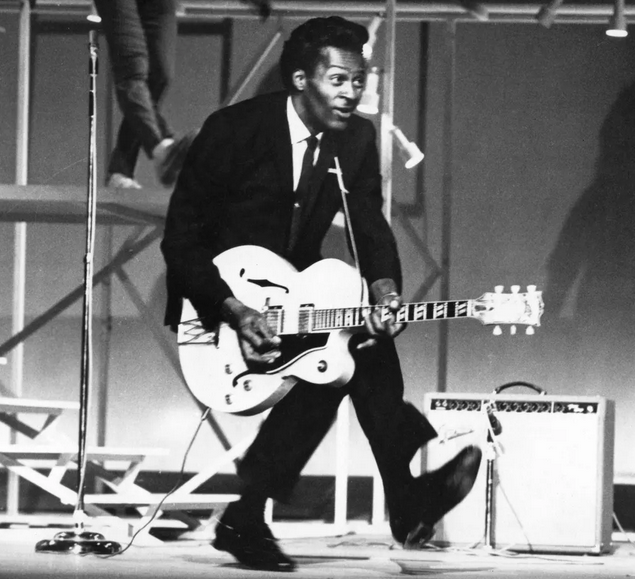 This week I chose Chuck Berry's classic song "No Particular Place to Go" to describe current market sentiment. As you can see below, watching the markets for the past ~2 weeks has been like watching paint dry:
(Click on image to enlarge)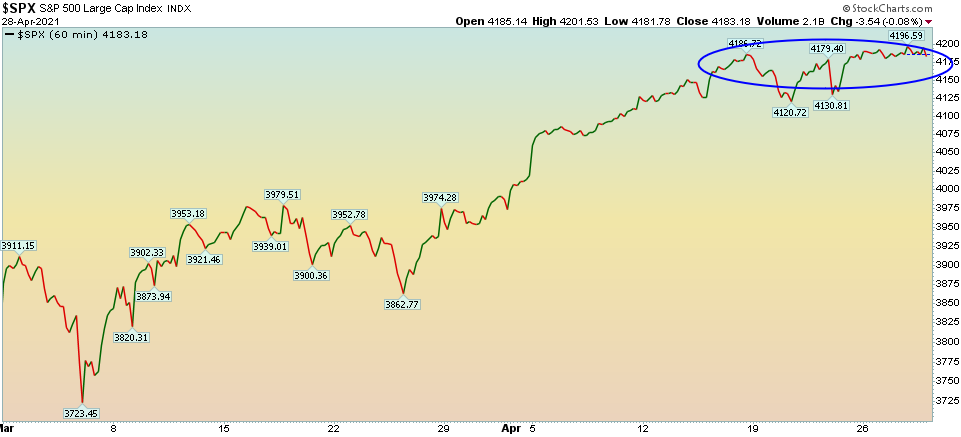 Chuck Berry put it best:
Crusin' and playin' the radio
With no particular place to go…
Chuck Berry No Particular Place To Go (HQ Audio)
So far we have seen Bank earnings and Big Tech earnings. Both blew the doors off. The question moving forward is, "how much was priced in?"
On Wednesday afternoon, I joined Nicole Petallides on TD Ameritrade Network to discuss "Big Tech" earnings results and expectations. Thanks to Nicole and Declan Murphy for having me on:
Watch "Big Tech" Interview on TD Ameritrade Network
At the beginning of the year, we laid out the case for a mid-teens UP year for the S&P 500, and that it was unlikely we would see any major pullbacks greater than 3-5% (similar to 2013 and 2017). As such, the prescription was to ignore the general indices and look for the "rallies under the surface."
We've been successful with that strategy – having rode Energy and Financials early in the year – followed by Utilities, Staples and Big Pharma in the past two months. So now what?
In the video above we covered Microsoft and Alphabet. After the bell, Facebook beat big as anticipated. Apple also beat expectations, but lowered guidance by $3-4B in Q2 due to the chip shortage. The last time AAPL reported "perfect" earnings was January 27, 2021. This was the headline from their press release:
"Revenue up 21 percent and EPS up 35 percent to new all-time records. iPhone, Wearables, and Services set new revenue records"
Here's what happened next:
(Click on image to enlarge)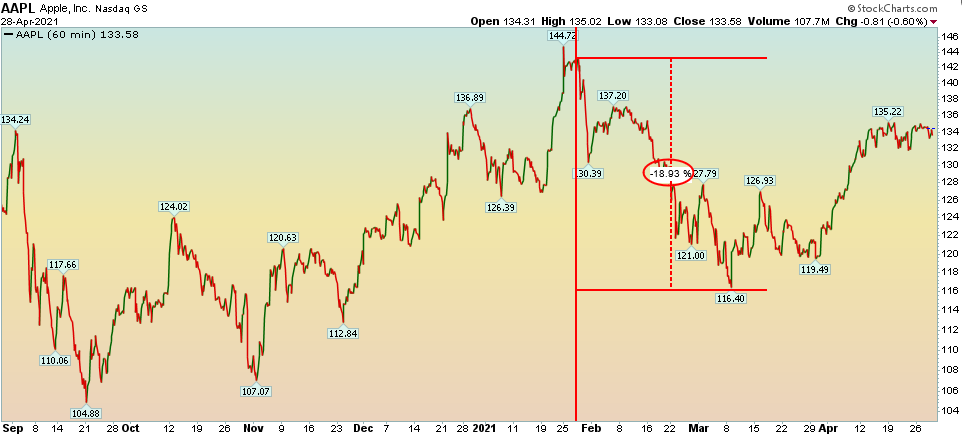 Here's the headline from Wednesday night's earnings:
Disclaimer: Not investment advice. For educational purposes only: Learn more at HedgeFundTips.com.