Technically Speaking: Sell Today? Risk Vs. FOMO
The market is downright bullish.
There is little reason to argue the point given the bullish trend since the December 24th lows. Of course, such is not surprising given the Fed's dovish turn from tightening monetary policy to quietly putting the "punch bowl" back on the table.
But yet, this rally is occurring at a time where Europe's earnings growth rates for the just reported Q4-period stands at a -1% annualized, which is the lowest since Q2-2016, and the U.S. is on the verge of an earnings recession as well as declining economic data.
Something doesn't quite jive. As Morgan Stanley's Mike Wilson noted (via Zerohedge):
"The US is also about to enter an earnings recession, ironically after one of the strongest years for corporate profits on record, the picture of American companies is not much better. Not only is an above average number of companies issuing negative EPS guidance for Q1 2019 (of the 93 companies providing official guidance, 68 or 73%, have issued negative EPS guidance), but consensus EPS for Q1 is now deep in the red. According to Factset, the average Wall Street forecast now projects Q1 earnings per share to decline by 2.7% Y/Y, worse than a consensus -0.8% forecast drop three weeks ago, and starkly lower than the +3% EPS growth expected for Q1 at the start of the year."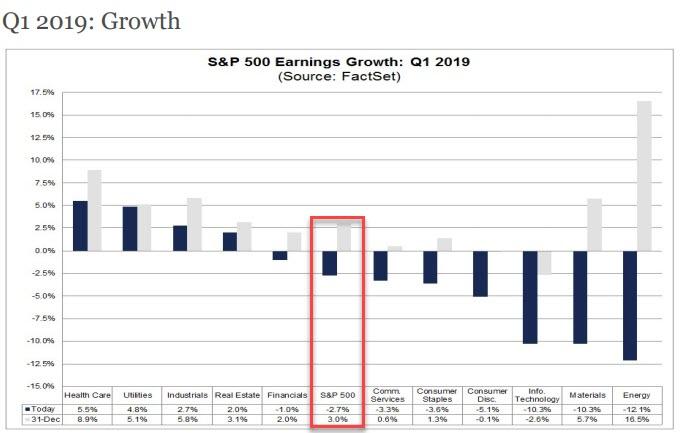 "In a troubling twist, this EPS drop is taking place even as companies continue to buyback record amounts of stock (according to BofA's client tracker, corporate repurchases are running 98% YTD compared to the same period last year when as a reminder, total announce buybacks topped a record $1 trillion). More perplexing is that the EPS drop will take place even as S&P500 revenue is still expected to post a solid 5.2% Y/Y growth, suggesting that profit margins peaked some time in 2018 and are now declining, as the following chart from FactSet shows."
RIA PRO subscribers (use code PRO30 for a 30-day free trial)
Lance Roberts is a Chief Portfolio Strategist/Economist for more