EC

Stocks Rally, But Fundamentals Get Worse
The stock market has had a great start to 2019 as the S&P 500 is up 4.13%. Netflix is considered a poster child for the momentum trade because it has a high valuation and a volatile stock. Netflix is already up 35% on the year. Be careful when looking at the price action. It's best to look at the economic data and earnings reports because the fundamentals don't change from day to day. It's easier to get in front of macro analysis than it is to trade volatile stocks on a day to day basis.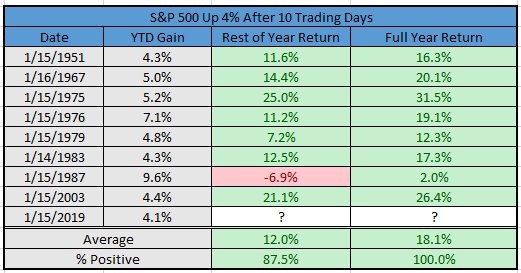 Source: LPL Financial
The table above is probably something you want to ignore even though it is tempting to follow. As you can see, when the S&P 500 increases at least 4% in the first 10 trading days, the rest of the year is up 7 out of 8 times and the full year returns are positive every year. One crushing blow to this table is that the December 2018 returns were worse than all the Decembers leading up to these January gains in this table. The stock market started the year very oversold. Usually, January tells us how the year will go, but this January only tells us December was terrible.
As we mentioned, earnings reports are more important than short term price action. Out of the first 36 S&P 500 firms that have reported Q4 earnings, EPS growth is 22.77% which is below last quarter's growth of 24.2%. Sales growth is 7.63% which is below last quarter's growth of 8.35%. It was tougher to grow sales than EPS in 2018 because profits were boosted by the tax cut.
Freight Shipment Weakness
With much of the government economic data not being reported because of the 26 day government shutdown (the longest in history), alternative data is more valuable. It's also more important to listen to managements' commentary on earnings calls. One example of a non-government created economic report that has a lot of value to macro investors is the Cass Freight Shipment index. The Cass Freight index measures freight volumes. The index is made up of 400 different companies and manufacturers.
Disclaimer: Please familiarize yourself with our full disclaimer here.