Stock Market Cycles & Upcoming Decade
In a previous article, we commented on how surprised we were by the weakness in consumer sentiment in February given the coming reopening and stimulus. That changed with the preliminary March sentiment reading. The overall index rose from 76.8 to 83. That was caused by a 6.8 rise in the expectations index which got to 77.5. Somehow expectations are still 2.2 points lower than last year. We are confident the next six months will be better than the six months following the March 2020 sentiment report.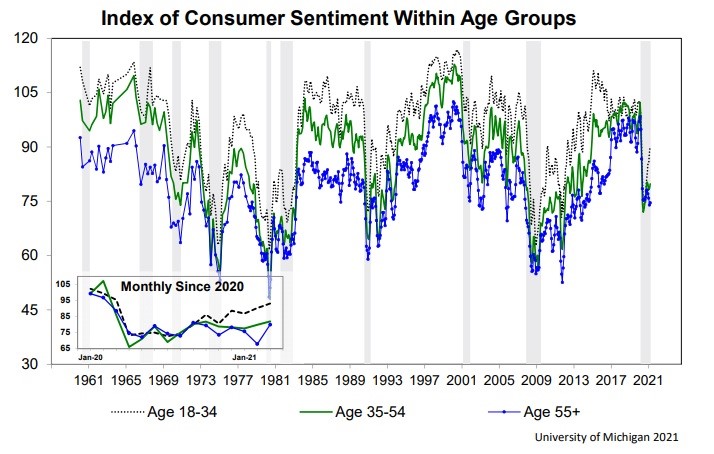 Source: University of Michigan
The current conditions index rose from 86.2 to 91.5. The largest monthly gains were from those in the bottom third of income and those 55 years and older. It's no surprise those in the bottom income group are more confident given the spike in job creation in the leisure and hospitality industry. The March jobs report should be very strong. The increase in confidence from older people is coming from them catching up to younger folks and because most have been vaccinated. You can see in the bottom left of the chart above that younger people led us out of the downturn. Now older people are understanding the coming improvement in the economy.
Spending Is Perking Up
The most updated spending data is all before the stimulus has gone out. We have no data on the stimulus because it just started going out at the end of last week. Stay tuned for that. It will be interesting to see where consumers spend their money. We think it will be at restaurants, on clothes, and on vacations. Even though the stimulus hadn't gone out yet in the first week of March, the Redbook sales growth reading was very strong. Same store sales growth in the week of March 6th rose from 4.6% to 8%.
Furthermore, the Chase spending data below shows strengthening. As of the week of March 8th, card spending growth was -7.9% relative to the pre-pandemic trend. That's one of the highest readings since the pandemic started. We have now reached the point where yearly growth is irrelevant. Of course, yearly growth will be strong in March because that was the beginning of the pandemic in America. Every single economic print will show strong yearly growth from March. Yearly retail sales growth is going to be insane in March because of the stimulus and the weak comp.
Disclaimer: The content in this article is for general informational and entertainment purposes only and should not be construed as financial advice. You agree that any decision you make will be ...
more