Steer Clear Of Lyft's IPO
The first big IPO of 2019 is here. This year could set new IPO records (for size and lack of profits), and it all starts with Lyft (LYFT). The rideshare company is expected to trade within the next few weeks at a market cap between $20-$25 billion.
At the midpoint of that proposed range, Lyft earns our Unattractive rating. It shares many of the same characteristics that have led us to warn investors away from other recent IPO's: growing losses, low barriers to entry, poor corporate governance, and an unrealistically high valuation. These factors make Lyft this week's Danger Zone pick.
No Network Effect Means No Profits
The two things everyone knows about Lyft are that it is growing very fast and losing a lot of money. Bulls will argue that, even if profits aren't coming yet, Lyft's growth puts it on the path to profitability. Their theory is that as Lyft grows the number of riders and drivers on its platform, it builds a network effect that increases its value and gives the company a competitive advantage over potential new entrants. A platform with more drivers has greater value to riders, and a platform with more riders has more value to drivers. Therefore, in theory, if the first movers attain a dominant share of riders and drivers, they build formidable barriers to entry for new entrants into the market.
Facebook (FB) is an excellent example of the power of network effects. People might not like Facebook's privacy policies, but they join and stay on the social network because that's where all their friends are. What's the use in posting pictures for no one to see? Accordingly, the more people on FB, the more valuable FB is to its users. The more users on FB, the more money it can make advertising to them.
As FB makes tons of money in advertising, they offer new features to attract and retain new users. That virtuous cycle goes on while new entrants have to suffer losses as they attempt to reach the critical mass of users needed to become profitable and, hopefully, competitive to FB. The power of Facebook's network allows it to keep growing and maintain a dominant position over competitors like Twitter (TWTR) and Snap (SNAP).
There are two key reasons why Lyft won't benefit from a Facebook-like network effect:
Low Switching Costs: It is easy for both drivers and riders to use multiple ridesharing apps. Roughly 70% of drivers work for both Uber and Lyft, and smaller services such as Juno have piggybacked off that network. The only switching cost involved for users of these platforms is the time it takes to close one app and open another. Switching cost are inconsequential for drivers too, especially for new rideshare apps that can use driver ratings from Lyft and Uber as a lower-cost way to screen drivers.
No Scale Effects: The bulk of Lyft and Uber use comes within a single city. Lyft states in its S-1 that 52% of its riders use Lyft to commute to work. The localized nature of the ridesharing industry means that competitors can make inroads by focusing on a single city. If a startup can attract enough riders and drivers in a single city, it doesn't matter if Lyft has a superior network nationwide.
These two factors will make it difficult for Lyft to build a network effect that gives it a sustainable competitive advantage or the ability to make money.
Growing Losses Reflect No Network Effect
The scale of Lyft's losses is staggering, even accounting for the structural problems it faces. The company's net operating profit after tax (NOPAT) was -$953 million in 2018, a 38% increase from its $691 million loss in 2017. No IPO in recent history can match those losses. The closest, Snap (SNAP), lost $498 million the year before its IPO, or roughly half that of Lyft.
Figure 1: Lyft Revenue and NOPAT Moving in Opposite Direction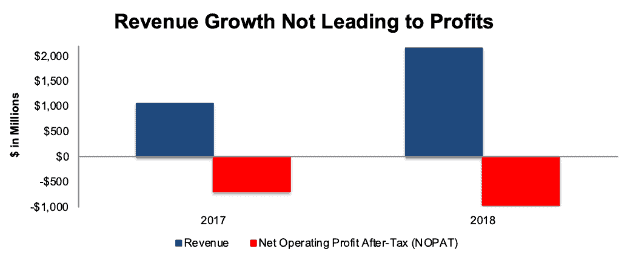 Sources: New Constructs, LLC and company filings
Figure 1 shows that Lyft grew revenue by 104% in 2018, but made no progress on its path to profitability.
Investors Should Be Skeptical of Lyft's Reported Market Share
Early in its S-1, on page 2, Lyft claims it has a 39% share of the U.S. rideshare market, up from 22% in 2016. Several news outlets have treated that number as fact, but there are three reasons why investors should be extremely skeptical of Lyft's self-reported market share number:
Conflicted source: the results come from Rakuten Intelligence, which is also a major investor in Lyft. Rakuten clearly has a financial interest in making Lyft look better ahead of its IPO.
Incomplete: the 39% only accounts for Lyft and Uber. It ignores smaller companies, such as Juno, that have a non-negligible share of the market in certain cities.
Cherry-picked time frame: the data only covers the month of December. With people travelling or going to holiday parties in December, rideshare usage for that month is probably not representative of the rest of the year. In addition, choosing a shorter measurement timeframe allows Lyft to boost its self-reported number by offering steep discounts and incentives in December.
Disclosure: David Trainer, Sam McBride and Kyle Guske II receive no compensation to write about any specific stock, sector, style, or theme.