Something Big Happened In The Gold Market: Must See Charts
Something BIG happened in the gold market this year and very few investors understand the significance. While precious metal analysts debate whether the huge gold rally since the beginning of the year is sustainable, I am beginning to wonder if certain indicators are no longer reliable.
I'll get into that in a moment, but wanted to share a few things as it pertains to my views on the precious metals.
A few weeks ago I was able to get away on a short vacation with my family. We stayed at a nice Bread & Breakfast and at night I enjoyed listening to several different guests talking about their jobs and past-times. In my experience, I have found out that the majority of people would rather talk about themselves rather than listen to others. This doesn't bother me at all as I get to learn more things with my mouth shut than I do with it open.
Regardless, the most interesting chat I had was with the Bread & Breakfast owner's son. He stated to talk about the Presidential race and it moved to different aspects of the economy and finance. It happens that the son went to college to study economics, so this was a huge treat for me as I had a good idea where this would lead.
Before I could mention the subject of precious metals, my wife (sitting next to me) asked the son, "If he had a nice chunk of change to invest, what would he invest in?" I knew where my wife was going with this because she knows a lot about gold and silver due to my 15 years of boring her to death with all the details.
Anyhow, his answer was quite interesting. He said, "I would buy travel Visa's" I thought that was an interesting answer as I have never heard of it before. He explained why he would invest in that, then I asked him what he thought about the precious metals?? His answer was, "YOU CAN'T EAT GOLD." He did not have anything good to say about the precious metals…. LOLOL.
I didn't find this surprising at all, as I've heard that KNEE-JERK response over and over from supposedly intelligent individuals. Actually the next day, I thought it might be a good idea for a promotional precious metals T-SHIRT by having on one side of the shirt printed with, YOU CAN'T EAT GOLD, and on the other side, YOU CAN'T EAT YOUR 401K.
YOU CAN'T EAT GOLD… Oh Really??
Anyhow, this is the problem with most Americans. At some point down the line they heard "YOU CAN'T EAT GOLD" from someone and they continue to regurgitate it as if it makes some sort of sense. Well, of course you can't eat gold…. what a stupid statement. On the other hand, humans actually do actually eat a little gold. Have you heard of Goldschlager Schnapps or chocolate cake with gold leaf?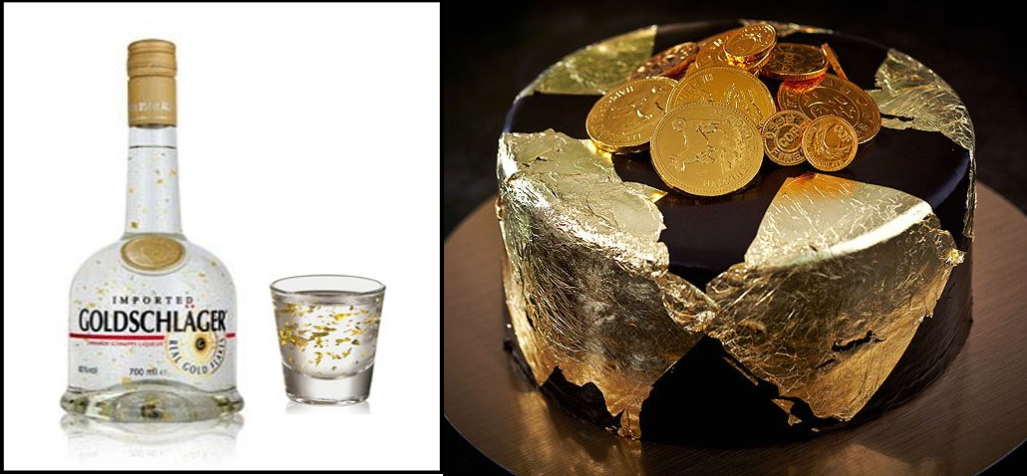 So, people have been consuming gold for quite a while. Now, the question is… who would drink little pieces of their 401K in their schnapps or draped over their birthday cake???
Anyhow, I continue to come across silly or ignorant comments about the precious metals all the time because the individual is either repeating a stupid line they heard, or the person doesn't understand the underlying fundamentals.