REITs: Pipeline Dividends Got You Beat
Long time MLP investors fondly recall the days before the Shale Revolution, when yield comparisons with REITs and Utilities made sense. This ended in 2014 when the energy sector peaked. Cumulative distribution cuts of 34%, as subsequently experienced by investors in the Alerian MLP ETF (AMLP), convinced income-seeking investors that pipelines were a hostile environment.
During the 2014-16 collapse in crude oil, yield spreads on energy infrastructure blew out compared with sectors that were formerly peers. It might be the only period in history when companies have slashed distributions primarily to fund growth opportunities and not because of an operating slump (see It's the Distributions, Stupid!)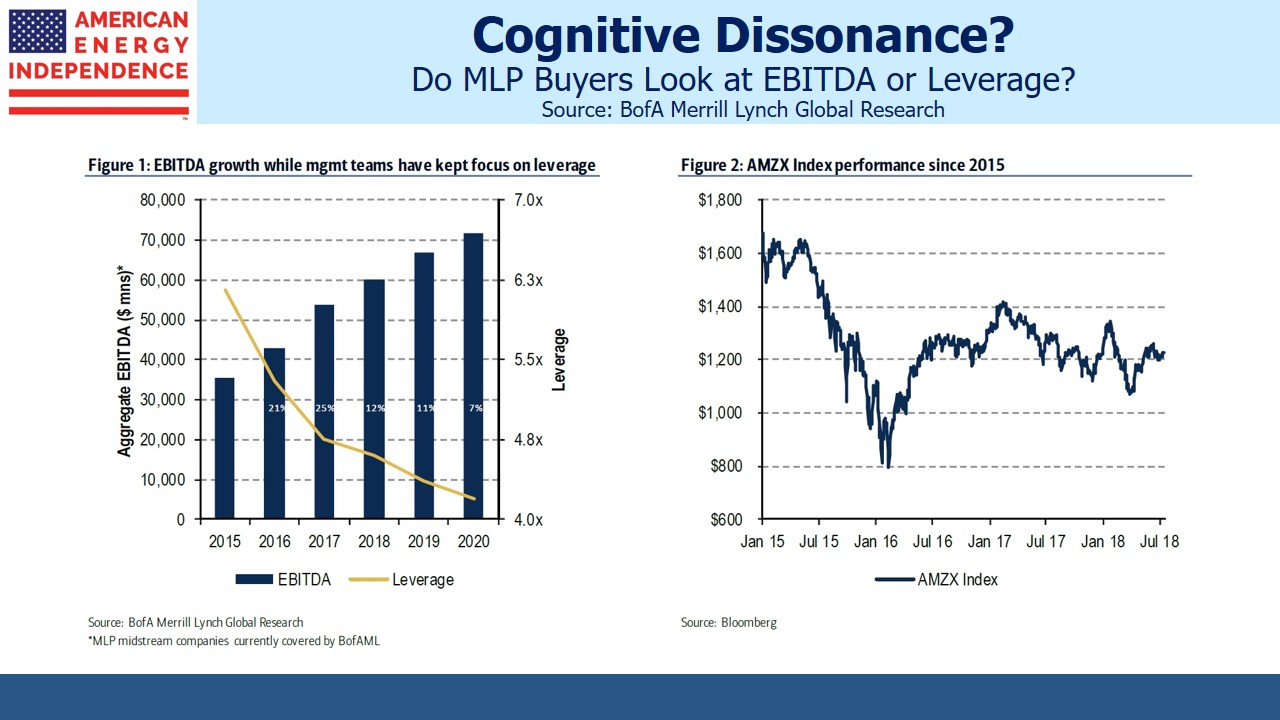 Several months ago, Bank of America published this chart showing that EBITDA for the sector grew steadily through the energy collapse, and leverage came down. Persistent weakness in the sector can best be explained by the betrayal of income-seeking investors. Distribution cuts were unacceptable to many, regardless of the reasons.
2019 should be the first year since crude oil bottomed at $26 per barrel that payouts will be rising (see Pipeline Dividends Are Heading Up). Because falling distributions are so clearly the reason the sector has remained out of favor, increasing payouts could provide the catalyst that will drive a strong recovery.
Income-seeking investors who return to the pipeline sector will find much to like. Funds From Operations (FFO) is a commonly used metric for REITs. It measures the net cash return from existing assets. The analogous figure for energy infrastructure businesses is Distributable Cash Flow (DCF).
We've found that comparing pipelines with real estate resonates with many readers. Differentiating between cash earned from existing assets and cash left over after investing in new assets is intuitive when applied to an owner of buildings.
As we showed in Valuing Pipelines like Real Estate, looking at Free Cash Flow (FCF), or net cash generated after new initiatives, doesn't present an accurate picture if a company is investing heavily. And because dividends have been declining, it's been hard for investors to get comfortable that current payouts are secure. Since neither FCF nor dividend yields have been enticing, capital has often avoided the sector.
Disclosure: We are short AMLP.
Join us on Friday, February 22nd at 2 pm EST for a webinar. We'll be discussing the outlook for U.S. energy infrastructure. The sector has frustrated ...
more