It's The Distributions, Stupid!
Jim Carville's admonition during Bill Clinton's 1992 run for President was, "It's the economy, stupid!"
In its August 2018 edition, The Utility Forecaster warns readers to approach MLPs "with caution." Too risky for income investors is their conclusion. MLP buyers have been badly abused, and Chief Investment Strategist Robert Rapier reminds readers of the many "simplifications" that triggered unwelcome tax bills, as well as the multiple distribution cuts. Without doubt, MLP prices have followed distributions.
In one important respect though, Rapier adopts a simplistic yet incorrect explanation. "…during a long downturn in oil and gas prices, contracts expire and MLPs had to renew agreements under less favorable terms. Many MLPs found themselves doing what was once unthinkable – they had to cut distributions."
It's conventional wisdom that the 2014-15 oil collapse hurt pipeline company operating earnings, which caused payout cuts. But the numbers don't support this narrative. The Kinder Morgan (KMI) chart below shows their Distributable Cash Flow (DCF) per share alongside a significantly more volatile stock. KMI's DCF per share dropped by 28% from 2015 to 2016 (because of dilution), but the share price fell by more than double. They cut their payout twice: once when combining Kinder Morgan Partners (KMP) with KMI ("simplification", in which KMP investors received KMI stock with a lower payout as well as a tax bill); and again later when KMI cut its dividend. KMI was learning that MLP investors want income over the promise of growth.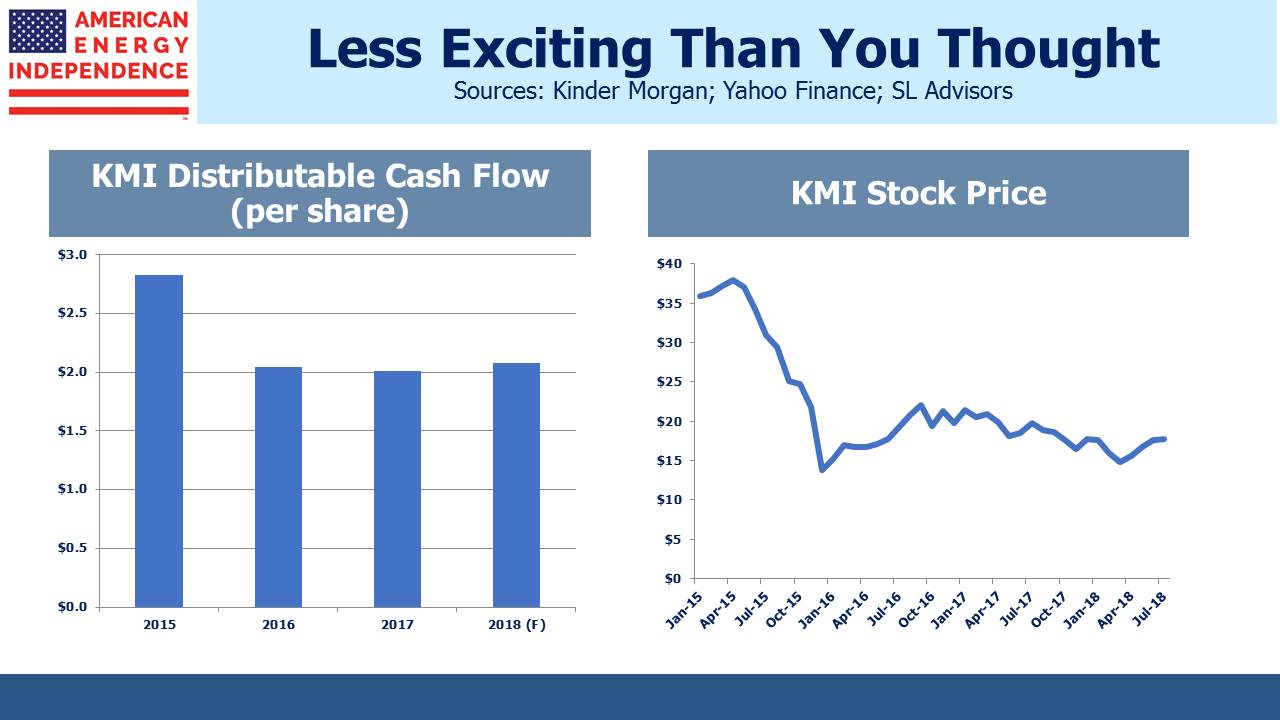 To fund their growth projects, KMP was paying out most of its DCF and then seeking to recoup some of it through secondary offerings. In effect, investors were being asked to reinvest a portion of their distributions back into the company. Many holders found this unattractive, since they spend the income. So KMP's yield rose, which made issuing equity too expensive. KMI concluded MLP investors no longer suited their purpose, and left to become a corporation. Today, KMI yields 5.1%, with a payout more than 2X covered by its $4.7BN DCF.
Disclosure:We are invested in KMI and PAGP. We are short AMLP.