Pipelines Will Last Longer Than Equity Prices Imply
An enduring dichotomy in the valuation of midstream energy infrastructure companies has been the sharply different outlooks implied by debt versus equity pricing. Dividend yields of 6-7% suggest equity investors don't regard their payouts as being sustainable indefinitely. Contrast that with investors in long term bonds, who accept yields of under 4% that can only be justified by a far more optimistic outlook about asset longevity. One camp presumably thinks the energy transition will leave pipeline companies with stranded assets, and the other believes the transition will not have harmed their prospects of principal repayment over the next three decades.
Equity investors probably don't use years of remaining useful life as an input to valuing pipeline stocks. But their collective actions do imply such a judgment. In effect, the equity prices of pipeline companies imply that bond investors will lose their seniority in the capital structure before maturity. If Free Cash Flow to Equity (FCFE) will exhaust the company's ability to pay its owners before long term bonds mature, those bond investors will wind up owning equity. How long will this take?
It turns out there's a neat way to estimate this. The table below shows how this works for Enterprise Products Partners (EPD). It uses dividends because they're easily identifiable, and therefore produces a more conservative (i.e. longer) useful life than using FCFE since companies are not paying out more than their FCFE in dividends nowadays.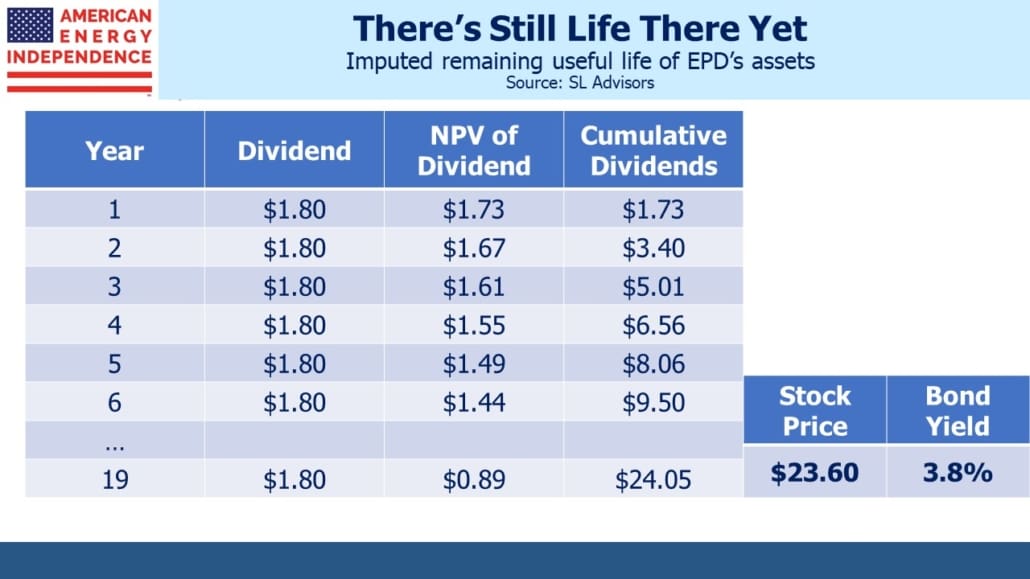 Equity investors who have carefully considered buying EPD before ultimately rejecting it have concluded that the dividend will not last indefinitely. Therefore, they must regard the yield on EPD's 30-year bonds as wholly inadequate for a fixed income investment, and that ultimately bond holders will own the equity when the existing common shareholders are wiped out. Since the bond yield is what the eventual owners need as compensation for this outcome, it can be used as the discount rate on future years' FCFE. Adding up the successive years of FCFE until its value equals the price paid (i.e. today's equity price) reveals when equity investors by implication expect those cashflows to stop.