Is The S&P 500 The Right Portfolio For You?
The USA is the world's biggest free-market economy. Over many years, the value of all stocks traded on US stock markets (as judged by market cap) have traditionally fluctuated between 33% and 43% of all publicly-traded issues worldwide. Not only that, in terms of the quality of the regulatory environment, the US is among the nations where we can most trust the reported revenues and various filings. (Earnings, which are regrettably the most reported upon numbers released to the public, can however be manipulated in any number of ways, no matter where the company is domiciled!) Taking the mid-point of that range US markets look like this…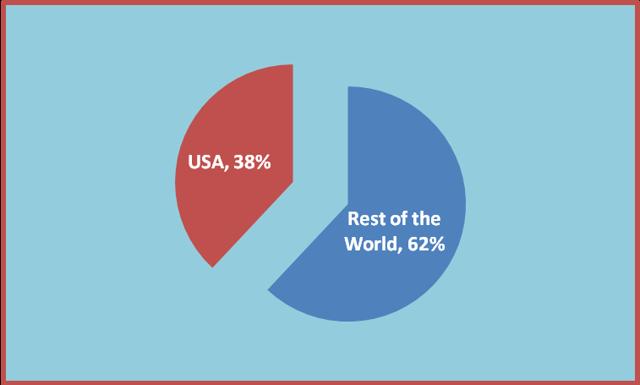 In bear markets, history shows that very few investors elect to stick with their index funds. But in bull markets, there is a preponderance of advice given that individual investors and active managers cannot keep pace with simply buying the lowest-cost passive index fund that mimics one index. Many investors have short memories and forget the carnage of previous bear markets (like March 2000 - March 2003 and October 2007 – March 2009.)
As a result, many of us are quick to jump on the index bandwagon. The index most often employed is, I believe, the most appropriate one if investors are inclined to hand responsibility to one index: the most popular index is the SPX, the S&P 500 Index. It should be. The S&P 500 Index consists of all the large cap stocks, some mid cap stocks and a few REITs; in the aggregate, it is a fine cross-representation of America's biggest and best (or, since we are talking market capitalization rather than corporate assets, revenues, etc., it is comprised more accurately of the "most popular") companies.
So popular have US equities become, in fact, and so disrespected are equities in the rest of the world right now that, according to the latest numbers from S&P (specifically, us. spindices.com) US markets now comprise 52% of total global markets!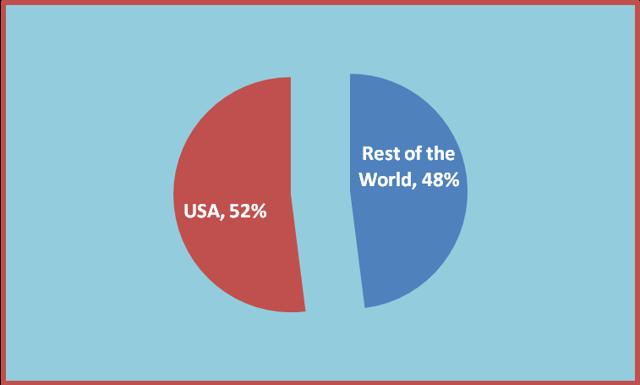 Some may read this chart and say, "Go USA! We're #1!" I look at it and wonder, given that this is a position beyond what it has typically been, if there might be a reversion to the mean. That doesn't mean US stocks will have to fall. It might be just as likely that foreign stocks will rise. In either case, it is the biggest reason why we are diversifying our holdings at this point to include more foreign-based multinationals.
You are welcome to contact me at joe@stanfordwealth.com with any questions.
Disclaimer:
(1) Do your due diligence! What's right for me may not be right for you.
(2) Past ...
more