Housing Starts & Permits Near Cycle Troughs?
Just because housing was considered highly unaffordable in 2018 as interest rates rose doesn't mean another housing bust is coming. Some areas with the hottest housing markets like Seattle will cool down, but the overall market won't crash the economy like last recession.
Specifically looking at Seattle, the latest results aren't great as November pending sales fell 10.4% and closed sales fell 15.3% year over year. Prices were up only 4.2% year over year and inventory increased from 1.39 months in October to 2.32 months.
The Seattle housing market isn't at its trough yet, but we can see in the overall data, which we will review in this article, it hasn't cratered the national market. With the latest decline in interest rates because of worries about a slowing economy, it appears a weakening labor market will be more of an issue than high rates in the intermediate term (1-2 years) for the housing market.
Housing Not As Important To GDP
Housing isn't on unstable ground like in 2007, but even if it crashed, it wouldn't damage the economy as much as it did in the last recession. The housing market is like the energy sector in that energy and mining capex as a percentage of the economy didn't get as large in 2018 as it was in 2014. The oil price crash in 2018 didn't damage the economy as much as it did in 2015. In this case, the housing market isn't as important to GDP growth as it was last cycle.
The chart below shows single family residential investment is less than 1.5% of GDP, while it was almost 3.5% of GDP in 2006.
(Click on image to enlarge)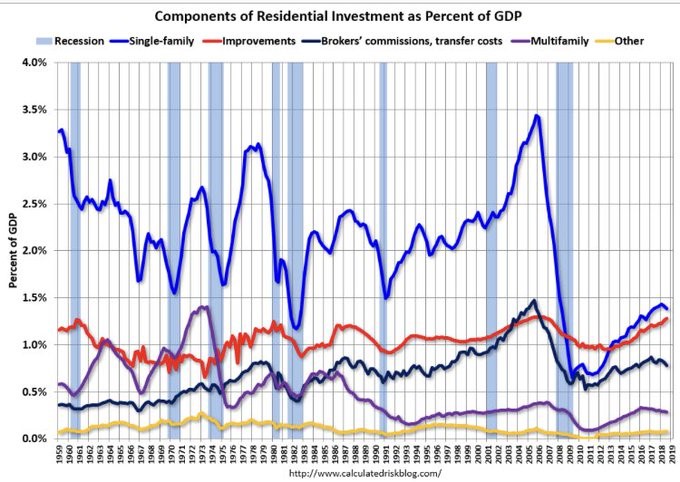 Source: Calculated Risk
That level in 2006 was the highest since at least 1959. That was one of the many signals which could have tipped you off about the impending doom in the housing market. It hit close to 0.5% in the aftermath of the recession. Housing starts were weak as the excess supply from unsold homes and defaults needed to be worked off. The current percentage is near previous cycle troughs.
Disclaimer: Please familiarize yourself with our full disclaimer here.