High-Energy Earnings Boost Pipelines
Earnings for pipeline companies are generally devoid of excitement unless steady growth gets you animated, such is the stability of most business models. But 1Q22 earnings were full of positive surprises.
Cheniere (CEI) blew away expectations with 1Q22 EBITDA 65% ahead of consensus. Most of their Liquefied Natural Gas (LNG) contracts are based on a fixed charge for liquefaction, but in some cases they're able to market the LNG themselves.
Continued strength in global LNG prices drove the beat. CFO Zach Davis reported that because of cash flows, "We'll be bringing down the share count. We'll be reducing interest expense, and ideally, eventually yes, increasing that guidance, but we'll stick with what we got today." He was referring to long term guidance, because they increased their 2022 EBITDA and Distributable Cash Flow (DCF) guidance by 17% and 26% respectively.
Enbridge (ENB), North America's biggest pipeline company, beat consensus EBITDA by 2.2% and raised their dividend by 3.3% year-on-year. Dividend hikes are becoming a common theme across the sector. ENB has one of the more conservative management teams in the industry. Their C$3.44 per share payout equates to a generous 5.9% yield, 1.75X covered by DCF. ENB is also growing their energy transition footprint. They announced plans to develop a Carbon Capture and Sequestration (CCS) hub in Alberta, to capture CO2 emissions from local power generation and cement production. Like most of the big pipeline stocks, it still looks cheap to us.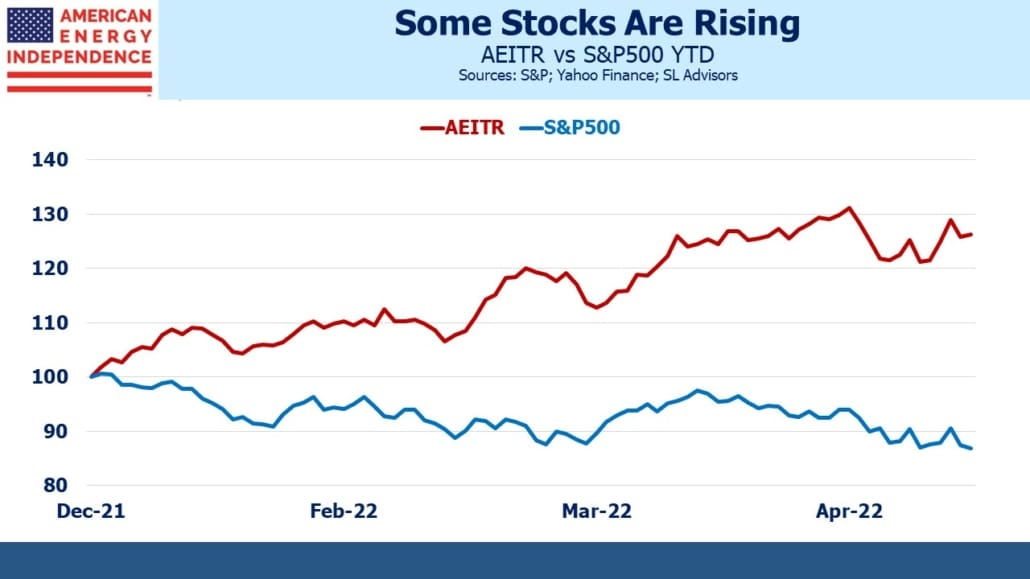 Energy Transfer (ET), widely held by financial advisors we talk to, beat EBITDA expectations by 13% largely due to strong performance in natural gas pipelines. Co-CEO Marshall McCrea said on their earnings call, "In this quarter, our intrastate volumes were up 17%. Our interstate volumes were up 15%, our midstream volumes were up 14%. Our NGL's record volumes, as I alluded to earlier, were up 17%."
ET also expect to make a Final Investment Decision (FID) on their planned Lake Charles LNG export facility soon, having signed several agreement with buyers recently. McCrea saying, "we're highly optimistic that we'll have this fully contracted by the end of the year."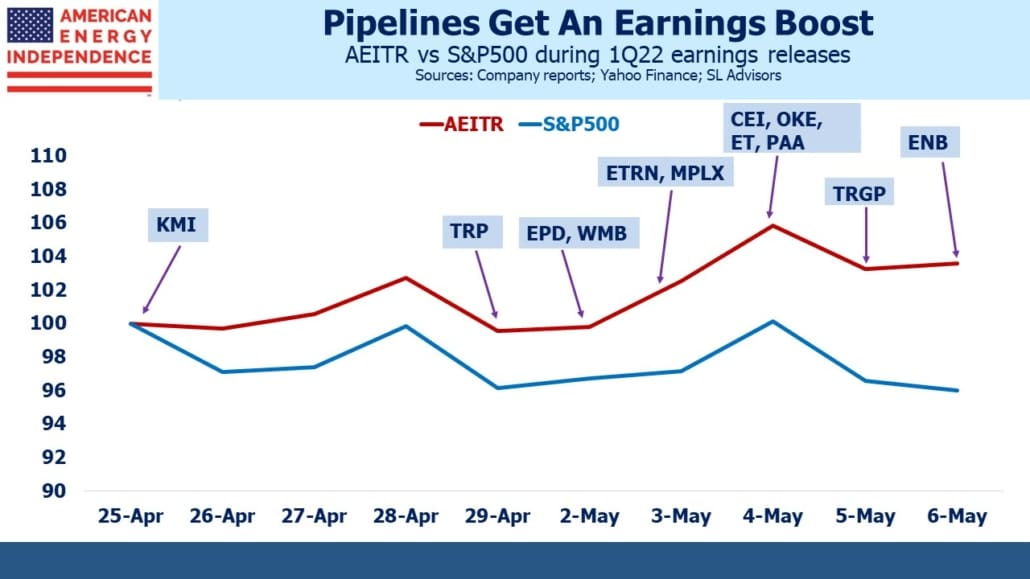 Earnings beats and improved guidance were common, delivered by Kinder Morgan (KMI), TC Energy (TRP), Enterprise Products (EPD) and Williams (WMB) among others. Strength in natural gas pricing and volumes was widespread. Like ET, EPD saw strong demand in its Natural Gas Liquids (NGLs) segment where EBITDA of $1.2BN was 15% ahead of consensus.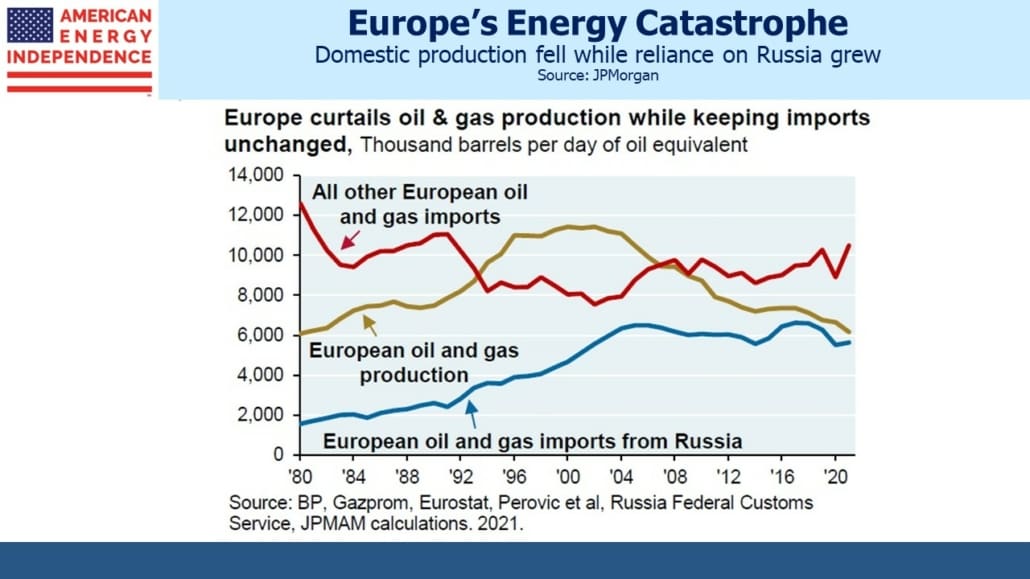 The US moved to a net exporter of NGLs in 2010 and now ships 2.3 Million Barrels per Day (MMB/D). Propane, widely used in home barbecues and by farmers to dry crops, is over half this. EPD, ET and Targa Resources (TRGP) dominate the processing and movement of NGLs.
TRP raised growth capex by 9% and attributed it all to inflationary pressures on labor and materials, something we're all accustomed to. Meanwhile Equitrans (ETRN) continued to press ahead with the Mountain Valley Pipeline (MVP), buoyed no doubt by vocal support from Senator Joe Manchin (D-WVa). MVP is all but complete, but has suffered repeated delays because of adverse court rulings on previously issued permits.
ETRN is now pursuing new permits from two Federal agencies and hopes to place MVP into service by 2H23. NextEra, a JV partner in MVP, was so pessimistic on MVP's prospects that they wrote their investment down to zero in February. Their shrewd accountants have engineered a tax deduction on the full capital investment with the possibility of future returns on an asset carried at zero.
Since KMI kicked off pipeline sector earnings on April 25th, the American Energy Independence index (AEITR) has gained 3.5%, outperforming the S&P500 by 7.5%.
Fears of stranded assets due to the energy transition used to hang over the sector. Opposition to new pipelines from environmental extremists further contributed to negative investor sentiment. We concluded long ago that constraints on spending by pipeline companies was good for investors, albeit sadly not so good for consumers (see Partnering with Pipeline Protesters from June 2019). WMB CEO Alan Armstrong confirmed as much on their earnings call, when he said, "Thanks to the efforts of the environmental opposition and making pipeline permitting so difficult in the areas that we operate, it's allowed us much higher returns in that space than would normally be allowed." If you meet a pipeline protester, give them a hug and offer to drive them to their next event.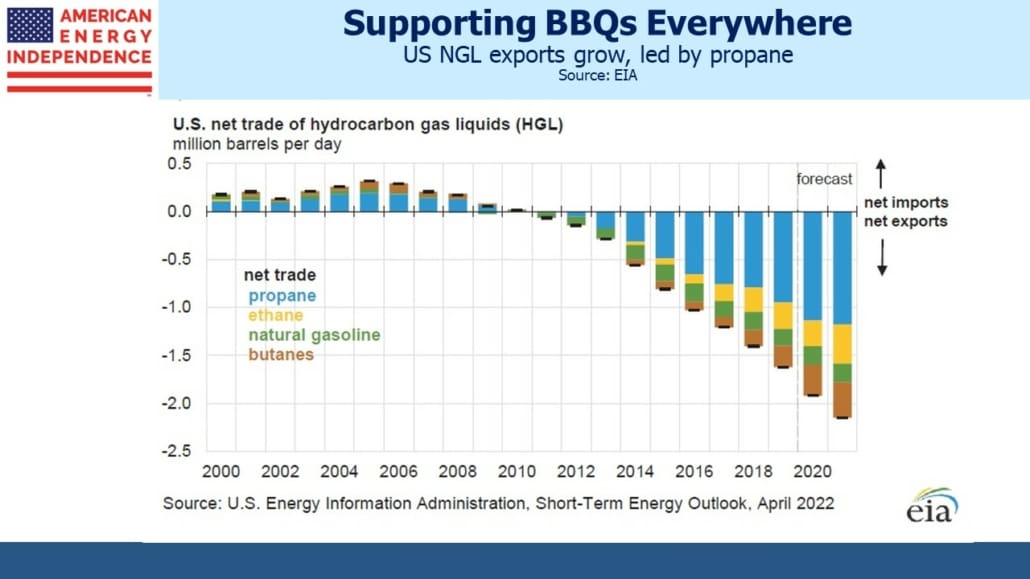 Failures of European energy policy are boosting the outlook for our energy sector. Because climate extremists have held more influence than in the US, over the past two decades Europe let its domestic oil and gas production drop by half. Although consumption has been falling, their increasing reliance on Russian oil and gas made them more supplicant than trade partner. Abandonment of this policy is already boosting the results of pipeline companies and their improved outlook. The EU has held a strong, wrong opinion on energy. By contrast, WMB's Armstrong said of the US, "I think all of us would question whether we've actually had an energy policy or not." He's right. No policy is still better than a bad one, but we can do better.