E

Gold - US Dollar Vs US Dollar Index
When it comes to analysis of gold, the U.S. Dollar Index finds nearly universal acceptance. Or rather, when most analysts refer to comparison/correlation of the U.S. dollar to gold, they usually illustrate their point with a chart of the U.S. dollar index.
While they won't say it straight out, most of them see the U.S. Dollar Index as a proxy for the U.S. dollar. But, is it? From Wikipedia...
"The U.S. Dollar Index(USDX, DXY, DX) is an index (or measure) of the value of the United States dollar relative to a basket of foreign currencies,often referred to as a basket of U.S. trade partners' currencies.The Index goes up when the U.S. dollar gains "strength" (value) when compared to other currencies."
The "basket of foreign currencies" used are Euro, Japanese yen, Pound sterling, Canadian dollar, Swedish krona, Swiss franc.
Nowhere is there any reference to gold. The only thing the U.S. Dollar Index tells us is how the U.S. dollar compares to a select group of other currencies. It tells us nothing about gold.
Below is a chart of DXY reflecting its price over the past ten years...
(Click on image to enlarge)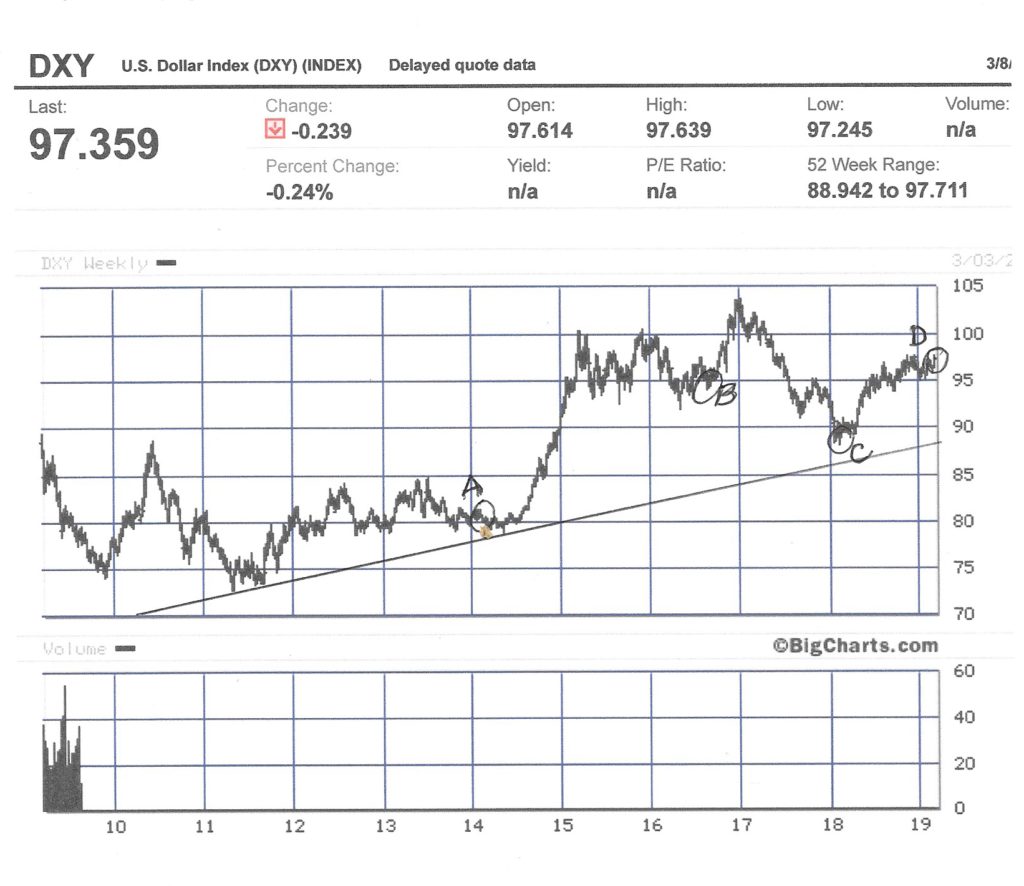 In February 2014 (point A on the chart) DXY (U.S. Dollar Index) was priced at 80. The price of gold at that time was $1328.00 per ounce.
More than three years later, in August 2016 (point B), the DXY had increased by more than seventeen percent to 94. Logically, one would assume that over that period of time, a change of such significance in the U.S. Dollar Index would be reflected in the price of gold.
In this particular example, the increase in the (relative) dollar value, is expected to be reflected by a lower price for gold.
However, that was not the case. Gold in August 2016 was priced at $1328.00 per ounce, the same price as three years earlier.
In February 2018 (point C), just over one year ago, DXY had retreated to 88. But the price of gold was again at $1328.00 per ounce.