Gold: The Only Way The Debt Is Going To Be Paid Is To Devalue The U.S. Dollar
The Consumer Price Index (CPI) just came out at 5.4%, a little higher than expected. It rose 0.9% in June according to the Labor Department data released Tuesday. Excluding the volatile food and energy components, the core CPI rose 0.9% and increased 4.5% from June 2020. Not including food and energy seems to be critical factors in making inflation appear to be less than it is, if you counted such goods. Food prices are rising fast. Soybeans reached 1667 on May 12. Corn reached 735. Wheat reached 773 from a low of about 488 last year. The Fed appears to think that this is transitory so they don't include it in the CPI. If you include such numbers, then the inflation rate is more than 10%. There are different forms of inflation; price/wage inflation, price inflation, and velocity inflation. Most people don't take into consideration monetary or currency inflation, which we are currently experiencing. The dollar is worth less and less as the government prints more and more money. The key is whether the Fed is right and this inflation is transitory or if we are entering a new realm where the US dollar's value is far less than it is now.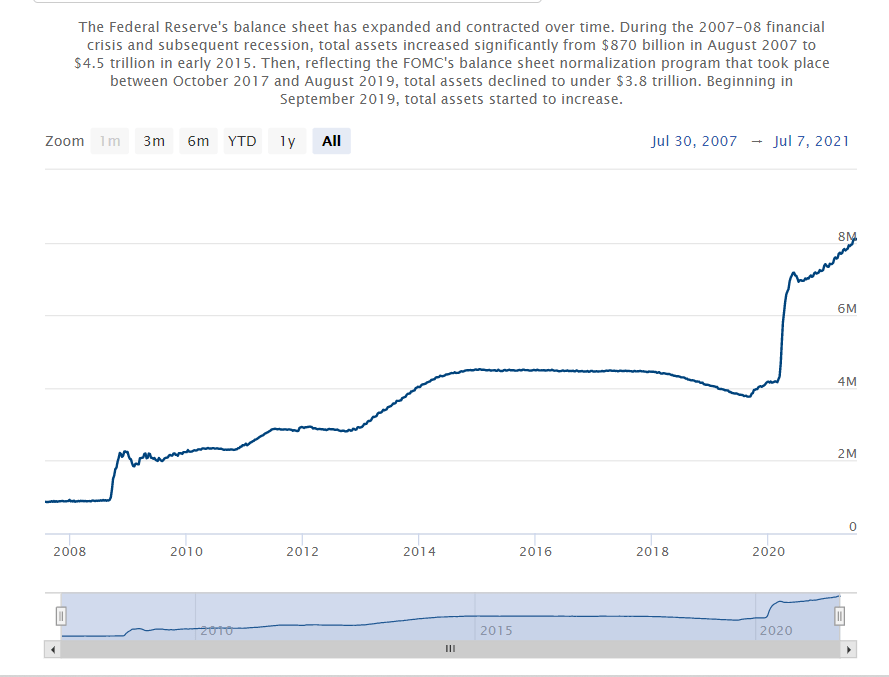 Courtesy: Federal Reserve Bank
We have to realize that the real estate market has created an incredible amount of wealth for middle-class Americans and homeowners since the pandemic struck. Not only is the Fed balance sheet exploding to over $8 trillion, but we also have a tremendous amount of stimulus, and both are driving prices higher in many markets. Such factors will determine whether we have shifted into a new realm of currency valuation or if inflation is temporary. We have price inflation and we have currency or monetary inflation. When we have price inflation, we have to take into account the decline value of the currency due to monetary inflation. Printing money decreases the value of the dollar. The potential for hyperinflation, such as happened in Venezuela, Weimar Germany, and in various African countries, increases. If the bond vigilantes are looking at the US dollar as a target of devaluation and we continue to provide stimulus to the market at a time of negative interest rates or close to negative rates, we could see a major shift in the value of the dollar reflected in the marketplace. We could see a collapse in the value of the dollar to zero. All fiat currencies could fall to zero. The only way the debt is going to be paid is to devalue the dollar, which is what Mexico did when it devalued its currency, basically transferring the debt to Main Street and the exchange went from 16 pesos to the dollar to thousands of pesos to the dollar. The debt to GDP ratio is way out of line. We are seeing such ratios above 100%. If interest rates rise, such debt levels are unsustainable. An adjustment is coming.
Disclosure: I/we have a beneficial long position in the shares of GDX either through stock ownership, options, or other derivatives.
To learn more about how the VC PMI works and receive ...
more