Financial Markets Keep Swinging At The Rhythm Of History - Part 2
<< Read More: An Indicator That Assesses Which S&P 500 Sectors Are Likely To Outperform - Part 1
In the article An Indicator That Assesses Which S&P 500 Sectors Are Likely To Outperform of February 9, 2021, I reviewed what happens to the 11 sectors of the S&P 500 during several business cycles. The following is an update to the forecasts made in that article. It is a way to verify the validity of the ideas presented at that time.
Business activity does not expand on a straight line. Business grows in cycles because managers find it difficult to assess demand for their products. As a result, they create imbalances in the financial markets with their decisions to keep the appropriate levels of inventories.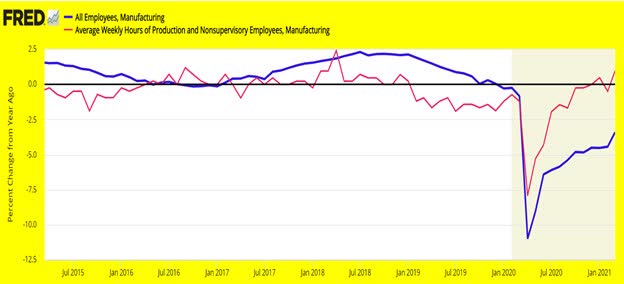 Source: St. Louis Fed
The above chart shows the trajectory of the previous business cycle (2016-2020) and the new cycle started in March 2020. The growth in manufacturing employment (blue line) is an excellent way to visualize the business cycle. It bottomed in 2016, peaked in 2018, and bottomed again in March 2020. The average workweek (red line) is an added indicator leading employment by several months.
In a recovering economy, business, not confident the bottom of the cycle has been reached, tries to extend the workweek rather than hiring new workers (see, for instance, the 2015-2016 episode on the chart). Right now, the average workweek is being extended, a sign business is experiencing a strong economy, suggesting further improvements in manufacturing employment.
The point is these data show an expanding economy. Several indicators reviewed in my previous articles suggested the business cycle was on an upswing. Since March 2020, business has been facing a serious decline in inventories due to the pandemic.
Since then, it kept increasing production to replenish depleted inventories. Managers aggressively had to purchase raw materials, hire new workers, and borrow more money. The outcome has been rising commodities, rising employment in manufacturing, and rising interest rates.
Disclosure: I am/we are long SPY, TLT. I wrote this article myself, and it expresses my own opinions. I am not receiving compensation for it. I have no business relationship with any ...
more