Finally Some Real Data…For November
The payroll report wasn't actually the first. The Treasury Department filed its Treasury International Capital (TIC) update yesterday, about two weeks late due to the federal government shutdown. However, since nobody follows it and the figures relate to a lot that's beyond the US economy it doesn't count in the mainstream view.
That's a shame because TIC will tell you so much more about the global economy and the changes taking place within it than the Establishment Survey and unemployment rate could ever hope to. The latest estimates for the month of November 2018 didn't disappoint, though I suspect we might find even more interesting results when the December numbers are put out. Whenever that might be.
To begin with, very few seem to know what the data is actually telling us. Foreigners are selling their holdings of US government debt (agency paper is heavily represented, too) again, which means, what? Some say it becomes an element in the US-China trade war, others about how especially Russia (who doesn't have many left) is leading the world to de-dollarize.
Most commentary frames it as a choice. It isn't.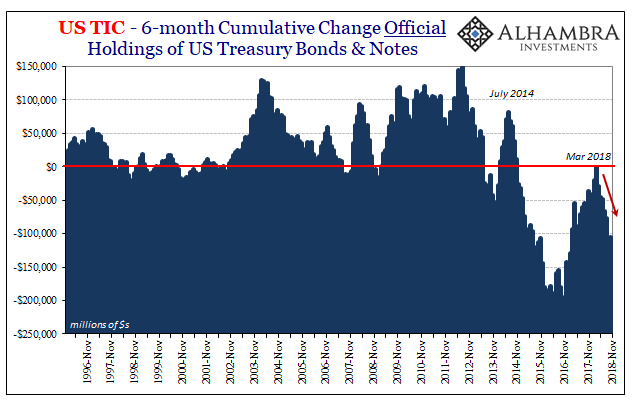 Selling US$ reserves is a reaction and a pretty clear one. Dollar shorts and shortages, that's all this is. You have to have dollars to participate in global trade. There is only the one hermit kingdom left on earth, which means that practically every economy that exists today must find dollars somewhere in order to trade (and even North Korea attempts to source them clandestinely).
This further proposes a global economy rather than separated systems.
Where anyone gets dollars is equally as misunderstood as why anyone is required to find them. The Federal Reserve doesn't provide a single useful input here. Rather, it is global banks which operate an offshore global currency network who do. Credit-based global currency. This is the eurodollar, even though there is no such thing.
Disclosure: This material has been distributed for informational purposes only. It is the opinion of the author and should not be considered as investment advice or a recommendation of any ...
more