An Important Wrinkle In Chinese Bank Hoarding
In theory, it is always so simple. For China, it was intended that RRR cuts are stimulus. By allowing banks to use more of the reserves they've built up over the years it is meant to add to overall interbank liquidity. From there, banks flush with RMB supported by robust RMB money markets will lend and undertake more direct economic transactions.
Voila, stimulus.
The theory gets complicated by a very different kind of reality, one which pressures RMB markets from two sides. The first is the direct result of the overriding issue. The eurodollar market malfunctions, forcing China to deal with a "dollar" shortage by having its central bank (and others) intervene out of its own stockpile of FX reserves. Simple accounting, the PBOC's asset side shrinks which must be met by the same on the money side.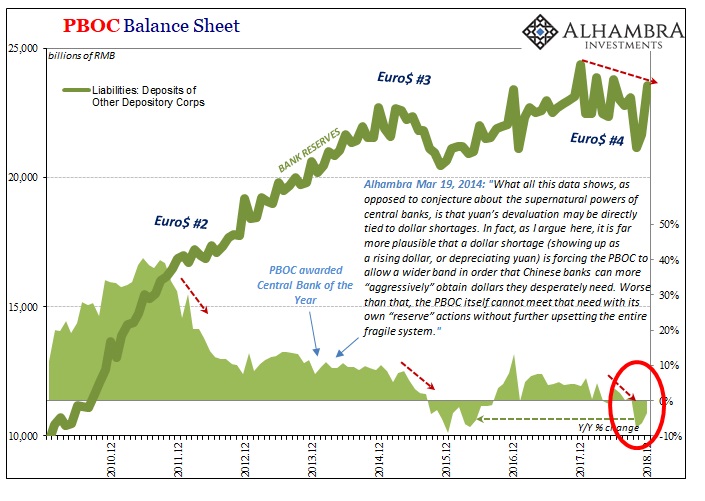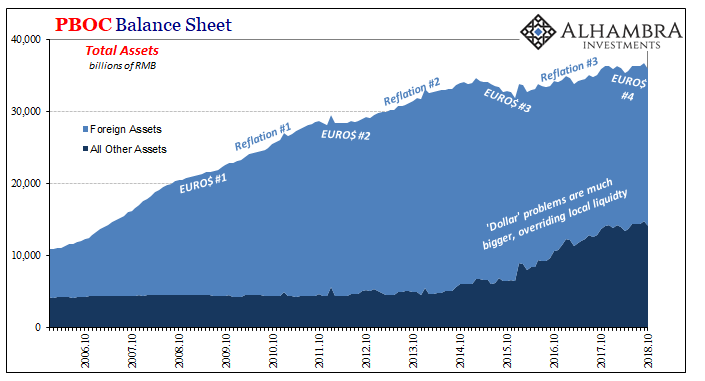 So, RRR cuts already begin from inside a domestic monetary hole. To even get to the position of adding liquidity, banks have to mobilize more of their reserves than the central bank has pulled back in its own.
The second liquidity problem is just that: banks have to mobilize meaning actually use more of their reserves. The Economics textbook simply says that if given the opportunity no bank will refuse the license. Policy says, bank books do. In theory.
In practice, banks have to operate in the real world. If the PBOC is in a situation already where it feels compelled to respond to less-than-ideal effective conditions via an RRR cut perhaps it really isn't a conducive time for banks to be so generous? Reserve operations of this type don't usually happen unless things are already dicey, a factor bank managers are going to be pretty well aware.
Therefore, RRR cuts may not lead to the flood of non-public liquidity the theory assigns. Chinese banks, especially the biggest institutions, may opt to hoard that liquidity instead. If they do, then RRR measures cannot be stimulus especially having begun at first in the central bank hole.
Disclosure: This material has been distributed for informational purposes only. It is the opinion of the author and should not be considered as investment advice or a recommendation of any ...
more