EUR And Silver: Going Down A One-Way Street
Since the precious metals like to ride along with the EUR/USD, and the latest Eurozone data looks grim, what are the implications for the PMs?
Just when everyone and their brother thought that silver was going straight to the moon… it plunged. And that's not the end of the decline.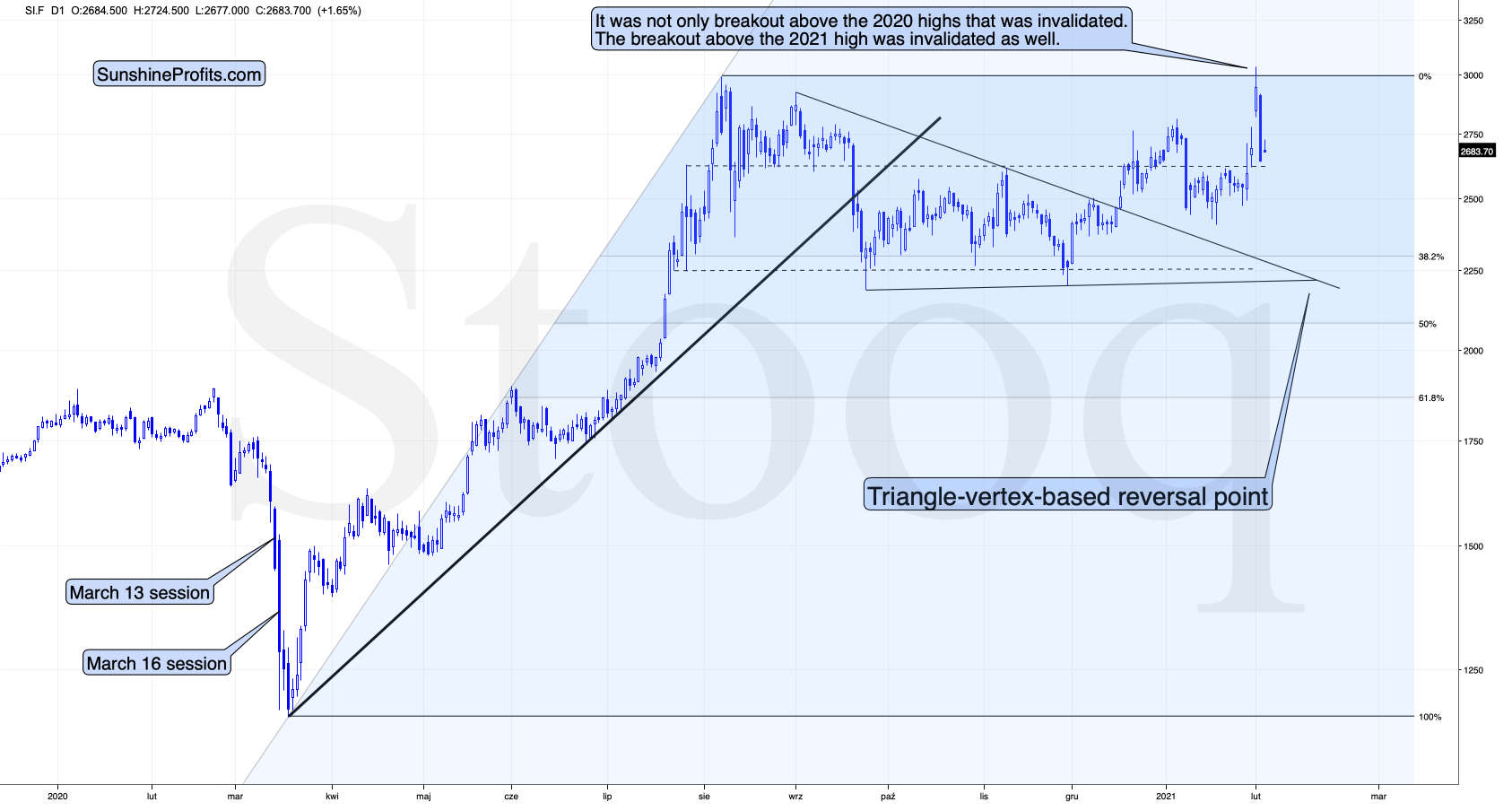 Figure 1 – COMEX Silver Futures
I previously emphasized that silver's volatile upswing is likely just temporary, and I discussed the Kondratiev cycle which implies much higher gold prices but not necessarily right away, because the value of cash (USD) would be likely to soar as well. The latter would likely trigger a temporary slide in gold – and silver.
Well, was silver's rally just temporary?
This seems to have been the case. The white metal declined back below not only the 2020 highs but also back below this year's early high. Please remember that invalidations of breakouts have immediately bearish implications and we just saw more than one in case of silver.
So far today (Feb. 3), silver is quiet, but let's keep in mind that back in September, it took only a few sessions for the white precious metal to move from approximately the current price levels to about $22.
Will silver slide as much shortly? This is quite likely, although the downswing doesn't have to be as quick as it was in September.
Terms like the silver shortage, the size of the silver market and silver manipulation became incredibly popular in the last couple of days, which - together with huge SLV volume, and this ETF's inflows - confirms the dramatic increase in interest in this particular market. This is exactly what happens close to market tops: silver steals the spotlight while mining stocks are weak. I've seen this countless times, and in most cases, it was accompanied by multiple voices of people "feeling" that the silver market is about to explode. For example, please consider what happened in early September 2020 on both (above and below) charts. Silver jumped and almost reached its August 2020 high, while the GDX was unable to rally even to (let alone above) its mid-August high.
Don't get me wrong, I think that silver will soar in the following years and I'm not shorting silver (nor am I suggesting this) right now and in fact, I haven't been on the short side of the silver market for months. In fact, I expect silver to outperform gold in the final part of the next massive upswing, but… I don't think this massive upswing has started yet.
Gold had it's nice post-Covid panic run-up, but it didn't manage to hold its breakout above the 2011 highs, despite multiple dovish pledges from the Fed, the open-ended QE, and ridiculously low interest rates. Plus, while gold moved above its 2011 highs, gold stocks have barely corrected half of their decline from their 2011 highs. Compare that to when the true bull market started about two decades ago – gold miners were soaring and multiplying gold's gains in the medium run.
Disclaimer: All essays, research, and information found on the Website represent the analyses and opinions of Mr. Radomski and Sunshine Profits' associates only. As such, it may prove wrong ...
more