Cryptocurrency: Sharp Rebounds Continue But Risks Remain
Last Sunday's (July 16) recent lows seem a distant memory for most of the cryptocurrencies as buyers take back control and force the digital markets sharply higher. Bitcoin (BTC) has jumped nearly 28% from the $1790 low to a current quote of $2293, while Ether (ETH) has risen from $131 to $192, a massive low-to-current gain of 39%.
Chart: Bitcoin Three Hour Timeframe (June 30 - July 14, 2017)

A look at the three-hour chart above shows the strong uptrend over the last two days with the 100-day ema in sight. However, BTC will face resistance around the $2420 level – the recent highs made on July 10 and July 13 – while the Stochastic indicator shows the recent rally has pushed BTC back into overbought territory (over 80).
The second most valuable digital currency by market cap, Ether (ETH) has rallied even further after Sunday's plunge.
Chart: Ether Three Hour Chart (July 10 – July 18, 2017)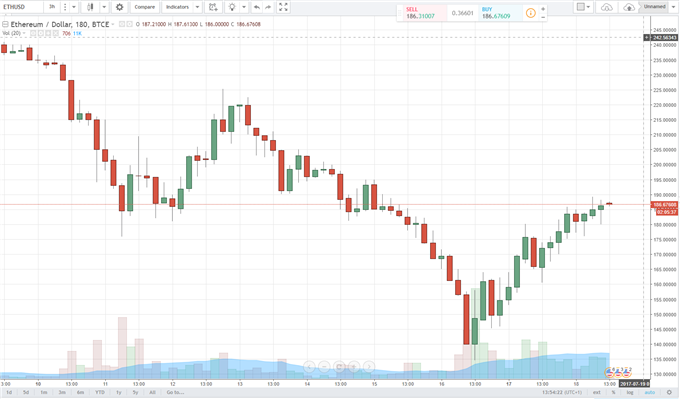 Chart by TradingView.
And while the recent rebound may have shaken a few loose sellers out of the market, the speed and ferocity of the recent move continue to highlight the volatile nature of the digital currency space.
Moreover, with the Segwit2x scaling proposal still to be fully decided, Bitcoin may see further sell-offs.
The proposal is driven by a desire to increase Bitcoin's transaction capacity and reduce transaction fees. If the Segwit2x proposal is not voted through, a hard-fork will occur on August 1, 2017, which would trigger a chain-split in BTC, creating two new digital tokens.
Market Moves/Capitalizations – July 14, 2017.
| | | |
| --- | --- | --- |
| Cryptocurrency | Price/Change% | Market Cap |
| BITCOIN | $2302 +14% | $37.893bn |
| ETHEREUM | $186.0 +15% | $18.20bn |
| RIPPLE | $0.177 +20.0% | $6.779bn |
| LITECOIN | $43.45+6.05% | $2.256bn |
| ETHEREUM CLASSIC | $15.33+8.44% | $1.435bn |