Cocoa Records Strong 2018 Gains… Almost By An Accident Of The Calendar
Almost three years ago, I seized on an opportunity to buy iPath Bloomberg Cocoa SubTR ETN (NIB) after it sold off steeply from a strong 2015. In that year, cocoa ripped ahead of the rest of the commodity space which declined 19% in 2015 while cocoa rallied 10%.
In 2018, cocoa was another strong performer. CNBC reported that cocoa futures gained 28% last year and topped the list of major futures markets. The celebration ignores some important technical and fundamental features that make the annual yardstick a bit misleading. For example, NIB rallied sharply in the beginning of 2018 and was up as much as 51% year-to-date at the end of April. In just 5 subsequent months, NIB wiped out almost its entire gain for the year. NIB rallied 16% in just the last three weeks of the year to finish up 23.0% for 2018. Moreover, NIB has struggled for over 5 months with its 200-day moving average (DMA) after breaking down below that important trendline in mid-July. NIB is currently on its third test of 200DMA resistance, and the line is trendless. In other words, cocoa's "strong" performance in 2018 is quite fortuitous. The clock happened to stop right at the last price rally from much lower levels.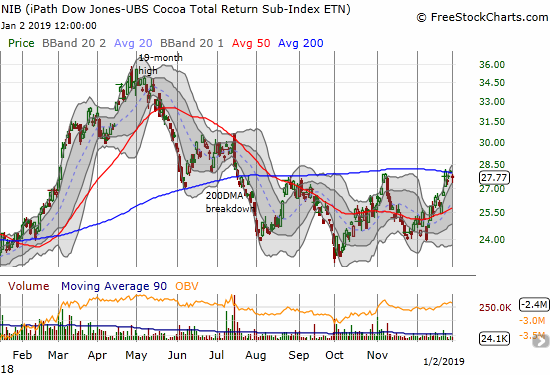 The iPath Bloomberg Cocoa SubTR ETN (NIB) had a wild 2018. The 23% gain on the year belies a major price collapse and repeated failures to re-establish momentum above 200DMA resistance.
Source: FreeStockCharts.com
When cocoa was breaking out in early 2018 as part of a recovery from 2017 lows, I noted how the market was primed for a rally given so much negative news was already priced into futures. So when Ghana projected a miss on its production target, cocoa prices had nowhere to go but up given the potential for supply to come up short. Unfortunately, cocoa went from one extreme to another. The peak in April made little sense given the cocoa market remained well-supplied. In early April and again in late May, I explained the case for a top in cocoa prices.
Disclosure: No positions.
Follow Dr. Duru's commentary on financial markets via more