Can Joe Biden 'Heal' The United States?
Can Joe Biden 'heal' the United States? Political experts disagree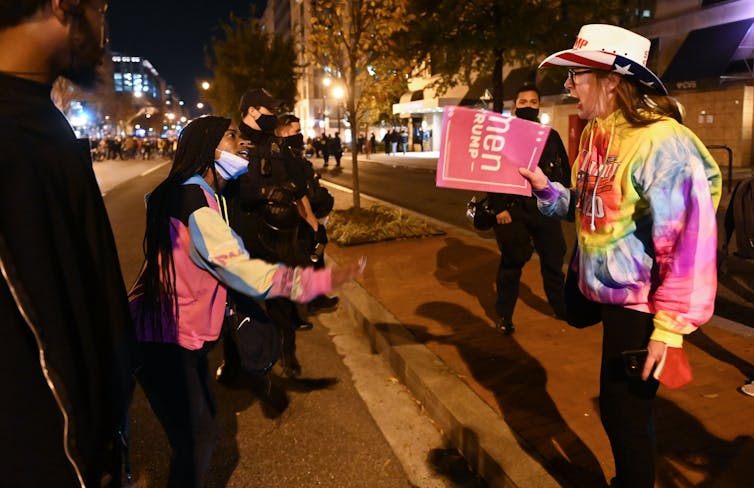 A Trump supporter and an anti-Trump demonstrator shout at each other near Black Lives Matter Plaza in Washington, D.C., Nov. 14, 2020. Roberto Schmidt/AFP via Getty Images
Editor's note: When Joe Biden becomes president on Jan. 20, 2021, he will lead a fractured nation whose political factions are separated by a chasm. In his victory speech, Biden asked Americans to "come together" and "stop treating opponents as enemies."
Is healing possible between red America and blue America? We asked experts on political polarization whether Biden's goal is realistic.
How to thaw enmity and disdain
-Arie W. Kruglanski
The image of two monolithic cultures at loggerheads, though perhaps intuitive and appealing, is a myth that doesn't hold up on closer scrutiny.
As a political psychologist who has investigated radicalization, polarization and populism, I believe a "two tents" metaphor would be more accurate.
If you look at 2020 election data, you'll find both the Trump and Biden camps contained diverse points of view, interests and concerns.
Within the Trump tent were Republican stalwarts bent on fiscal conservatism but also working-class backers of progressive economic policies who supported President Donald Trump for cultural reasons and evangelical Christians passionately against abortion. Present were white "America First" adherents who were vociferously anti-immigration but hold anti-corporation sentiments typically voiced by liberals; Latinos who themselves are immigrants; and African Americans who saw pro-business policies as a route to economic advancement.
Biden's supporters were urban and suburban dwellers who differed in many ways but shared concern about the mishandling of COVID-19. His tent contained centrist Democrats and economic socialists, Black Americans intent on addressing systemic racism and members of the LGBTQ community defending their rights.
This article is republished from The Conversation under a Creative Commons license.