Are Top 10 Companies The Reason Behind Market Growth?
The number of American public companies is in decline. We have documented this trend in What The Number Of Public Companies Means. There has been an increase in concentration in many industries due to M&A activity. The giant internet firms, which have large moats, dominate their markets because they were early to market, invest a lot in capex and R&D, and have strong network effects. The chart below from Merrill Lynch gives us an updated look at the number of public companies listed on the New York Stock Exchange.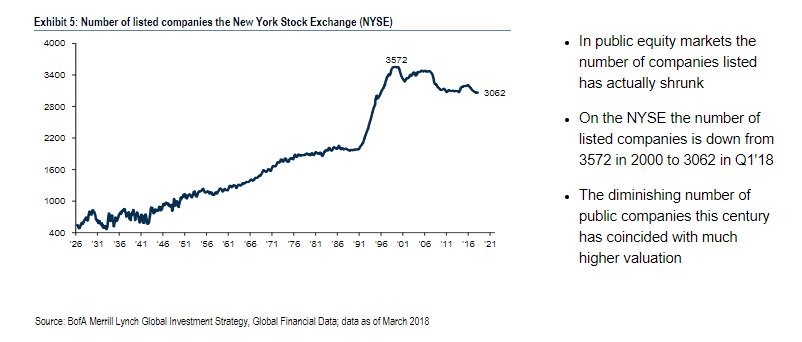 Source: Bank of America Merrill Lynch
There were 3,572 firms in 2000 and 3,062 as of Q1 2018. One thing worth noting about this chart is although the decline in the number of firms has correlated with a high CAPE ratio, the smaller number of public firms is not causing higher valuations. As we explained in a previous article, most of new equity issuances come from secondaries, not IPOs.
Unicorns Are Growing Very Quickly
The increase in concentration that we mentioned in a previous article isn't caused by the increase in private firms. However, it's still notable how quickly tech startups are reaching high valuations. While the top tech firms such as Alphabet, Apple, and Amazon, look like they a significant competitive advantage in industries they compete, their moats may not be impossible to penetrate. The chart below shows how quickly the latest startup firms have reached $1 billion valuations.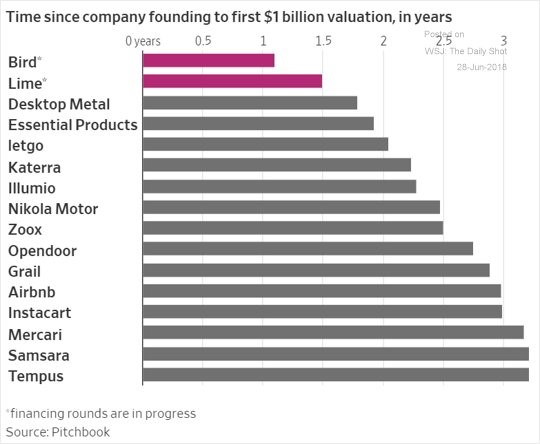 Source: Pitchbook
Obviously, with inflation, it gets easier to reach higher valuations, but the principle reason for this trend is because firms can scale quickly. The winning formula is to spend as much money as possible to acquire customers and grow the business. Valuations rise because of the potential future profitability when monetization occurs. If a firm knows it can monetize customers in the future for more than it is spending in the present, it's a good idea to keep spending. It's also tax efficient since these losses pile up and they can be pulled forward. Clearly, firms enjoy staying private because of the regulatory hassle and the expense of going public. Plus, some of the unicorns which have become public are forced to focus on quarterly goals, and less so on the long-term.
Disclaimer: Please familiarize yourself with our full disclaimer here.