April Is Looking Like It Will Be Even More Turbulent Than March For The Stock Market
The first week of the second quarter started off very differently than that for 1Q 2017. While the start of 1Q 2017 was off to the races for the stock market, the majority of major US market indices finish the first week of 2Q 2017 in the red, with only the Dow Jones Industrial Average relatively unscathed for the week.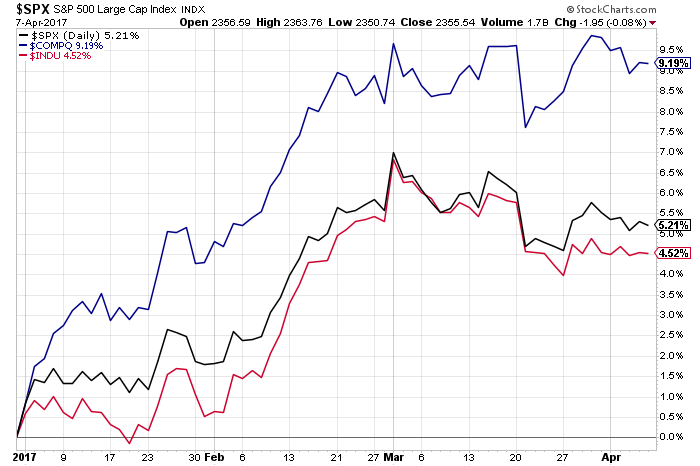 If we were to look at the week on its own, there was a smattering of economic data that confirmed what we've been saying here at Tematica — 1Q 2017 is dramatically slower compared to the 4Q 2016 — and we continue to think that along with a challenging political climate in Washington as well as renewed political tensions with Syria and Russia, investors are questioning earnings and growth prospects more now that at the start of the quarter. Quite a combination and just in time for 1Q 2017 earnings to kick into gear.
We shared our view on all of that in last week's Cocktail Investing podcast episode 14 – Why the Herd Gets It Wrong. Clearly, a must listen in our view! We also had an extra podcast episode last week in which we Chris Versace, Tematica's Chief Investment Officer, and Lenore Hawkins, Tematica's resident Chief Macro Strategist, talked with Hartford Funds on the state of the ETF industry, what's fueling it's growth and why risk is as important as potential upside to be had when assessing ETF strategies. That was music to Chris and Lenore's ears as it was a key point in their book Cocktail Investing: Distilling Everyday Noise into Clear Investment Signals for Better Returns.
As we mentioned above, there was no shortage of economic data last week ranging from the ISM Manufacturing Index to its sister report the ISM Service Index, March Auto Sales and the March Employment Report. Across the board each of these reports disappointed expectations, falling compared to February. We'd note the March Auto Sales missed despite another pronounced step up in incentives; with auto dealer inventories climbing, the auto industry's outlook is not looking very bright in our opinion.
Among last week's economic data, the biggest miss was the March Employment Report that not only came up well short of expectations, with just 98,000 jobs vs. the expected 180,000, but once again showed modest wage growth. That same report is also beginning to show the brick & mortar retail pain we've been talking about quite a bit as retail jobs fell by 30,000 in March, bringing the two-month tally to roughly 60,000. The sad news is we are only starting to see store closings, but we are also hearing about more bankruptcies, including Bebe Stores (BEBE), and Payless (PSS) as well as potential liquidation at hhgregg (HGG) and others.