Unusual Variable For Labor Market Recovery
Unless you have children and are dealing with the economic ramifications of COVID-19, you might not realize its importance. As you can see from the chart on the left, caring for children not in school or at daycare was the 3rd most common reason people weren't at work from May to July. It's no surprise, given the uniqueness of this situation, that the share of people not working due to child care more than tripled (to almost 2%) from where it was before this pandemic.
(Click on image to enlarge)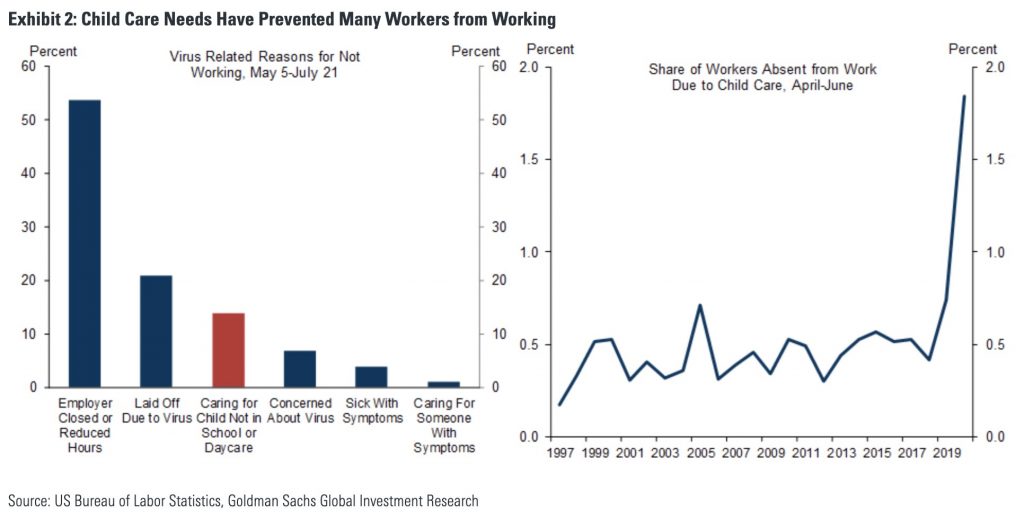 Children are the least impacted by this virus, but they can spread it. NYC plans to reopen schools if its positive rate stays below 3% (NY is currently near 1%). It's extremely difficult to have a child and work from home. The ones who have it the toughest are single parents and parents of young children. It's also impossible to work from home if you don't have a job that's capable of that. It's estimated that 15% of the labor force, which is 24 million people, are in 2 of the 3 situations that prevent them from working from home.
Low Educated Hurt The Most
As we described in articles in 2019 and early 2020, the labor market was fantastic for low income low education workers. They are hurt the hardest by recessions but see great gains when the labor market is full. It's back to square one for these workers as it will take at least a few quarters, if not years, to get back to how it was in 2019. In the meantime, there will be high unemployment. The consensus estimate is for 1.75 million jobs created in July (down from 4.8 million in June) which would bring the unemployment rate down 0.6% to 10.5%. We know the labor market weakened in July (rate of improvement fell) and that there were fewer people who could get back to work (easy fruit already picked). Plus, there were additional economic restrictions in the COVID-19 hotspots in the south and west.
The highly educated were the least impacted by this virus which is why the extra $600 per week from unemployment benefits was so critical. Congress is trying to pass another stimulus by August 7th which is when it's scheduled to go on recess. If there's something close to being done, they will push back the recess. The stock market is completely ignoring this. The logic is that the economy is so bad, Congress has no choice but to act. Secondly, the big tech stocks that are carrying the market will be insulated from any potential slowdown.
Disclaimer: Please familiarize yourself with our full disclaimer here.