Zillow Stock Forecast For 2024
The price of Zillow stock could double by 2024 – and likely even sooner.
That's the latest prediction from Money Morning Defense and Tech Specialist Michael Robinson.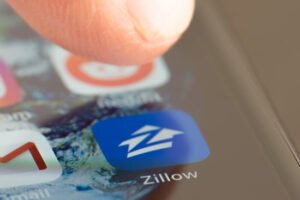 You see, Zillow Group Inc. (NASDAQ: ZG) is a tech stock solving a problem in one of the oldest and richest industries: real estate. Thanks in part to the pandemic, the real estate market is booming. The Freddie Mac House Price Index smashed its all-time high in 2017 and is continuing to rise even faster thanks in part to the pandemic.
That's been great for Zillow, a company that can connect realtors, home buyers, home sellers, and everyone in between.
Michael says Zillow's explosion from a low of $25 a share to highs near $203 a share hasn't just crushed the average market return, it's sustainable too.
Just look at Zillow's latest quarterly earnings. Its earnings nearly quadrupled by jumping 258% higher.
"If we were to be extremely conservative and the project continued growth of just a tenth of that figure, we'd still see a double in less than three years," Michael predicted.
Here's why that's conservative…
Why Zillow Stock Is on a Rocket Ride
As we said before, Zillow is a technological solution to one of the hardest problems to solve in real estate: matching buyers with sellers.
And it's the company to do this. Zillow gets triple the web traffic of its nearest rival, Realtor.com. In fact, Zillow's sites get nearly 75% of all mobile web traffic in the industry.
But it's not stopping there.
Zillow is leveraging its size to become a one-stop-shop for anyone in the real estate market. Buyers and sellers already use the site to find homes and compare prices. You can even find a realtor through the site.
Now Zillow is using all that data to take over even more of the real estate market.
Just like Carvana uses its app to buy and sell cars, even delivering them right to your door, Zillow will buy houses from sellers and sell them to home shoppers.
Disclaimer: Any performance results described herein are not based on actual trading of securities but are instead based on a hypothetical trading account which entered and exited the suggested ...
more