Why This Pullback Isn't Rattling Me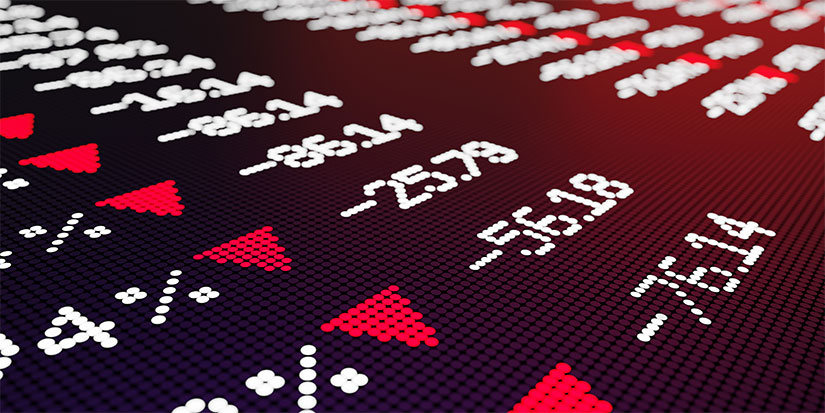 Small caps have hit a rough patch.
The Russell 2000, the main small-cap index, has dropped around 10% in the past month. But I'm not the least bit worried…
Regular readers know the Russell 2000 is where I hunt for extraordinary gains for my readers. Hands down, it's the best place to find stocks that deliver outsized returns… stocks I like to call "Wealth Accelerators." So why isn't this pullback rattling me?
First, we invest in individual stocks, not the whole index.
With the rise of passive investing, a lot of people get small-cap exposure through a small-cap index fund. The problem with that is, you're spreading your bet across 2,000 companies.
Sure, an index fund gets you teeny tiny pieces of the quality, high-growth small caps we like. But it also gets you loads of garbage stocks, like NewAge Beverage (NBEV), which is trading around $1… right where it was 5 years ago.
When you buy an index fund, you get the average return of all these companies. And when the index tanks, it takes you down with it.
That's not what we do here at Smart Money Monday. I spend the bulk of my time analyzing individual small-cap stocks for my readers.
So instead of buying the index, you get a chance to buy undervalued, high-growth small caps, with pristine balance sheets and strong insider ownership. Stocks like Franchise Group (FRG)… which has jumped 13% in the last month while the Russell 2000 has sunk lower.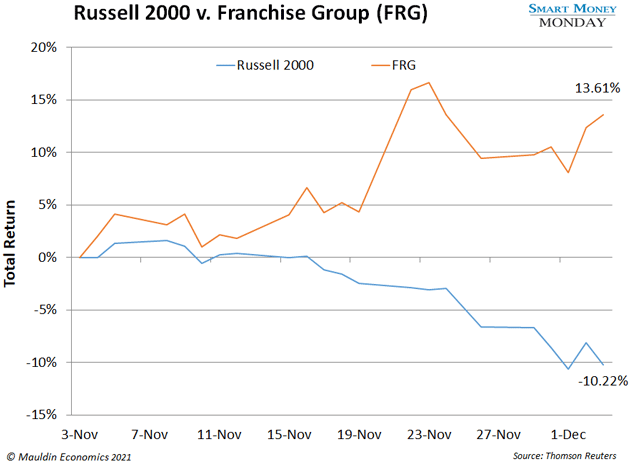 There's another reason I'm not worried…
A pullback in the Russell 2000 could be an opportunity to buy Wealth Accelerators at cheaper prices.
The reality is a correction can pull good stocks down with the bad.
For instance, when the Russell 2000 dropped 23.5% in March 2020, Rent-A-Center, Inc. (RCII) plummeted 34%. But that was actually a great opportunity to buy. Because Rent-A-Center bounced back a month later. And it's rocketed 262% since, while the Russell 2000 has climbed 108%.
Disclaimer:The Mauldin Economics website, Yield Shark, Thoughts from the Frontline, Patrick Cox's Tech Digest, Outside the Box, Over My Shoulder, World Money Analyst, Street Freak, Just One ...
more