Why I Won't Be Buying Boeing
With all the hoop-de-doo by the media obsessing over Boeing's 737 MAX problems, we need to remember that nearly one-third of Boeing's revenue comes from the defense, not the commercial, side of its business.
If you overlook this inconvenient fact, the bull case for buying Boeing (BA) is simple: Boeing and Airbus SE (EADSY) own a duopoly on commercial aviation. The barriers to entry are insurmountable for a new competitor unless it is funded by a sovereign government. (China may do just that…)
The backlog of orders for both BA and EADSY extends out for many years. If you are an airline that wants to switch manufacturers now, the queue is so long that, by switching, you will only wait even longer to see your aircraft. As with all monopolies and some duopolies, you are in the position described best by Stealers Wheel all the way back in 1973:
Clowns to the left of me, Jokers to the right, here I am, Stuck in the middle with you
Taxpayers Fund Commercial Aviation
While Boeing's defense business might be less than 30% of revenues and "Where ya gonna go?" the customer wail on the commercial side of the business, we need to remember that it is the Defense Department, 100% funded by the American taxpayer, that has subsidized so much of the growth of commercial aviation. There is nothing wrong with the Department of Defense spending yielding benefits for corporations and investors, but it needs to be transparent and fair.
Case in point: In securing an order for 250 KC-135 tankers from the US Air Force in 1955, there was taxpayer funding for the military tanker. The plant itself, the research, the tooling, the wind testing, the flight testing, etc. laid the foundation upon which Boeing designed and built its first commercial jet aircraft - the 707. Rather than acknowledge the obvious physical similarities, Boeing claimed that "Every large jet aircraft today [ed – including their competitors] is a descendant of the B-47."
(A good friend of mine, before he moved on as pilot-in-command of more recent aircraft over his long career, flew Boeing's B-47. It was not the safest of aircraft but it certainly ushered in the age of Big Bad Jet Bombers. His assessment of flying all that power: "Sweet.")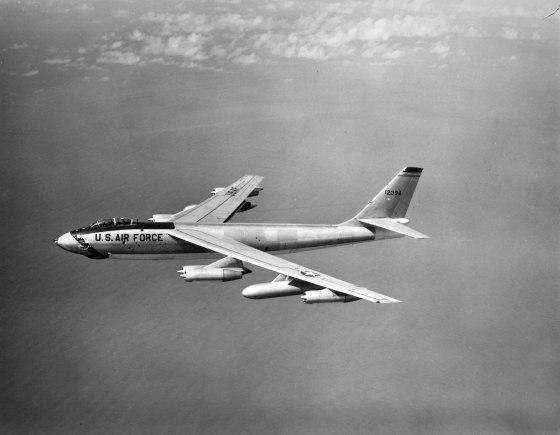 Source: WikiCommons
Regrettably, "Sweet" only lasted until the airplane began having serious structural problems, unlike many of Boeing's aircraft in the leadup to and buildup of World War II, like this B-17 Flying Fortress.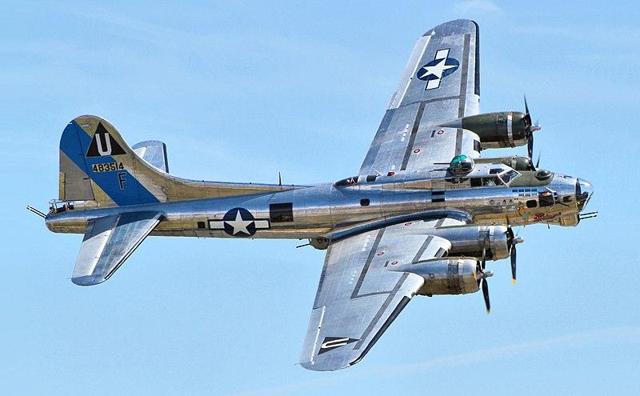 Source: Air wolfhound, Creative Commons
Determined to make it big in commercial aviation, Boeing's president, William Allen, declared in 1953:
"We ... can build a test vehicle which will enable us to demonstrate to the military the principal characteristics of a combination tanker and jet transport and, at the same time, demonstrate to the airlines the principal characteristics of a production jet airliner. ...It will be a demonstrator model, the basic design of which will be adaptable to two production models: first, a versatile military airplane for aerial refueling of fast jet bombers and fighters, and for cargo and troop transportation fitted to the tempo of jet-age military tactics; second, a high-speed, economically operating airline transport for passengers and cargo aircraft.

"Designing, building and flying the B-47 Stratojet bomber and the new B-52 eight-jet Stratofortress heavy bomber have given Boeing an unparalleled background of experience. It has included, for example, 14,500 hours of jet wind-tunnel research and more than 5,000 hours of test and research flying."
Disclaimer: I do not know your personal financial situation, so this is not "personalized" investment advice. I encourage you to do your own due diligence on issues I discuss to see if they ...
more