Why Cue Health Stock Could Cost You Money After The IPO
Another IPO became available on Robinhood Markets Inc. (Nasdaq: HOOD) this week. Cue Health stock will trade on the Nasdaq as early as Friday, Sept. 24. You can find it under the ticker "HLTH."
Thanks to Robinhood, you can own it even sooner than that. That does not necessarily mean it's a buy, though...
Today, we'll share whether or not to buy Cue Health IPO shares.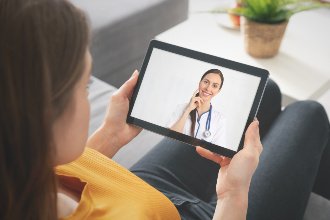 The stock is expected to trade in a range between $15 and $17. As there are 12.5 million shares of common stock, that makes around a $244 billion IPO in total.
Chances to buy IPO stocks come few and far between if you're not a venture capitalist or banker. That always makes these Robinhood IPOs enticing for retail investors.
And you can't argue with some of the results of previous Robinhood IPOs this year. Figs Inc. (NYSE: FIGS) soared from $22 a share to $50 in its first-month trading, a 127% gain.
Clear Secure Inc. (Nasdaq: YOU) is still up 30% since it started trading.
Both Figs and Clear Secure went through Robinhood's IPO Access platform.
However, Robinhood dished out some flops as well. We predicted F45 Training Holdings Inc. (Nasdaq: FXLV) was a nothing burger, and it put IPO investors 20% in the red.
Here's where Cue Health falls in the grand scheme of things...
What Is Cue Health?
Cue Health is a medical technology company specializing in diagnostic testing. It's big right now, thanks to COVID-19. It got a massive revenue spike from the rapid COVID-19 molecular diagnostic test demand.
In fact, the San Diego-based company locked down a $13 million government contract for its technology at the start of the pandemic.
But this company is not limited to testing.
Cue Health's IPO prospectus says the company aims to offer a more fluid virtual healthcare experience to patients. It will do it through its "Cue Integrated Care Platform," designed to "bridge the physical to virtual care continuum."
Disclaimer: Any performance results described herein are not based on actual trading of securities but are instead based on a hypothetical trading account which entered and exited the suggested ...
more