Trouble In Texas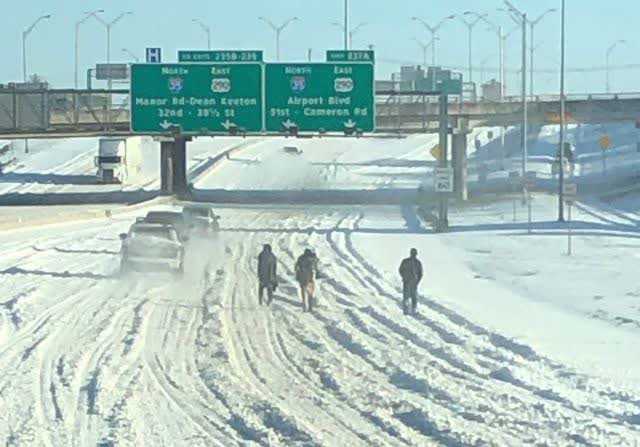 Texans trudge through the snow on Interstate 35 in Austin (image via the Texas Department of Transportation).
Winter Storm Messes With Texas
As of Tuesday night, the winter storm in Texas had caused 17 deaths and left millions without power. Naturally, it's been politicized already, with some pointing to the failures of green energy,
A helicopter running on fossil fuel spraying a chemical made from fossil fuels onto a wind turbine made with fossils fuels during an ice storm is awesome. pic.twitter.com/3HInc2qKb9

— Luke Legate (@lukelegate) February 15, 2021
And others suggesting the problem was not enough green energy.
The infrastructure failures in Texas are quite literally what happens when you *don't* pursue a Green New Deal.

— Alexandria Ocasio-Cortez (@AOC) February 17, 2021
Apparently, though, subfreezing temperatures in Texas took ten thousand megawatts of power generated by multiple sources offline: some windmills were down, but also some natural gas and coal power generation was down too. Bloomberg Green, in an article which wasn't as tendentious as "Green" would suggest, said "everything went wrong at once":
Power plants weren't fully weatherized, wiping out generation capacity. The ones that were still standing struggled to get enough fuel, with shale wells experiencing so-called freeze-offs. Many wind turbines stopped spinning. Texas, with a grid notoriously isolated from the rest of the U.S., was unable to call on neighboring states for help.
Investment Implications
Bloomberg TV aired a special about the situation in Texas on Tuesday afternoon; the segment in which Alix Steel interviewed Mark Rossano of C6 Capital was informative. It starts at about 4 minutes into the clip embedded in the tweet below.