Top Tech Stocks To Buy In October And Hold For Long-Term Growth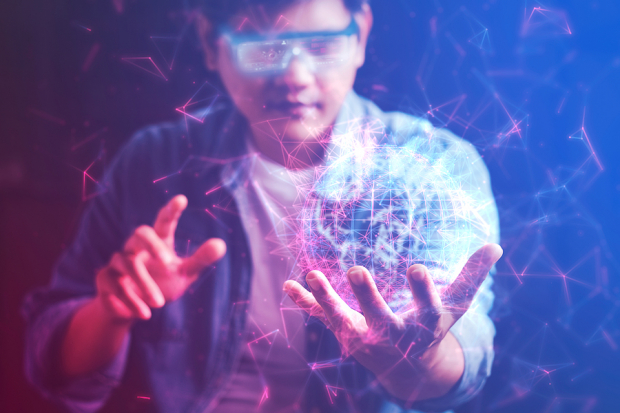 Image: Bigstock
Now might not be time to call a market bottom, with inflation still clocking in at 40-year highs and the Fed determined to do all it can to drag prices down. Thankfully, investors who plan to own stocks for years to come don't need to pinpoint an exact bottom, and should instead consider slowly starting positions in blue-chip stocks with great fundamentals that should look like steals at these levels down the road.
The S&P 500 has been trading at new 2022 lows, with the index at levels last seen in late November of 2020. Meanwhile, the Nasdaq has been down over 6% in the past two years to trade where it was in the summer of 2020. The market could continue to slide. But investors should take solace in the fact that higher interest rates and soaring inflation are already showing up in corporate earnings outlooks.
Wall Street had been waiting for the current economic turmoil to take its toll on sales and, more importantly, earnings before they consider nibbling at stocks again. With the heart of Q3 earnings season set to begin in the middle of October and September's CPI data due out on Oct. 13, the market might not have to wait too much longer for an even clearer picture.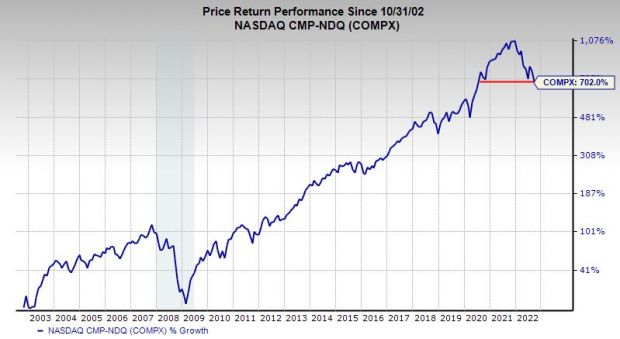 Image Source: Zacks Investment Research
Earnings and interest rates drive stock prices and the more clarity Wall Street gains on those fronts, the better. The outlook for Q3 FY22 earnings and full-year fiscal 2023 have already dropped significantly, and the 10-year and two-year Treasury yields are responding to the Fed's rate hikes and projected course of action.
The major money managers are rather good at pricing in the future into stock prices, which is part of the reason why Wall Street is often ahead of Main Street, as we saw during the COVID-19 comeback and the subsequent beating growth and tech stocks started to take in late 2021 as investors realized the Fed would have to raise rates to cool the economy.
The best investors use bear markets and major periods of panic to start positions in their favorite stocks. Just remember the average investor is often the most bullish to buy stocks near what turns out to be the tops and terrified to buy, with a penchant to panic sell, at what might one day turn out to be near the lows.
Let's explore two great large-cap technology stocks for investors to consider buying in October at levels that might look like bargains in the not-too-distant future.
Adobe might be the best of the rest when it comes to big tech. Though it is not in the same rarefied air as Apple and Microsoft, Adobe is a champion of a vital segment of the software market with an impressive subscription-based business model that's helped it post between 15% to 25% revenue growth for seven straight years. That kind of growth is highly impressive for a company that went public in the mid-1980's.
Adobe's portfolio of subscription software includes Photoshop, Premiere Pro, and many others for a total of nearly 30 rather unique offerings. Its products help users, from Hollywood filmmakers to students, edit videos and images, create artwork and books, and do almost anything else in the larger creative/design world that one might imagine can be done on a computer, tablet, or smartphone.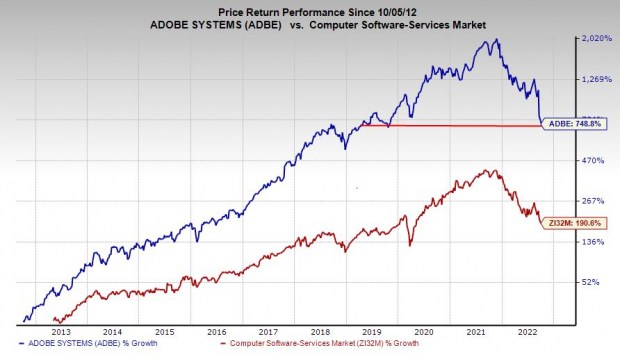 Image Source: Zacks Investment Research
Adobe's documents and business portfolio ranges broadly from PDFs and e-signatures to marketing, commerce, and workflow digitalization. And it's prepared to expand its reach through its planned, roughly $20 billion cash and stock deal to buy privately held software firm Figma.
The little-known company specializes in helping digital creators collaborate through shared software. Figma's offerings should integrate well into Adobe's portfolio and provide real benefits in a world where work gets done on individual computers even when people are in the same office.
Wall Street is worried that Adobe is overpaying for Figma and sold the stock heavily when it announced the deal alongside its Q3 earnings release on Sept. 15. It is possible ADBE is paying too much at a time when growth-focused tech valuations have been crushed. But it's difficult to argue with Adobe's track record and its outlook in an increasingly crowded software market.
The post-announcement drop helps set up a potentially attractive entry point for patient investors, with ADBE shares down roughly 30%. The recent decline is part of a larger recalibration of Adobe and other growth names to account for higher interest rates. ADBE stock has fallen 60% from its peaks to below its COVID-19 lows.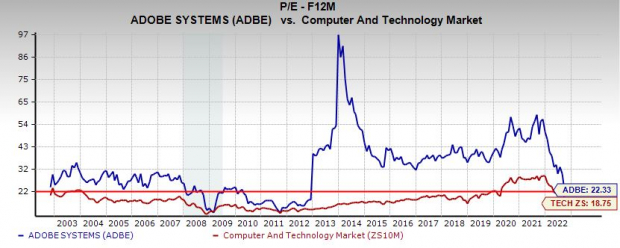 Image Source: Zacks Investment Research
ADBE's falling price, coupled with its strong earnings outlook, has it recently trading where it was before it changed to a subscription model roughly a decade ago at 22.3X forward earnings. Plus, ADBE's earnings estimates have largely held up in the face of the economic slowdown causing Micron and many others to dramatically lower their guidance.
Adobe's revenue is projected to jump 12% in 2022 and another 13% in 2023 to hit nearly $20 billion to help lift its adjusted EPS by 9% and 14%, respectively. ADBE currently lands a Zacks Rank #3 (Hold), alongside "A" grades for Growth and Momentum in our Style Scores system.
Semiconductor maker Analog Devices expanded its reach to help it challenge the biggest player in the analog space, Texas Instruments (TXN - Free Report), when it completed its acquisition of Maxim Integrated in August 2021. Analog semiconductors are on the less flashy side of the booming chip industry that will remain the backbone of technology and arguably the entire economy for the foreseeable future.
Analog semiconductors play crucial roles in countless devices and industries that next-generation digital semiconductors cannot meet. Analog chips help handle information not easily understood with 1s and 0s, such as temperature, speed, sound, electrical currents, and much more.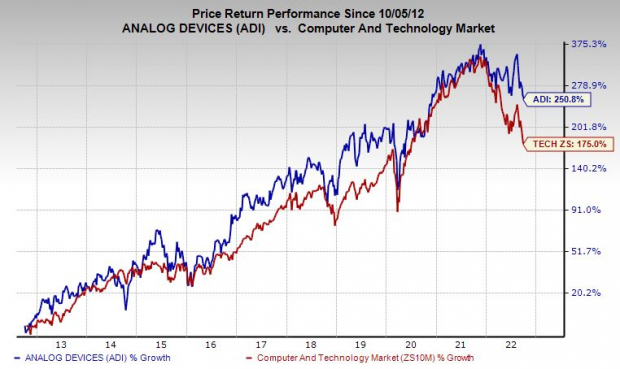 Image Source: Zacks Investment Research
Analog Devices boasts around 125 thousand customers globally for its over 75 thousand products, which helps provide diversification in a time of economic uncertainty, which is hitting the cyclical chip sector particularly hard. ADI executives project the firm will benefit from continued expansion within six secular growth segments, from connectivity & data centers and digital healthcare to industrial 4.0 and automotive ecosystems.
Analog Devices' revenue and adjusted earnings both climbed by roughly 31% in fiscal 2021, driven in part by its Maxim Integrated deal. Current Zacks estimates call for ADI's revenue to climb another 63% in FY22 to help lift its adjusted earnings by 46%. ADI is expected to grow both its top and bottom lines next year as well, even as it comes up again difficult to compete against periods.
ADI shares have held up far better than its Zacks Semiconductor industry, down 17% in the past 12 months vs. 32%. ADI has recently been trading around where it was in December 2020 at roughly $140 per share. And its current Zacks consensus price target offers 38% upside to its closing levels on Friday. Analog Devices has been recently seen trading right near its decade-long lows at 14.9X forward earnings.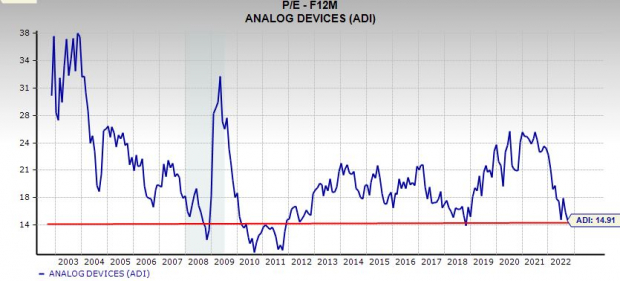 Image Source: Zacks Investment Research
Earlier this year, Analog Devices lifted its dividend by 10% for its 19th raise in the last 18 years. ADI's dividend yields around 2.2% to top many of its peers and the S&P 500's 1.7%. The company boasts a solid history of stock buybacks, supported by a solid balance sheet.
On top of that, 11 of the 16 brokerage recommendations Zacks has are "Strong Buy," with nothing below a "Hold." And now might be a solid time to add this chip stock that's been holding up somewhat well as semiconductor names tumble.
---
More By This Author:
Bear of the Day: Toll Brothers, Inc.
Bull of the Day: Huron
Bear Of The Day: Meta Platforms, Inc.
Disclaimer: Neither Zacks Investment Research, Inc. nor its Information Providers can guarantee the accuracy, completeness, timeliness, or correct sequencing of any of the Information on the Web ...
more