The "Amazing Grace" Stock Market (And Sentiment Results)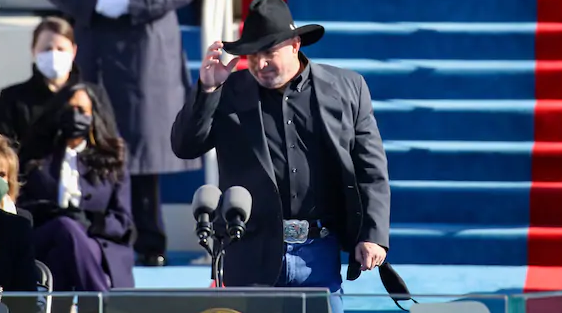 This week we had a DEMOCRAT President invite a Country Singer (Garth Brooks) to sing at his Inauguration Ceremony, and a REPUBLICAN President pardon a Rapper (Lil Wayne). THAT is what makes America Great.
We have a lot more that brings us together than separates us in America. As a fan of both Country and Rap music, I can comfortably say – we're going to be okay…
Through many dangers, toils and snares
We have already come
'Twas grace has brought us safe thus far
And grace will lead us home…
On Monday I was on Fox Business with Liz Claman on the "Claman Countdown". Thanks to Liz and Jacqueline D'Ambrosi Scales for having me on.
In this segment, Liz asked me what I was watching in the market. My response was, "The U.S. Dollar."
Watch the Claman Countdown Segment on YouTube Here
Right now, Commercials (green line) have been buying the $USD and Hedge Funds (red line) are record short. Commercials usually have it right, and as I explained to Liz, that may have some short term "counter-trend" implications.
(Click on image to enlarge)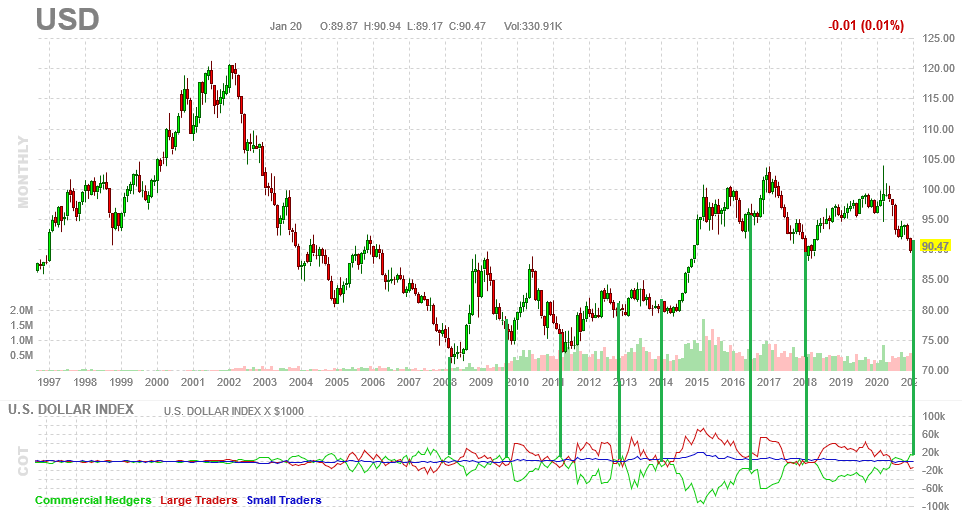 While the Dollar is in a clear downtrend, the recent buying by commercials could lead to a (counter-trend) bounce. As I said in the interview this would potentially be a short-term headwind for stocks and commodities. In other words, the re-opening trade could potentially take a breather (either in time – grinding sideways for a bit – or price/pullback).
In the event the dollar does show some short term strength, you could see a bounce in recently weak sectors like utilities and consumer staples (as well as bonds and tech – as yields compressed). I want to emphasize, this is a short-term counter-trend, and for most people, the best play is to ride it out and do nothing.
As I concluded last week's note:
"This can be by simply grinding sideways for a month or two to digest the > 70% gains off the March Lows OR more likely get a health pullback. As we have stated in recent weeks, this is the beginning of a new business cycle and it does not pay to get too cute trying to predict the when and how much of a short-term correction we will get.

As we saw after a monster rally off the lows in 2009, it did not pay to play the short term pullbacks in 2010 and 2011 – as you may very well have missed out on a decade long bull market run.

We'll be using any weakness that potentially comes our way in Q1 to add more value/cyclical names (themes listed above) to hold for the next 3-5 years…"
SKEW UPDATE
In our December 31, 2020 note, we pointed to the reading in option skew as a reason to STAY INVESTED despite everyone calling for a correction since late November. My quote (with chart) was:
(Click on image to enlarge)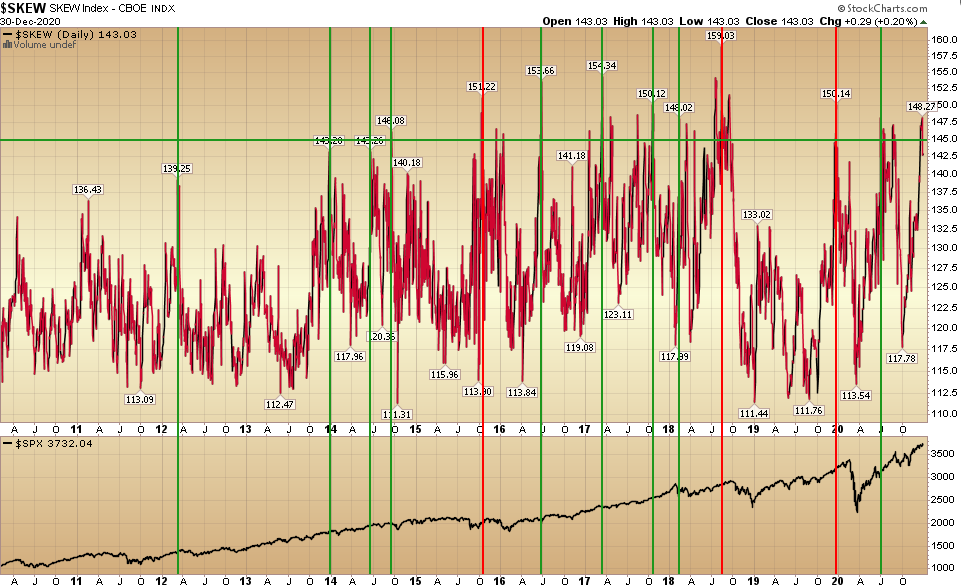 "Skew is elevated – which as I stated above – means many people are betting on a "black swan" as evidenced in the pricing of 1-2SD out of the money options. I would generally prefer to be a buyer (of the general indices) when skew has collapsed following a crash – so this is not ideal.

However – if you look at the chart I annotated above you will see that elevated skew leading to meaningful corrections (>10%) are the minority. Most elevations simply lead to some sideways consolidation in an uptrend or pause that refreshes.

Also, SKEW is generally a warning shot (yellow light), not a red light – as often in those instances/signals that did lead to a large correction – the market rallied for a month+ after the "signal" before rolling over."
Disclaimer: Not investment advice. For educational purposes only: Learn more at HedgeFundTips.com.