E

Tesla: Headed Much Higher After Blockbuster Shareholder Event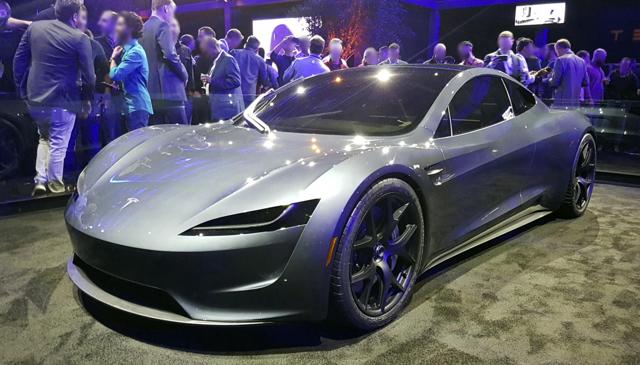 Source: Wikipedia.com - Tesla Roadster 2: 0-60 time 1.9 seconds, top speed 250 mph+, range 620 miles, and that's just the base model... Available in 2020.
Tesla Takes Off After Blockbuster Shareholder Event
Tesla (TSLA) surged by over $20 or nearly 10% following the company's blockbuster shareholder event last week. The primary reason for the surge was Tesla's constructive guidance regarding several crucial developments. Many of the company's short and long-term initiatives appear to be well on track, which suggests Tesla's phenomenal growth is going to continue, the company will likely become net profitable very soon, and its stock price is going to go much higher.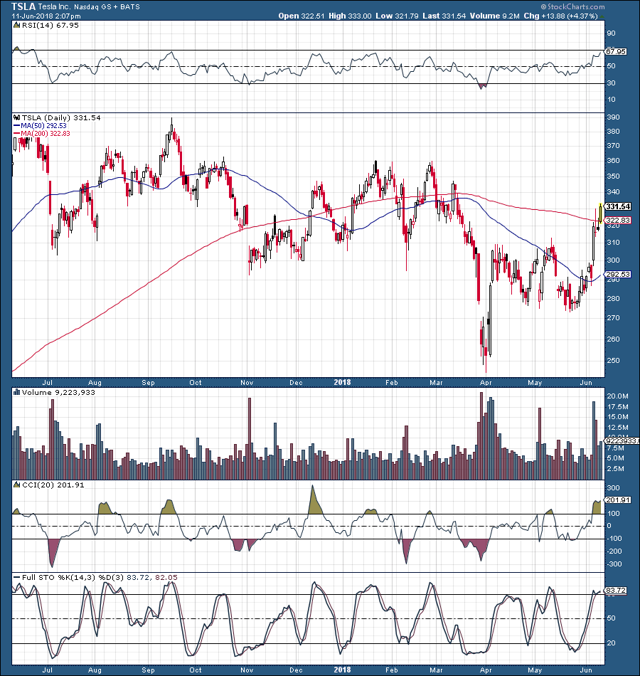 Key Takeaways from the Shareholder Event
Elon Musk is staying on in his role– After a shareholder vote Elon Musk is staying on in his twin role as CEO and Chairman of the company. This is a significant vote of confidence for the CEO and is very beneficial for the overall long-term wellbeing of the company.
5K Model 3s per week production rate is swiftly approaching– The CEO reiterated that the company will very likely hit its target rate of 5K Model 3s per week by the end of June. According to the Bloomberg Model 3 Tracker, Tesla was already rolling out over 3,500 Model 3s per week in the third week of May. Right now, the figure shows about 3,000 but that is due to the 6-day shutdown period (line optimization) at the end of May.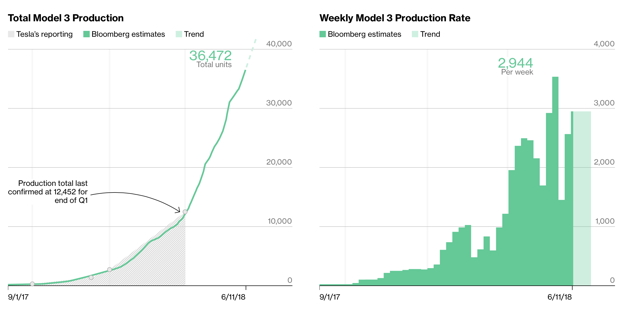 Source: Bloomberg.com
The actual weekly production rate should be significantly higher than Bloomberg's model currently suggests as it uses an average, and does not seem to account for the 6-day shutdown. Therefore, the company is very likely to attain its production target rate by the end of Q2. This indicates most of the production issues have been resolved, and Tesla is beginning to execute the Model 3 production process extremely well. This should lead to much better efficiency, economies of scale, higher margins, net income profitability, and a significantly higher stock price.
Model 3 is now the bestselling premium sedan in America- Well, that did not take long. The Model 3 is now officially the bestselling luxury sedan in America. And this does not mean it's the best amongst EVs or hybrids, no Tesla's Model 3 is the best overall. The Model 3 recently passed Mercedes Benz C Class to become the bestselling premium sedan in the U.S.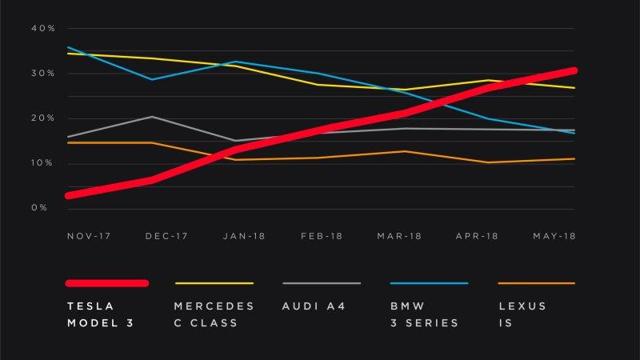 Source: Autoblog.com
In fact, if well look at the chart we see that BMW 3 Series and Mercedes C Class sales are in clear decline and the Model 3 has an extremely robust upward trajectory. This suggests that the Model 3 is beginning to capture significant market share from its German counterparts and could achieve a similar level of dominance in the entry and mid-sized premium sedan segments as the Model S has achieved in the large premium sedan market.
Just a reminder, the Model S practically outsold its 3 nearest competitors last year and if the Model 3 can reach a similar dominance in the entry and mid-sized luxury sedan segments it should have sustainable annual demand of about 300K vehicles in the U.S. alone. European demand eventually should be about the same. So, this is roughly 500-600K near-term annual Model 3 demand, and this is not including China and the Asia Pacific region.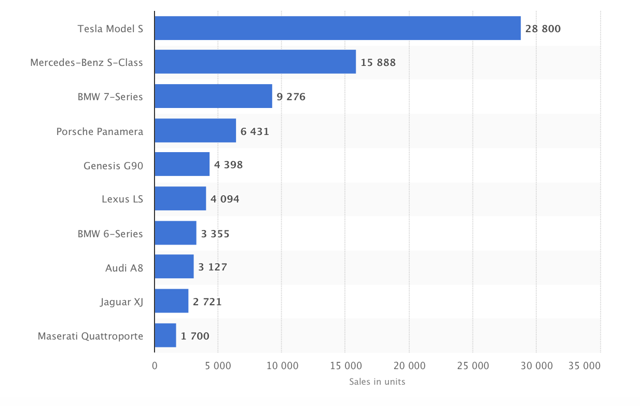 Source: Statista.com - We can see that in the U.S. the Model S came extremely close to outselling the S Class, 7 Series, and the Panamera combined last year.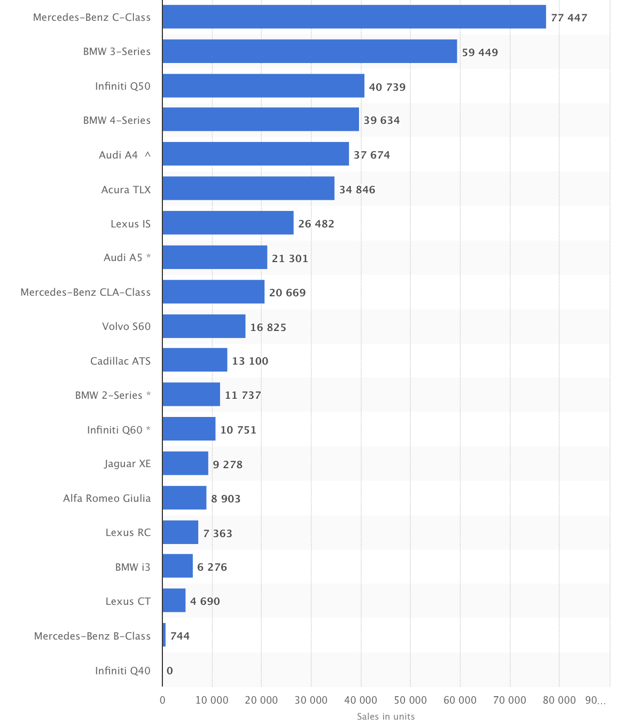 We can see that if the Model 3 reaches similar success demand wise in the entry-level luxury sedan market in the U.S. annual sales could be around 180,000 in this segment.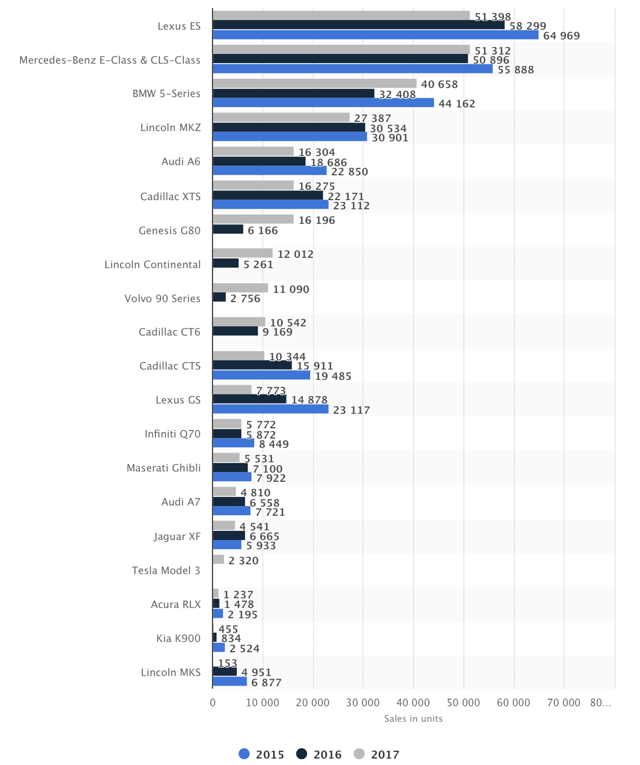 In addition, if the Model 3 can achieve a similar success rate in the mid-sized luxury sedan segment in the U.S. the Model 3 could experience additional annual demand of roughly 140,000 vehicles.
Model 3 production now 95% automated– With increased and improved automation it is becoming quite clear that Tesla can produce Model 3s with significant efficiency. Achieving 5K per week Model 3 production coupled with extremely high automation should enable Tesla to implement economies of scale in Model 3 production. This should result in much higher margins and significant profit per vehicle.
It is also important to note that just as Tesla can innovate at a higher rate than the competition concerning vehicles (think capability, performance, range, software, interface, design, etc.), it is reasonable to expect that the company will duplicate this success in the factory production process as well. This should eventually allow the company to reach a higher rate of profitability than its counterparts.
Disclaimer: This article expresses solely my opinions, is produced for informational purposes only, and is not a recommendation to buy or sell any securities. Investing comes with risk to loss ...
more