Ten Clean Energy Stocks For 2020: Navigating The Storm
This monthly update for my Ten Clean Energy Stocks model portfolio is in two parts. I published my thoughts on the current market turmoil on March 2nd. You can find them here. I'm not even going to get into the Fed slashing interest rates like they were a furniture warehouse going out of business on March 3rd except to say that apparently they are more afraid of the effects of covid-19 on the economy than they are of appearing to panic.
You can see the overall performance for January and February in the following chart. Not that it means much any more after just a couple days of rebound.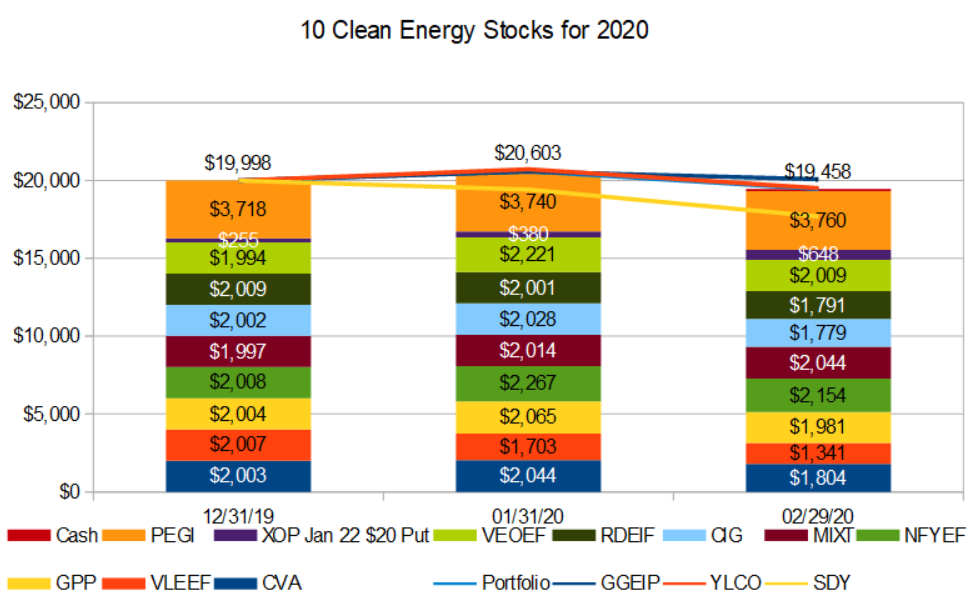 Hedges
As planned in a down market, the two positions intended to hedge the portfolio have been performing well. The Put on SPDR S&P Oil & Gas Exploration & Production ETF (XOP) has risen in value along with the precipitous decline in XOP. Gains on this and Pattern managed to offset half of the declines of the other positions in the portfolio.
Pattern Energy Group (PEGI) shot up above $28 when hedge fund Water Island Capital called on shareholders to vote against the planned merger arguing that Pattern would be worth more as a stand-alone company. I delved into the details here and told readers I thought it was a safer bet to just sell for $28 a share. The stock market implosion since has undermined Water Island's case that investors should put their trust in the market rather than in the cash in hand offered by the Canada Pension Plan Investment Board. After selling on the way up, I bought back in on February 28th when Pattern briefly fell below $27, which once again made PEGI look like a good place to park some cash.
The current rebound in the market is an opportunity to reduce our market exposure. As I have been saying for the last year, I think it's a good idea to take some profits in our winners and build up a large allocation to cash. If I am right about covid-19 being the catalyst which starts a new bear market, there will be nothing more valuable than cash to buy up newly cheap stocks at bargain prices after the bear runs its course.
Disclosure: Long PEGI, CVA, GPP, GPRE, VLEEF, NFYEF, MIXT, CIG, RDEIY, VEOEF, Puts on XOP.
Disclaimer: Past performance is not a guarantee or a reliable indicator of ...
more