S&P 500: The Correction Just Started
Yes, The Correction Just Started
The S&P 500/SPX is in a vulnerable position and is at risk of moving substantially lower in the coming days or weeks. I recently put out a cautionary article about a possible third coronavirus wave and a likely stock market pullback/correction. However, due to the detailed COVID-19 discussion, many readers seem to think that this was a case of fear-mongering. Therefore, I am going to focus more on technical and fundamental facts in this piece. The bottom line is that the technical image has been overheated for a while and is now worsening. The fundamental landscape suggests that a slowdown in growth is approaching at a time of sky-high valuations and overvalued equities. The result should culminate in a moderate pullback or a correction of 10% or greater.
The S&P 500 1-Day Chart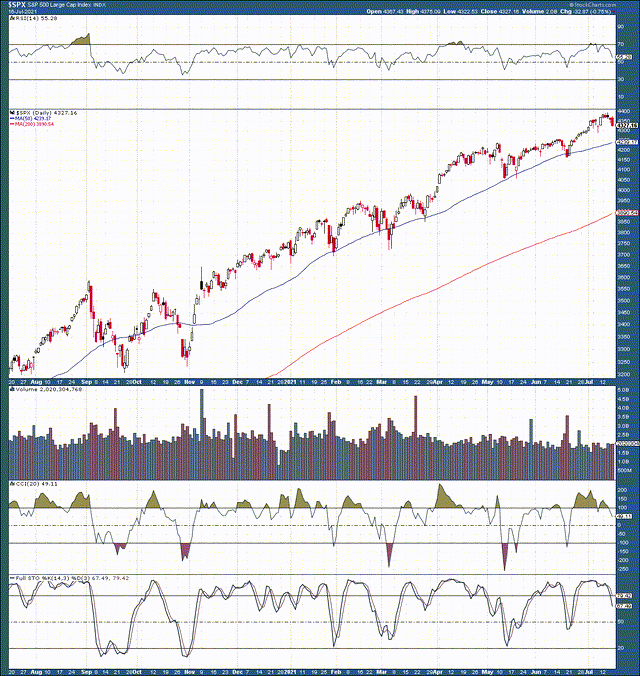 Source: stockcharts.com
While the S&P 500 is not as overbought as in early September 2020, I see several troubling elements. First, it's worth mentioning that the SPX is up by a whopping 35% from the same time last year. Now, after another year of stellar gains, we can see volume declining and momentum dropping off a bit here. Look at how the relative strength index ("RSI") recently went above 70, and then as the SPX made a new all-time high ("ATH"), the RSI registered a lower high. This signal suggests a drop-off in bullish momentum, and we've seen it before, before other 3-5% declines. Also, the full stochastic is dropping below 80, implying that the current down move will likely continue. Judging by the technical evidence, I suspect that the SPX will drop to at least the 4,230-4,200 level (to around the 50-day moving average), roughly a 4% decline from the SPX's ATH. However, we could go lower than that.
S&P 500/SPX Futures 1-Hour Chart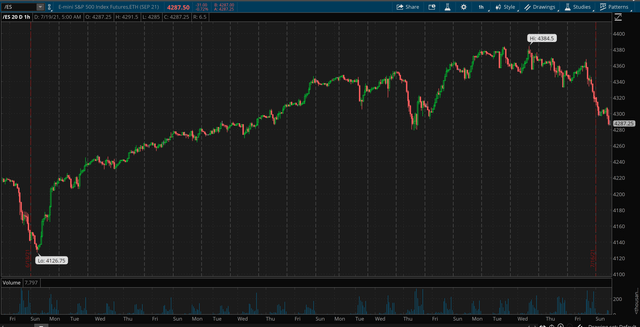 Source: thinkorswim
Here we can see a close-up image of the recent top. There was an attempt to move higher, but prices have rolled over since. Moreover, what's worse is that SPX futures just crossed crucial 4,300 support and are flirting with the critical support, short-term stop out level at 4,280. If 4,280 breaks down, prices could cascade notably lower from here.
SPX Futures 4-Hour Chart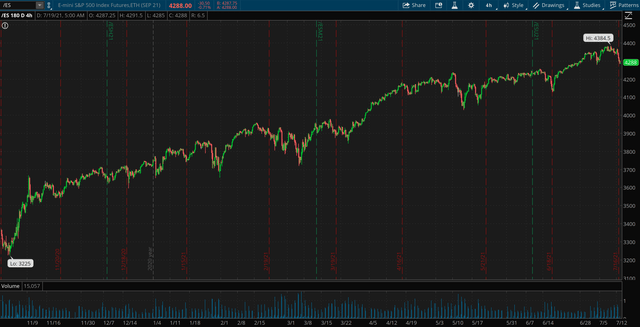 Source: thinkorswim
Look, if 4,230-4,200 support breaks down, SPX futures will very likely head down to 4,100-4,000 support, roughly 6-9% below recent ATHs. Moreover, suppose the downward pressure is significant enough. In that case, SPX futures may break below 4,000, which would very likely push SPX futures down to the following critical technical support area at about 3,700 (15.5% decline from recent ATHs).
Red Flag: Earnings Beat but Stocks Stall
Early Bellwether Earnings: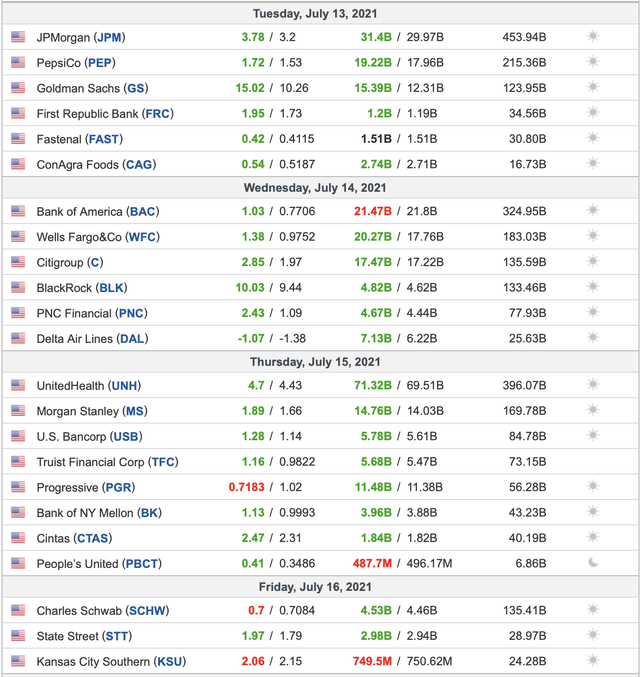 Source: investing.com
Early bellwether earnings have been quite strong. We see strong beats from JPMorgan (NYSE: JPM), PepsiCo (Nasdaq: PEP), Goldman Sachs (NYSE: GS), UnitedHealth (NYSE: UNH), Morgan Stanley (NYSE: MS), and others. However, most stocks, financials, in particular, have not reacted that well. Bank stocks' underperformance could be due to the lower trend in rates, but we need to ask why rates are falling here?
Red Flag: Falling Rates and Higher Inflation
The economy has entered a higher inflationary environment, and the economy is supposedly going to see further growth and expansion. Then why are interest rates crashing?
CPI Inflation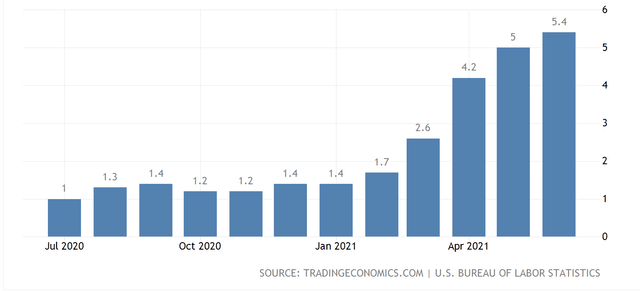 Source: tradingeconomics.com
10-Year Note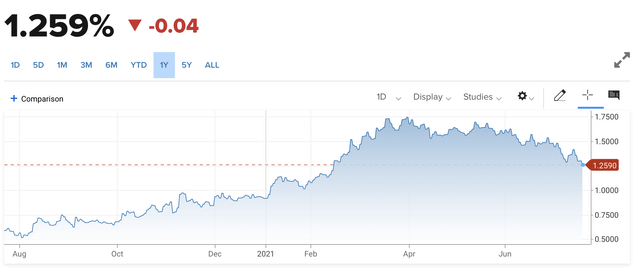 Source: cnbc.com
Look at what's been happening since March. We see a considerable divergence where inflation continues to rage higher while key rates have reversed. If the economy is going to have hotter than anticipated inflation, then interest rates also need to move up. Instead, we see inflation and major bond yields move in opposite directions. This phenomenon illustrates that investors are buying up safety assets, even at highly unattractive negative real yields. Why would market participants want to own such assets? Likely because we will see zero rate Fed policy for longer, lower than anticipated economic growth, and a possible adjustment in risk assets. It's not just me who is saying this, essentially the entire bond market is.
Red Flag: Valuations are Sky-High
Let's go back to those pesky valuations and those post-earnings underperformers. Lower rates are likely a contributing factor to noneventful price action in post-earnings bank names.
However, what about other companies?
PepsiCo recently put in a big beat, and the stock moved higher, but have you looked at the valuation on this thing?
PepsiCo now trades at a trailing P/E multiple of above 28. Relative to its 2021 consensus forecasts, the stock is at about 25 forward EPS estimates. Pepsi is a consumer defensive, relatively low growth (4% 2022 est.), blue-chip stock. So, when and why did PepsiCo start trading like a high-growth tech company? PepsiCo's historic valuation has typically been around 12-15, and it's only in recent years we see a jump to the 25-30 P/E ratio range.
Pepsi is not alone...
I won't go over every company in the S&P 500 or the DJIA, but I think you get the message. Even Apple (Nasdaq: AAPL), which used to trade at about a 10-15 P/E ratio, now has a P/E ratio of over 30.
S&P 500 Shiller P/E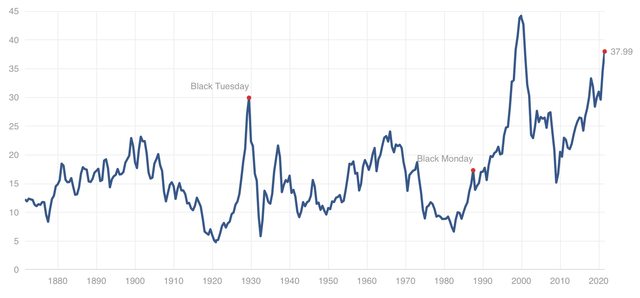 Source: multpl.com
We don't need to go through every company as the S&P 500 Shiller P/E ratio approaches the dot-com bubble levels. So, what can we expect? Well, it appears that analysts are anticipating the unprecedented growth to continue.
Red Flag: Growth Projections May Be Unattainable

The Wall St. Journal suggests that the SPX's P/E ratio will be about 22.5 a year from now (with current prices). This assertion implies that SPX companies should increase EPS by about 40% YoY in the next 12-months. All the great growth projections appear predicated on the current hyper-growth environment to continue. However, what if it doesn't?
What if the Slowdown Returns?
I don't think that we are in the kind of growth environment that some would have us believe. Alright, so we had the coronavirus drop and rebound, but it is not likely that the sharp post-pandemic ultra-high growth projections are sustainable. On the contrary, there are warnings of COVID-19 cases increasing, and the economy could enter another slowdown instead of seeing more growth. The bond market doesn't seem too optimistic about substantial economic growth, and stocks could see a correction.
Bottom Line: There Will likely Be More Downside
The SPX's uptrend may be over for now, and the technical image is essentially melting before our eyes. At the time of writing this, SPX futures are below critical 4,280 support, and if the market doesn't bounce back swiftly, stock losses could intensify notably. In addition to a deteriorating technical blueprint, there are clear red flags on the fundamental side.
Has anyone considered that earnings could worsen in future quarters?
Why aren't some stocks moving higher after substantial beats?
Why are the ten-year and other key rates moving lower in the face of higher inflation?
Why are Pepsi and other low-growth blue chips trading at two or three times their typical (historic) P/E multiples?
Can the spectacular economic growth continue, even as the Fall season approaches with coronavirus cases on the rise?
What about that dot-com bubble-like S&P 500 P/E ratio level?
I have many questions that I want clear answers to, but for now, I only see one, and that is lower stock prices from here.
Probabilities:
Drop to 4,230-4,200 support (3-4% pullback): 29%
Decline to 4,100-4,000 support (6-9% pullback): 37%
Drop to 3,800-3,700 level (13-15% correction): 22%
Lower: 12%
Disclosure: I/we have no stock, option or similar derivative position in any of the companies mentioned, and no plans to initiate any such positions within the next 72 ...
more