Sell These Three Healthcare Stocks Now
When the market was first rocked by the coronavirus, the healthcare sector held up fairly well. Of course, I mean that in a relative sense; healthcare stocks still fell, like the rest of the market. But as a whole, the sector fell less.
Talking about positive relative strength in a terrible market often sounds bizarre—"Sure, we're down, but not nearly as much as everyone else!" Still, this positive relative strength is an important trait to have. Healthcare tends to be a defensive sector. Usually, folks don't cut back on their healthcare spending during a recession.
While many healthcare stocks are deserving of this relative strength, not all of them are. This is especially true as we head into an election year. The election is still five months away, but the candidates have very different ideas about how our healthcare system should work. Naturally, that has an important impact on which stocks will do well, and which stocks could be left behind.
Check out the performance of the S&P 500 Healthcare Index (red) versus the S&P 500 (in blue) over the last three months: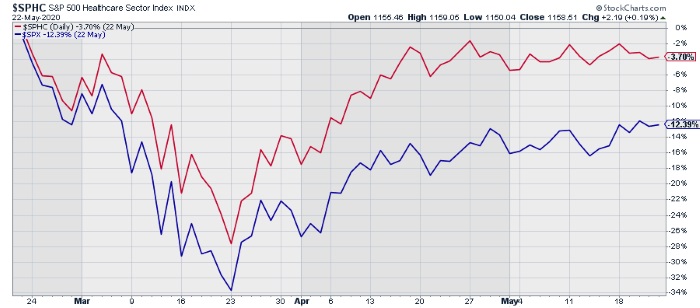 Investing in healthcare is a tricky business, I need to explain a few important points. There are few better businesses to have in your portfolio than a thriving healthcare company. For one, you can get enormous indirect support from the government. Plus, healthcare firms have a more-or-less legal license to jack up prices each year—just ask anyone who's been to the pharmacy lately.
Another key aspect of healthcare is the stability of the business. Spending on healthcare isn't greatly impacted by the heath of the economy—at least, not in the way, say, the housing sector is. The stock market loves stability and it will reward companies that can deliver predictable profits each year.
Of course, not every component of the healthcare sector is stable. One dangerous area in healthcare is biotech investing. While there are some worthy biotech firms out there, many are not. In fact, I don't think most listed biotech stocks should be publicly traded. The companies raise tons of money from gullible investors before they even have products on the market. From what I can see, the only thing they make is loads of press releases promising investors they're on the cusp of some great medical breakthrough. Yeah, right.