Sea Limited Earnings Preview: Risky But Huge Potential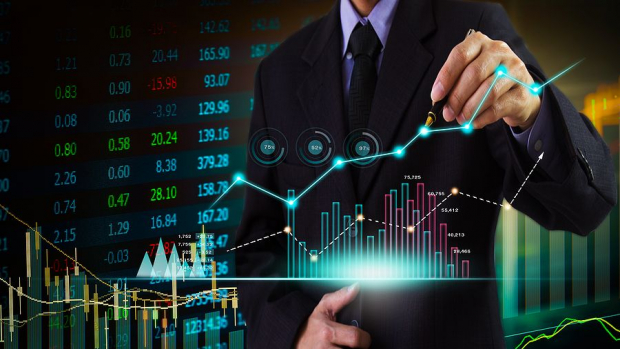 Image: Bigstock
Sea Limited (SE - Free Report) is a Singapore based technology conglomerate. SE has an e-commerce, online gaming, and digital payments business focused on the Southeast Asian region. Sea Limited reports earnings on Tuesday, May 16 before the market opens.
During the post-pandemic boom, Sea Limited became one of Wall Street's favorite stocks. Between March 2020 and October 2021, Sea Limited's stock went up nearly 10x, as its high margin and diversified businesses in the rapidly growing Southeast Asian market tantalized investors.
However, SE was one of those growth stocks that ran at an earnings loss, and it was trading at absurdly high valuations in hindsight. Reality hit investors like a ton of bricks, and the stock corrected at a brutal -90%.
But the tides have turned, and SE posted positive earnings in the last quarter, surprising many analysts. SE also currently boasts a Zacks Rank #1 (Strong Buy), indicating upward trending earnings revisions. There are still concerns though, as the company has begun to bump into some growth problems as ad spending has been dialed back.
Although Sea Limited's stock is nowhere near its former highs, it has clearly piqued investors' interest from these lower levels. The stock is up 52% year-to-date, and now boasts a far more compelling valuation.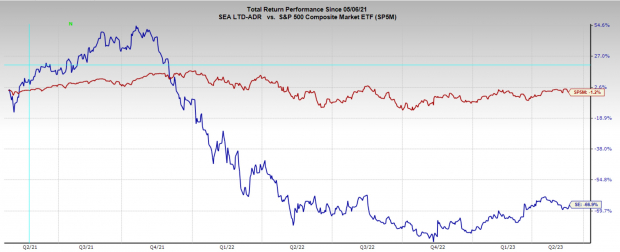 Image Source: Zacks Investment Research

Earnings Estimates
Although Sea Limited doesn't have broad coverage, the analyst that does cover it is very bullish. Earnings estimates have been revised significantly higher over the last two months, and the flip from negative to positive earnings is a huge development.
Last quarter, analysts were expecting a -$0.75 EPS, but SE smashed estimates and reported $0.72 EPS. This was a huge shift for the company.

Image Source: Zacks Investment Research
Sales for the quarter are projected to grow 12.6% year-over-year to $2.9 billion, however this would mark a quarter-over-quarter decline. Since its IPO in 2017, sales have exploded higher, but there has also been a clear slowdown in growth. While some of the slowdown can be written off as shifting macroeconomics, there is more to the story.
For SE to achieve profitability it had to cut costs considerably. Management laid off 10% of employees and made a huge cut to marketing. Massive marketing efforts had been a major source of revenue growth for SE. The biggest concern for investors is whether customers who were acquired through ad spend remain sticky or fade away. Only time will tell.

Image Source: Zacks Investment Research

Technical Setup
An encouraging factor for the stock is the technical chart. SE has built out a huge base, and what was formerly resistance at $70 has now turned to support. The small consolidation breakout on Friday was another reassuring move. So long as the price remains above the $70 level, SE stock is favorable to the bulls. Alternatively, if it were to move below that point, the stock could possibly revisit the lows.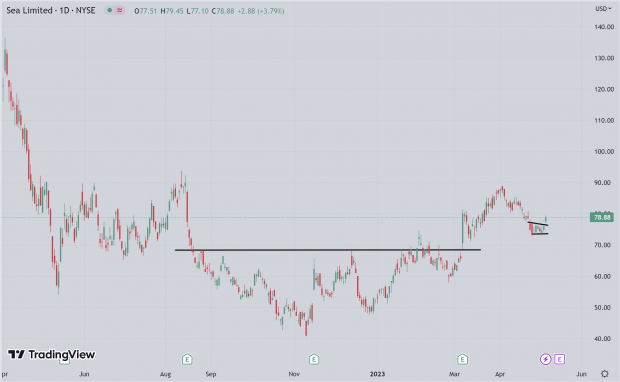 Image Source: TradingView

Valuation
SE was last seen trading at a one-year forward sales multiple of 3.6x, which is in line with the broad market average of 3.6x, and well below its three-year median of 8.7x. As a company with double digit growth rates, this is a very compelling valuation. However, there is doubt that growth will continue to decelerate.
It is also worth comparing SE's valuation to a similar company. Mercado Libre (MELI - Free Report) is another developing market e-commerce company with high growth rates.
Mercado Libre, like Sea Limited, was another Wall Street darling that reached unthinkable valuations in 2021, only to experience a brutal correction in 2022. After both correcting, though, SE has come out on top with the more appealing valuation. MELI now trades at a premium, with a forward sales multiple of 4.7x.

Image Source: Zacks Investment Research

Bottom Line
Sea Limited has a compelling set of businesses, with strong fundamentals and a responsible management team. Its transition to a net positive earnings company was rapid and timely, which was a challenging thing to overcome.
There are still significant risks to the stock, though. With a slowdown in sales growth, investors are reasonably concerned. But if SE has done enough to penetrate its respective markets, it could have many years of profitable growth, making it an investment worth considering.
---
More By This Author:
Time To Buy Alphabet And Amazon Stock After Q1 Earnings
Dividend Watch: 3 Companies Boosting Payouts
PayPal To Post Q1 Earnings: What's In The Offing?
Disclosure: Zacks.com contains statements and statistics that have been obtained from sources believed to be reliable but are not guaranteed as to accuracy or completeness. References to any specific ...
more