Positioning For A Year-End Rally: 3 Top Ranked Stocks To Secure A Strong Finish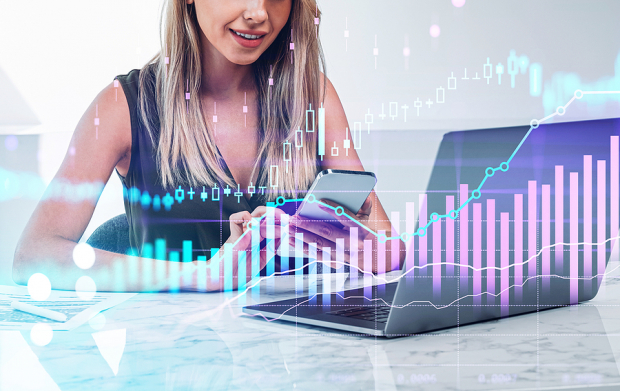 Image: Bigstock
As we approach the final stretch of the year, investors are eagerly eyeing opportunities to position their portfolios for a potential year-end rally. Considering what a strong year it has already been, and with the trend clearly pointing higher, I favor the bull side going into the year's end.
When consulting seasonality charts, we can see that August and September can show some weak average performance. However, the final three months often end up being the strongest period of the year, meaning September could set stocks up for a nice final leg up.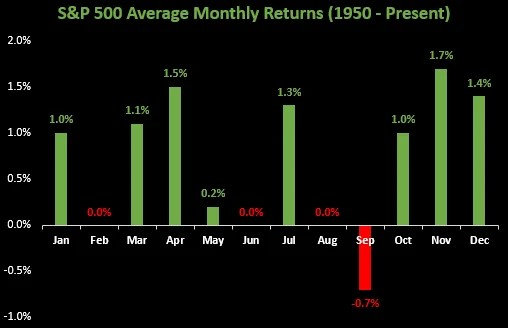 Image Source: Zacks Investment Research
Considering how close the market indexes are getting to former all-time highs, I wouldn't write off the possibility that the market makes an attempt at those levels.
If there is another leg higher into year-end, investors should focus on stocks with a top Zacks Ranks and strong price momentum. Sherwin-Williams (SHW - Free Report), MercadoLibre (MELI - Free Report), and Lam Research (LRCX - Free Report) are stocks with strong long-term performances, and they offer convincing near-term setups for investors to consider.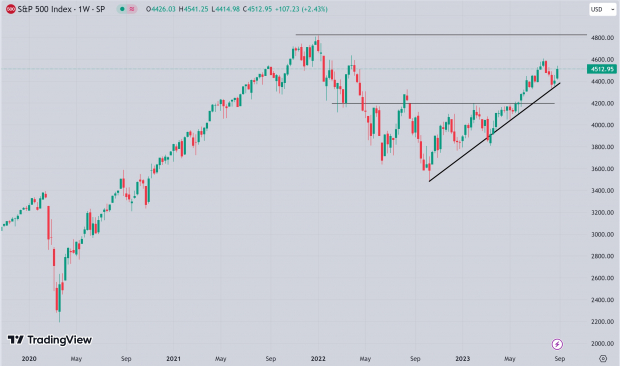 Image Source: TradingView

Sherwin-Williams
Sherwin-Williams is a leading global company in the paint and coatings industry. Known for its wide range of paints, stains, and coatings, Sherwin-Williams serves various sectors, including residential, commercial, industrial, and automotive.
In addition to having a long and impressive history, involving decades of sales and earnings growth, Sherwin-Williams currently enjoys a Zacks Rank #1 (Strong Buy) rating. Earnings estimates have been unanimously upgraded by analysts across timeframes.
Current quarter earnings estimates have been revised higher by 10% in the last two months, while FY23 estimates have been lifted by 12.4%. Additionally, over the next three to five years, EPS are forecast to grow 12.2% annually.

Image Source: Zacks Investment Research
SHW stock has formed a very compelling technical chart pattern that is just beginning to play out. After building out a huge consolidation over the last 18 months, the price has moved higher and formed a tight bull flag from which it just broke out from. As long as SHW price doesn't trade below the $270 level, this stock should continue to trend higher.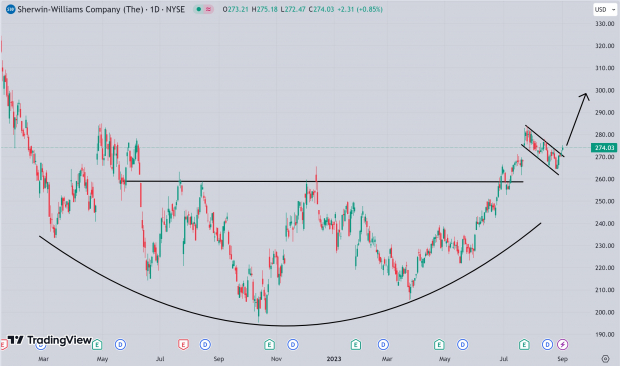 Image Source: TradingView

MercadoLibre
MercadoLibre is a prominent e-commerce and online marketplace company serving Latin America. Founded in 1999 and often referred to as the "Amazon of Latin America," MercadoLibre offers a platform for individuals and businesses to buy and sell products across various categories, including electronics, fashion, home goods, and more. Beyond e-commerce, the company also provides digital payment solutions, financial services, and advertising capabilities.
MELI has really impressive growth forecasts for both the top and bottom line. Over the next three to five years, earnings are projected to grow 46.8% annually, while sales are expected to grow by 32% this year and 24% the next.
Reflecting its Zacks Rank #1 (Strong Buy) rating, MELI has experienced some strong earnings estimate revisions. Current quarter earnings estimate have been increased by 26% over the last two months, and FY23 earnings estimates have been boosted by 21% over the same period.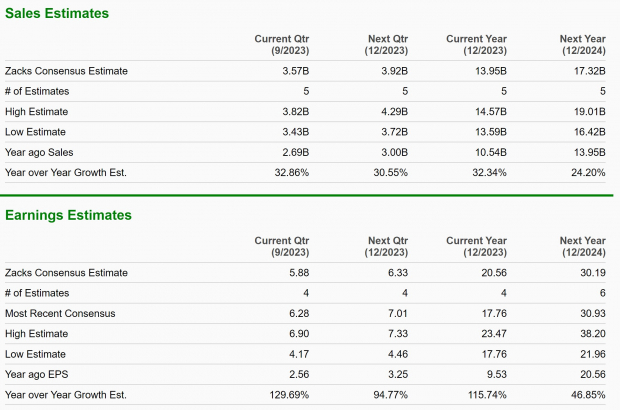 Image Source: Zacks Investment Research
MercadoLibre's stock just staged a massive breakout, as well. MELI broke out above a major level of resistance and made 21-month highs. So long as the price holds above the $1365 level, MELI should be a top performer into year-end.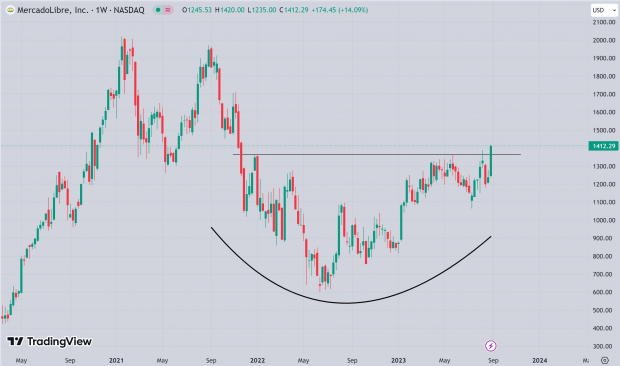 Image Source: TradingView

Lam Research
Lam Research Corporation is a prominent global supplier of semiconductor manufacturing equipment and services. Founded in 1980, the company specializes in producing machines used in the fabrication of semiconductor chips, including etching and deposition equipment.
Lam Research's cutting-edge technology plays a crucial role in the production of advanced semiconductor devices used in electronics, ranging from smartphones to data centers.
LRCX has also benefited from the surge in Artificial Intelligence usage, as it plays a crucial role in the development of data centers and semiconductors. These developments have given a nice boost to earnings estimates, giving it a Zacks Rank #1 (Strong Buy) rating.

Image Source: Zacks Investment Research
LRCX stock has been moving higher from the very beginning of the year, forming consolidations and breaking higher. Most recently, the price formed a descending bull flag from which it broke out, and is has been showing strong momentum as it approaches the psychological level of all-time highs. So long as the stock breaks back below the $660 level, it should test those highs.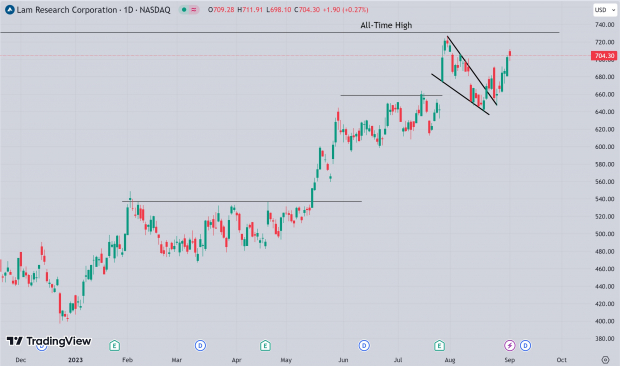 Image Source: TradingView

Bottom Line
Best of luck trading into year-end, and enjoy the long holiday weekend.
---
More By This Author:
These 3 Companies Generate Some Serious Cash
These 3 Companies Boast Big Growth Expectations
3 Stocks to Watch After Impressive Earnings Beats
Disclaimer: Neither Zacks Investment Research, Inc. nor its Information Providers can guarantee the accuracy, completeness, timeliness, or correct sequencing of any of the Information on the Web ...
more