Not Cabot Cove Cozy Mysteries With Jessica Fletcher But Cabot Oil And Gas (COG)
Cabot Oil and Gas Corporation (COG) was flagged on my radar, so has been added to my watch list and the reason is not hard to see. It was the gap down and extreme volume of yesterday's down candle that triggered the alarm! A colossal surge in volume and whilst the candle itself closed on a relatively widespread it is still anomalous. Why? Because if we compare this candle to other down candles, even though we don't have one that is a direct comparison in terms of range, there are others that come close and when we compare their volume with yesterday's the anomaly is validated. This comparison of candles and volume across the chart to establish a benchmark is an important aspect of volume price analysis which helps to give additional context to the price action and volume under consideration. So what are we to make of this anomaly?
(Click on image to enlarge)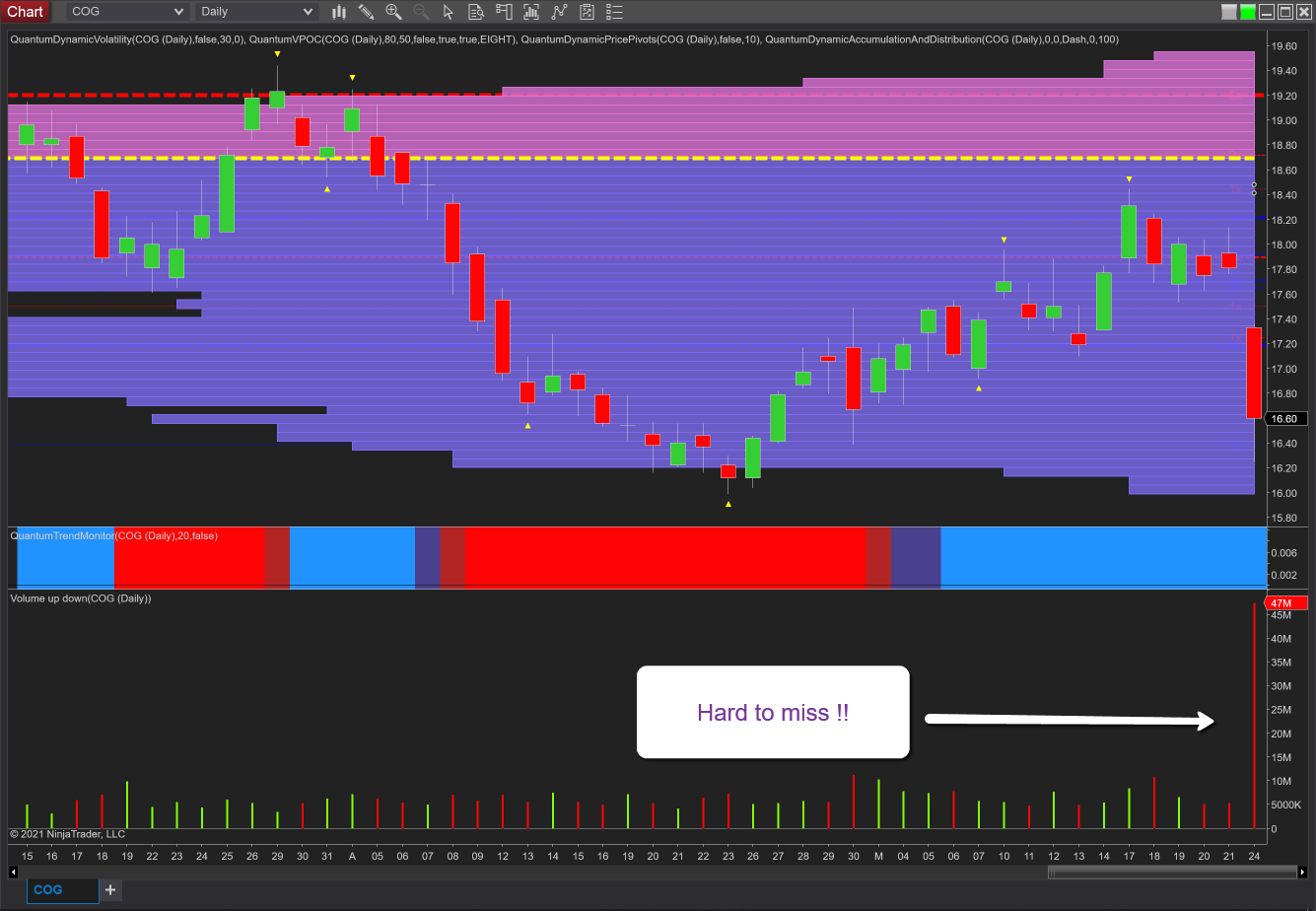 One thing is clear in that there has to be some strong buying in this candle since if it were all selling, the price would have closed well below $16 per share and probably lower. On closer investigation of the fundamentals, we find this company has agreed to a merger with Climarex Energy on an all-stock merger of equals but which has yet to be approved by shareholders. In addition, the proposed merger also requires regulatory approvals which are not due until later in the year. Nevertheless, an interesting stock particularly given the level of buying seen yesterday.
In the short term, I expect to see more of the same price action in terms of stopping volume with a possible move back to the volume point of control in the medium term. It will be interesting to see how the remainder of the week shapes up in terms of volume price analysis and COG is a stock I will revisit once the waters calm.
Additional Note: I wrote this analysis before today's open but as we can see from the Tradingview chart below further stopping/buying volume has come in today as expected.
(Click on image to enlarge)
Disclaimer: Futures, stocks, and spot currency trading have large potential rewards, but also large potential risk. You must be aware of the risks and be willing to accept them in order to invest in ...
more