Meta And Amazon Earnings: Time To Buy These Beaten-Down Tech Stocks?
Image Source: Unsplash

Today's episode of Full Court Finance at Zacks explores the stock market and the broader earnings picture as results continue to pour in from many of the biggest names on Wall Street. The episode then breaks down Meta Platforms, Inc. (META - Free Report) and Amazon (AMZN - Free Report) ahead of their upcoming earnings results to see if investors might want to finally buy these beaten-down tech stocks.
The Nasdaq climbed again through mid-afternoon trading on Friday, alongside the wider market as Wall Street continues to buy tech stocks. The market faced a big test mid-week and the bulls won out, for now, helping push the S&P 500 back above its 50-day and 200-day moving averages and the 4000 level.
More importantly, the Nasdaq jumped above its 200-day moving average for the first time in roughly a year. The market has bought up Tesla since its report, with the stock up 10% in back-to-back sessions. Microsoft stock has already erased its post-earnings pullback to extend its bullish start to 2023.
The broadly upbeat start to the busy part of quarterly earnings season suggests that Wall Street thinks the earnings downturn is already mostly priced in. If the outlook for earnings does indeed hold up, the market could easily extend its recent bullishness.
Plus, Wall Street feels the Fed is all but certain to roll out a 0.25% rate hike when its FOMC meeting concludes on February 1. Investors also appear convinced that a Fed pivot is on the horizon sooner than later.
This upbeat market backdrop likely has more and more investors wondering if it is time to dive back into the beaten-down tech titans, with Meta Platforms (META ) and Amazon (AMZN) as the primary examples.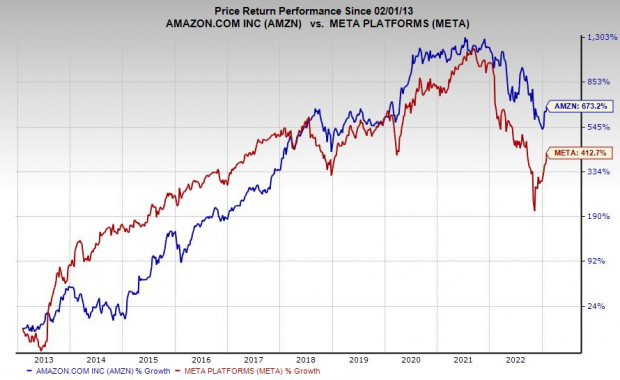 Image Source: Zacks Investment Research
Meta, formerly Facebook, reports its Q4 FY22 financial results on February 1. The social media giant posted its second consecutive revenue drop in Q3, while its metaverse bet is off to a brutal start.
Meta's growth days are no doubt over for now. But Wall Street spent a long time beating down the stock to help it more accurately reflect where Meta is in its lifecycle.
Meta's valuation is looking enticing and let's not forget that it still reached 3.7 billion people a month across Facebook, Instagram, and WhatsApp and nearly 3 billion daily. Meta stock has soared around 70% off its November lows, as investors start to dive back into the company for its ability to play a dominant role in a crucial area of the digital economy and venture into new areas with a balance sheet that's still very impressive.
Like Meta, Amazon stock has suffered a massive fall from grace as it too made big bets and faces a major slowdown from its days of huge growth. Amazon is set to release its Q4 fiscal 2022 results on February 2. AMZN, under the guidance of CEO Andy Jassy, is fighting to cut costs where it can as it aims to slim down a business that expands from e-commerce and cloud computing to an online pharmacy and movie and TV production.
Amazon's growth is slowing, but it is still projected to expand its top line by roughly 9% in FY22 and Y23, which is no easy task for a firm set to pull in $510 billion in revenue in fiscal 2022. Amazon is still down over 40% from its peaks, including its nearly 25% climb in January.
---
More By This Author:
2 Market-Crushing Value Stocks To Buy For More Growth In 2023
3 Great Stocks To Buy In 2023 And Hold Forever
Cashing In On The Future Of Energy Now
Disclaimer: Neither Zacks Investment Research, Inc. nor its Information Providers can guarantee the accuracy, completeness, timeliness, or correct sequencing of any of the Information on the Web ...
more