3 Great Stocks To Buy In 2023 And Hold Forever
Image Source: Unsplash
Today's episode of Full Court Finance at Zacks explores where the stock market stands as we close out 2022. The episode then dives into why investors with long-term horizons might seriously consider buying proven large-cap stocks poised to grow within essential industries heading into 2023 amid all of the uncertainty, recession fears, and selling.
Stocks rebounded on Thursday, driven by big gains from Tesla and many other beaten-down growth stocks. The buying comes after the Nasdaq closed at new lows on Wednesday. It is worth pointing out that the recent wave of heavy selling pushed many stocks to enticing technical levels.
The jump on Thursday might have many praying for the arrival of a late Santa Claus rally. The one-day pop has the S&P 500 closer to its 50-day moving average once again. But lingering inflation, higher interest rates, energy market disruptions, and supply chain setbacks have many economists and market participants fearful that the U.S. is headed for a recession in 2023.
The market could fall again and remain volatile in the near term. The next major catalyst is likely to be the start of the fourth quarter earnings season in a few weeks when Wall Street will get updated 2023 guidance.
All told, fading earnings and higher interest rates are a huge reason why stocks tumbled in 2022. But slowing earnings and higher rates are part of economic cycles. This is why investors thinking about five or 10 years from now don't need to time the market. Instead, they should consider adding strong, proven stocks with solid balance sheets and great long-term outlooks amid the negative sentiment.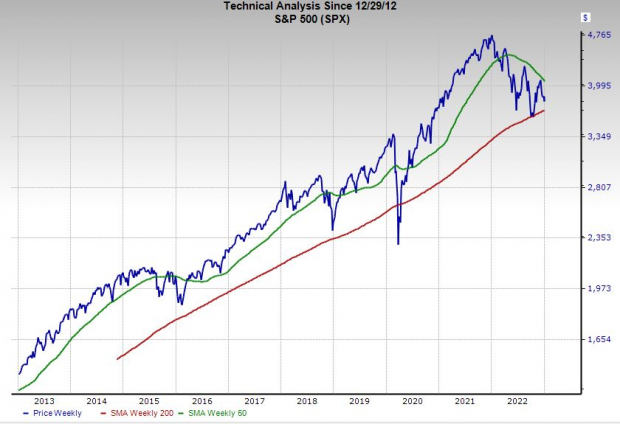 Image Source: Zacks Investment Research
Taiwan Semiconductor Manufacturing Company (TSM - Free Report) or TSMC is the largest chip manufacturer in the world with over 50% market share. Taiwan Semiconductor stock currently trades 50% below its average Zacks price target, while also paying a dividend and sporting a strong balance sheet.
Semiconductor companies of all shapes and sizes turn to Taiwan Semiconductor and other foundries to make their chips. TSMC boasts clients such as Nvidia and Apple, and it is at the cutting edge of advanced chip manufacturing.
In fact, Taiwan Semiconductor announced Thursday that it began mass producing its next-generation 3-nanometer chips. The company is also investing in manufacturing in the U.S. as tensions grow globally with China. TSMC currently lands a Zacks Rank #2 (Buy) on the back of its positive EPS revision. And investors should know that Taiwan Semiconductor's falling stock price, mixed with its stellar fundamentals, encouraged Warren Buffett's Berkshire Hathaway to buy a large chunk of TSMC stock last month.
Adobe (ADBE - Free Report) is the champion of creative software with a portfolio that includes Photoshop, Premiere Pro, and many others. Its offerings are critical and help everyone from Hollywood filmmakers to students. Adobe's subscription model, which includes its document/business portfolio, has helped it post between 12% to 25% revenue growth for eight straight years, including its recently reported FY22.
Adobe topped our Q4 earnings estimates on December 15 and provided solid guidance despite all of the economic slowdown fears. ADBE's falling price, coupled with its strong earnings outlook, has it trading near decade-long lows in terms of forward earnings. Adobe, which lands a Zacks Rank #3 (Hold), is now down 50% from its peaks and its growth outlook remains very impressive for a company of its size and age.
Cummins Inc. (CMI - Free Report) manufactures engines and powertrains of all shapes and sizes from diesel to electric. The historic U.S. engine maker is also going all-in on a cleaner future, having gained traction in hydrogen fuel cell technology and beyond. CMI's New Power division includes batteries, fuel cells, and hydrogen-production technologies. Cummins has completed several acquisitions in the last handful of months as well.
Zacks estimates call for Cummins sales to climb 15% in 2022 and another 12% in 2023 to hit $31 billion. Meanwhile, its adjusted earnings are projected to pop 6.4% this year and then surge 34% next year. CMI's EPS estimates have held up rather well and it currently lands a Zacks Rank #3 (Hold). Cummins has climbed 12% in the last 12 months vs. its Zacks Econ sector's -55% drop and the S&P 500's -22% fall. CMI's valuation levels are also strong and it has consistently raised its dividend.
---
More By This Author:
Cashing In On The Future Of Energy Now
Bear Of The Day: Lennar Corporation
3 Top Market-Beating Stocks To Buy In December For More Growth
In full disclosure, Ben owns TSM in his own personal portfolio and owns CMI in Zacks Alternative Energy Innovators portfolio.
Disclaimer: Neither Zacks Investment Research, Inc. nor its ...
more