Market Outlook: Avoid Small Cap Growth
The market remains near its all-time high, but economic earnings continue to decline. This disconnect, in addition to the continued risk of an escalating trade war and projections for slower GDP growth over the next two years, make this the riskiest market we've seen in many years. Investors need diligence more than ever to help them avoid stocks with misleading growth.
On the other hand, Figure 1 shows how much more expensive – and risky - the market truly is. Economic book value (EBV) – the no-growth growth value for the market – has declined to its lowest level since 2015. Meanwhile, stock prices are near the all-time highs set in September of last year.
Figure 1: Market Cap Vs. Economic Book Value Since 2005
(Click on image to enlarge)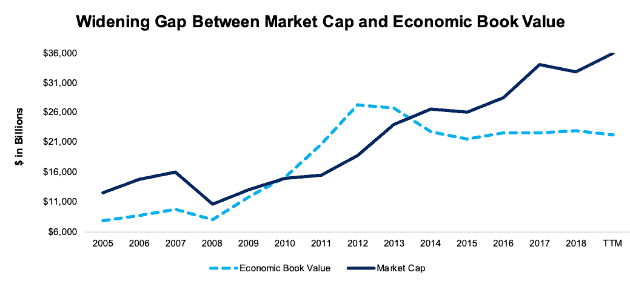 Sources: New Constructs, LLC and company filings.
We're still nowhere near tech bubble territory, but the market is now more expensive than it's been at any point since before the '08 recession. The Small Cap Growth style is the most expensive and risky part of the market and is in the Danger Zone this week.
Economic Earnings Declined After Stripping Out the Impact of Tax Cuts
GAAP earnings grew by 23% in 2018, but a deeper look at the number shows how this growth misleads investors. As we've shown in previous reports, economic earnings – which reverse accounting distortions and account for the weighted average cost of capital (WACC) – across the broader market have been in a steady decline for several years. Economic earnings declined by 28% in 2015, 15% in 2016, and 2% in 2017. At first glance, it would appear that economic earnings rebounded and grew by 18% last year.
However, Figure 2 shows that the entirety of economic earnings growth in 2018 can be attributed to the corporate tax rate cut. When we remove the impact of the tax cut,[1] we see that economic earnings declined by 2% in 2018, the same as 2017.
Figure 2: Economic Earnings vs. Tax Neutral Economic Earnings
(Click on image to enlarge)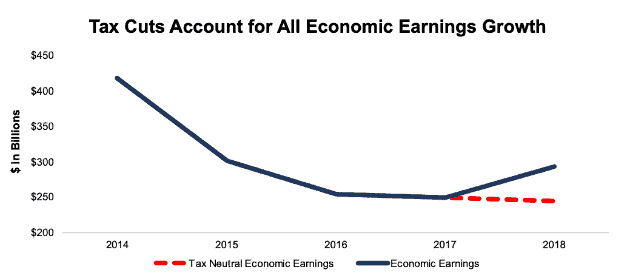 Sources: New Constructs, LLC and company filings.
So far, the results from Q1 2019 confirm the thesis that profit growth in 2018 was the byproduct of tax cuts and accounting distortions. For the 1,300+ companies that have filed in the past two weeks, the median company's TTM GAAP EPS has grown by 16% while its TTM economic earnings per share have declined by 18%.
Mega-Caps Dominate Growth