E

Lowe's: A High-Growth Dividend King
Finding great dividend stocks can be challenging. Investors must find companies with sustainable moats that generate consistent earnings, which is ideal for a rising dividend over time as well. Companies that have been able to achieve this over the long term, such as the Dividend Kings, are generally great for income investors.
In this article, we'll take a look at one of the best dividend growth stocks in the market today, home improvement retailer Lowe's (LOW).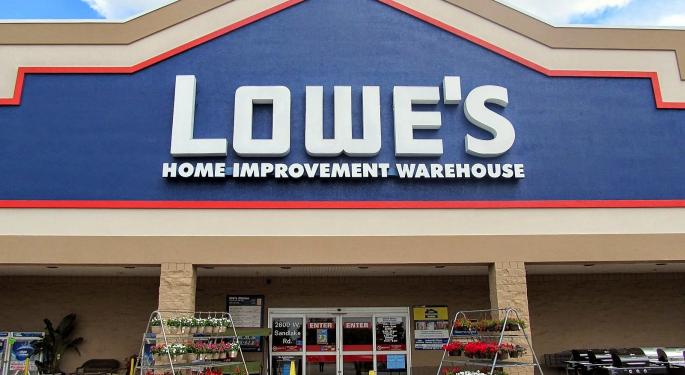 Photo courtesy: Miosotis Jade via Wikimedia
Overview and recent events
Lowe's is the second-largest home improvement retailer in the US, behind rival Home Depot (HD). Lowe's still enjoys a significant scale, however, with more than $90 billion in annual revenue and a market capitalization of $138 billion. The company also has an extremely impressive 57-year dividend increase streak.
Lowe's reported its first-quarter earnings on May 19th, and results were excellent on both the top and bottom lines. Total sales were up from $19.7 billion in the year-ago period to $24.4 billion this year. The gain was due to a staggering 26% gain in comparable sales, as the company lapped the early stages of the pandemic. Net earnings were up from $1.3 billion to $2.3 billion as well, as margins increased significantly with higher volumes. On a per-share basis, earnings were $3.21, up 81% year-over-year.
Lowe's also repurchased 16.8 million shares in Q1 for $3.1 billion, in addition to its $440 million in quarterly dividends. We've updated our expectations for this year, and now see $11.01 in earnings-per-share for 2021.
Growth catalysts
While Lowe's undoubtedly saw rapid growth in Q1 due in part to the pandemic conditions of last year, we believe the company has long-term growth prospects that can rival most businesses. The housing market in the US has been very strong since the Great Recession, providing more than a decade's worth of growth to Lowe's and its rivals. Since home buyer demand remains strong amid rising housing prices, and construction is booming in a strong economy, there is ample evidence to suggest Lowe's is far from done growing.
Disclosure: Sure Dividend is published as an information service. It includes opinions as to buying, selling and holding various stocks and other securities.

However, the publishers of Sure ...
more