Leidos: Likely To Thrive With Ongoing Defense Contracts
Summary
The ongoing uncertainty in the world creates the continual need for intelligent defense systems.
Leidos offers numerous solutions for modern defense needs.
Leidos' civil and health solutions provide some diversification for the company.
Looking for a helping hand in the market? Members of Margin of Safety Investing get exclusive ideas and guidance to navigate any climate. Get started today »
The recent Iran conflict reminds us of the importance of having top notch intelligent defense systems in place. Of course, there are many other potential threats in the world that create this need. The United States and our allies need to remain a step ahead of potential threats. Leidos (LDOS) plays a key role in providing the smart defense systems that we need to combat potential threats.
Leidos has plenty of growth ahead as the need for ongoing defense upgrades are likely to be needed for the foreseeable future.
Leidos is a smaller, lesser known defense company. However, the company is an important part of the United States' overall defense strategy. Leidos has defense solutions that cover land, sea, air, space, and cyberspace. The company offers intelligence systems, command & control, and logistics solutions. The need for ongoing updates to our defense systems increases the likelihood for Leidos to experience continued backlog and revenue growth.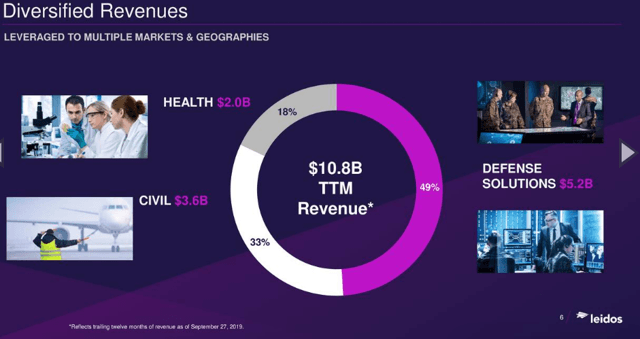 Leidos' Recent Acquisition of Dynetics
Leidos announced in December 2019 that they intend to acquire Dynetics for $1.65 billion in cash. Dynetics is a privately owned industry-leading applied research and national security solutions company. Dynetics produces about $450 million of revenue annually, which Leidos' will being earning upon the completion of the acquisition.
The addition of Dynetics is expected to increase Leidos' capabilities for rapid prototyping and agile system integration/production. Dynetics will help in the following areas: advanced sensors, autonomy, hypersonics, and space solutions. This provides a complimentary fit to Leidos' defense and civil businesses.
The acquisition is expected to close in Q1 2020. Therefore, Leidos can benefit from at least three quarters of revenue and EBITDA generated from Dynetics this year.

Continue reading on Seeking Alpha.
The article is for informational purposes only (not a solicitation to buy or sell stocks). I am not a registered investment advisor. Investors should do their own research or consult a financial ...
more